Event Marketing: 4 questions to ask before submitting a speaking application
Speaking at events offers a great opportunity for marketers to build their own personal brand and reputation in the industry as well as improve their career. It also provides a way for solutions providers to gain credibility through customer success stories.
However, getting on stage is easier said than done.
If you've ever applied to speak at an event, you probably know that it can take a while to hear back from application evaluators, if you hear anything at all.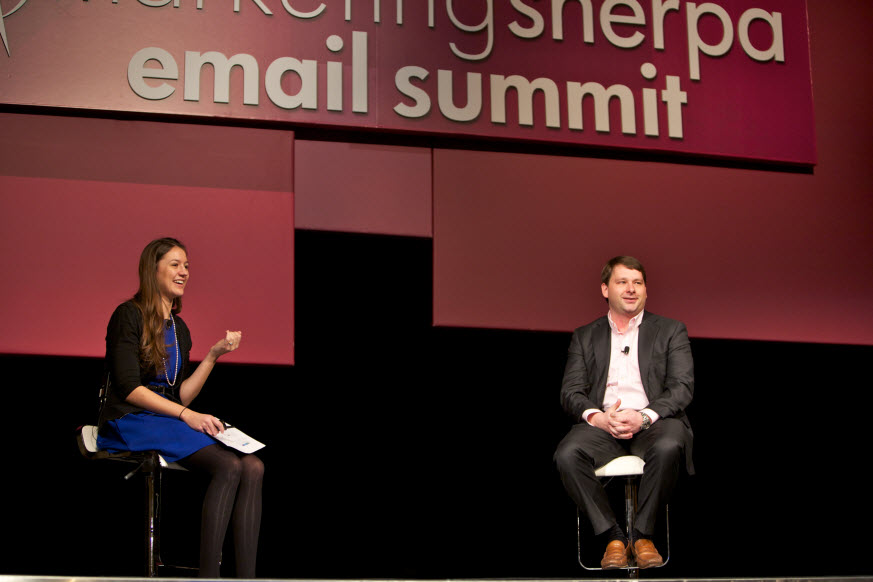 Having applied to speak at several events in the past, I can relate — but I also have the inside scoop on what happens on the agenda-building side.
Over the past couple of weeks, the MECLABS content team, myself included, has been hard at work sifting through hundreds of speaking applications for MarketingSherpa Email Summit 2015 in Las Vegas.
I've spent over 30 hours reading through applications, analyzing blog posts, watching videos and reaching out to applicants.
During those long hours, I began to develop four fundamental questions to ask myself when sorting applications into the "yes" or "no" stack, and I want to share those four questions with you:
1. Did you take time and effort to explain your story completely?
It's disheartening to see people throw away an opportunity to win over the evaluators. Applications where you're given the chance to tell someone about your story should take more than a sentence or single word, or, big oops, left blank entirely.
This is your chance to tell your story. Give the application reviewer a story and let them imagine how it would be presented on stage.
If you're the hero of the story, explain the challenges that you overcame.
Be a storyteller in your application. J.K. Rowling could have summed up all the Harry Potter novels by simply writing, "Harry Potter went to school and learned how to overcome challenges." Instead, she expanded this story into seven complete novels, detailing the events that unfolded and inviting you into the life, experiences and thoughts of Harry, not just offering the world a simplified plot.
The art of storytelling — even in a speaking application — is important and will set you apart from the hundreds of other applicants.
The effort that you put into your application is a preview of the effort that you'll put into the content you present.
If we ask for a video and your reply is, "I have one, but I can't find it," we're not going to go look for it. If you write, "Will provide video upon request" under the section where we requested a video, your application will likely be disregarded altogether.
2. Are you being clear about what (and who) was involved in the campaign as well as the results?
Clarity in your proposal title, description and results is essential for the reviewer to evaluate your submission. Use the space that the application provides to explain your thought process and express your case study.
The clearer that you are in expressing your results and how you got them will lend credibility to your application. The less footwork and follow ups you place on the reviewers, the more positively they'll view your application.
Keep in mind that the reviewers aren't mind readers and don't know what "etc." or "and so on" means at the end of a sentence.
Not this: "Increased CTR, etc."
But this: "Open rate increased by 70%, CTR increased by 30%, purchases increased by 40%, total revenue increased by 80%, bounce rates decreased by 40% over 3 months
3. Does something seem wrong or fishy about your application?
This should go without saying, but don't lie on your speaking application — or in life.
Be honest with the reviewers. If you stretch the truth about results, clients' availability to speak or having permission to present content, it will just lead to embarrassment down the road and a headache for the event planner.
Excluding relevant information fits here too. Use a lot of details when you're explaining your case study and results. Don't scrimp on the content. You can always cut later, but this is your chance to tell everything that you've experienced, learned and gained without having to worry about red ink.
4. Ask yourself, "Can I commit to more deadlines on top of my other responsibilities?"
Don't ask for an extension on submitting your application to speak.
Just don't do it.
If the application has been open for two months, you have been given plenty of time to fill it out.
If you're emailing the organizer the week, day or hour before it's due, asking for even a small extension, while it may be given to you, will put you on the organizers' list of applicants who probably won't meet deadlines. This is the first of many deadlines the event will ask you to meet, which is why meeting this one is so important.
The same is true when it come to replying to emails.
When following up with applicants, I definitely pay attention to how quickly they respond.
Sometimes, not five minutes will go by, and I will already get a very detailed response from an applicant. I love this. It tells me that I'm talking to a passionate, responsive and detailed person who I can depend on throughout the application process, and this response is an indicator as to what it will be like working with them throughout the event process.
Becoming part of the agenda
In summary, the application that you submit is a reflection of the quality of content and attention that you will provide for the event.
If you leave whole sections blank, or only give a couple of half-hearted sentences on your possibly-good story, you don't leave an impression, or worse — you leave a negative one.
We want passion, heart and relevance.
Above all, we want to provide great quality content for our audience. By being selected as a speaker at an event, that organization is essentially saying that they endorse you, your message and the quality of your presentation.
Photo Attribution: Dave Sierk, Consumer & Small Business Email Strategy, Dell, presenting at MarketingSherpa Email Summit 2014
You might also like
Event Marketing: 3 tips to set your speakers up for success [More from the blogs]
Combining Social Media and Event Marketing: Year-round effort boosts clickthrough 236% [MarketingSherpa case study]
Event Marketing: How a technology start-up made a trade show splash booth-free [More from the blogs]
Event Marketing: Regional customer forums improve field events attendance rate by 150% [MarketingSherpa case study]
Categories: Marketing Tags: email summit, event marketing, public speaking, speaking application