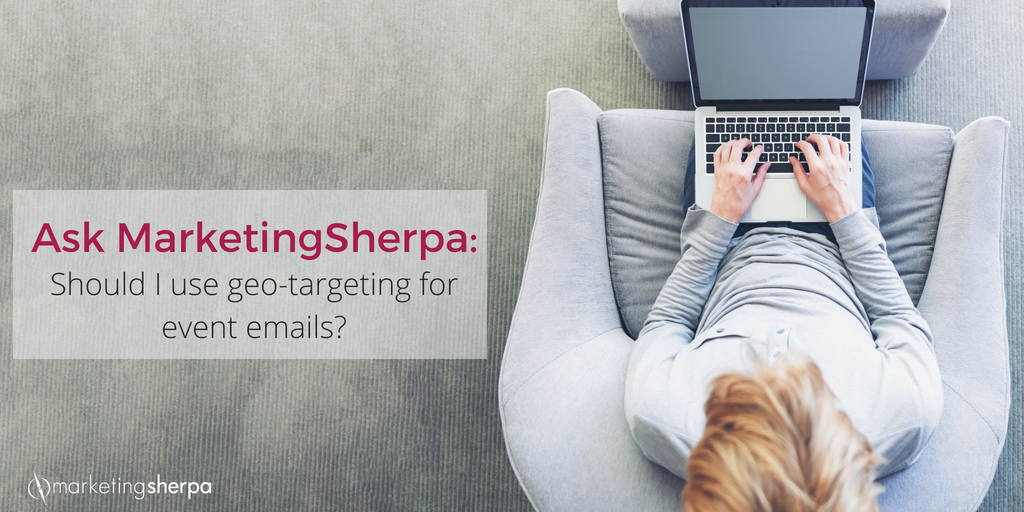 We frequently receive questions about marketing advice from our email subscribers. Instead of hiding those answers in a one-to-one email communication, we publish some of them here on the MarketingSherpa blog since they may be able to help many other readers. And if you have any questions, let us know.
This question was submitted by Email Marketing Manager Korbin in reference to emails about his organization's events.
Korbin: I'm trying to find the average decrease in conversion when we send an event email to a 30-mile radius around the event, versus something larger like 70 miles. It's caused some heated disagreements between field and HQ staff.
Do you have any research on something like this? For example, if an event is in Denver, and we send an email invitation to 30 miles around Denver (~1 hr drive radius), how does that conversion/unsubscribe rate compare to an invitation sent to something like a 50 or 70-mile radius (~2-3 hrs.)? Is it worth expanding the send?
Dear Korbin: I asked around the lab and while we don't have the precise data to support the decision you are looking to make, my colleagues were happy to review and provide their perspectives on your challenge.
Here are the insights I was able to gather:
Insights based on experience
From running our own events, our hypothesis is that the specific time or mileage would most likely vary by location. For example, here in Jacksonville, we're pretty spread out, and people are used to going a long way to get places. The same is true in Los Angeles.
The Boston market seems way different. Someone isn't going to come in from Cambridge to get into the city or go from the city out to the suburbs. New York is the same.
But that's just a hypothesis. Would love to see your test. In the meantime, here's some content you might find helpful:
In addition to the distance to the event, the messaging and title of the event are important, of course. Here's an experiment we ran for one of our own events:
Email Testing: More Specific Subject Line Improves Open Rate By More Than 35%
Insights based on testing
Leads from our data sciences and research teams shared the results of a campaign they worked on for a large event with satellite host locations.
They ran a geo-targeted email test based on the registration addresses of previous attendees/alumni:
| | | | | |
| --- | --- | --- | --- | --- |
|   | Message | CTA | Clickthrough | Registrations |
| Control | General event messaging | Register Now for a Location Near You | 2.0% | 34 |
| Treatment | This year, the closest host site to you appears to be: Host site name, City, State | Reserve Your Seat Here Now | 3.7% | 162 |
Based on the success of the geo-targeting, this organization then sent the same treatment email to their entire list of subscribers based on IP address, securing an additional 87 registrations.