Blog Awards: Nominate your favorite marketing blogs
At MarketingSherpa, our job is to help you do your job better. But we're not the only place you turn to for helpful information.
So to help your peers find quality marketing information, we're launching the MarketingSherpa Reader's Choice Awards. What marketing blogs do you find most valuable? Simply make a comment on this blog post with the name of the blog and the category you would like to nominate it for.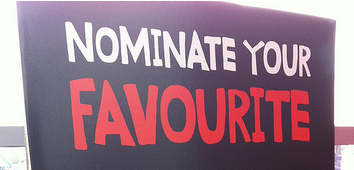 Here are the categories:
Best B2B Marketing Blog
Best Email Marketing Blog
Best E-commerce Blog
Best Inbound Marketing Blog
Best Copywriting Blog
Best PPC Blog
Best SEO Blog
Best Marketing Strategy Blog
Best Social Media Blog
Best Viral Marketing Blog
Best Marketing Operations Blog
Best Design Blog
Best Optimization/Testing Blog
In a few weeks, we'll put the most nominated blogs in each category in a survey and have the MarketingSherpa audience vote on the overall favorite in each category. So think of this as the primaries, and the most popular blogs will make it to the general election.
The Reader's Choice winners will receive a badge to display on their own blogs citing their bravery, er, helpfulness in the line of duty, and they'll be featured in a MarketingSherpa blog post announcing the winners.
Plus, they will be invited to write a guest post (original, helpful content only, no selling or sales links) on the MarketingSherpa blog. This is an honor we rarely bestow. MarketingSherpa blog posts are written by a team of reporters and researchers to ensure you receive the most valuable, least biased information possible. But, if you, the reader, tell us that a blogger has something helpful to say … we'll make an exception just this once to share it with the MarketingSherpa audience.
A few more details … Yes, you can nominate your own blog or the blog of the company you work for. Since there is likely overlap and some blogs cover more than one of these categories, yes, you can nominate the same blog in more than one category. Or, for that matter, more than one blog in each category (but no naming your own blog in the same category over and over to move up the ranks).
For more info, here are the official rules. So get nominating. Simply comment below with the name of the blog and the category you're nominating it in. Deadline is Sunday, May 13.
UPDATE: The nominations were tabulated, the vote was set, and we now have our winners of the MarketingSherpa Reader's Choice Awards.
Please feel free to continue to comment, though, and let the world know about the marketing blogs you find most valuable.
Related Resources:
MarketingSherpa's Email Marketing Awards 2012
Marketing Wisdom for 2012: Real-Life Stories of Success and Lessons Learned — Download your complimentary MarketingSherpa special report
MarketingSherpa Library — Access more than 1,000 case studies and how-to articles
Categories: Marketing Tags: Blogging, blogs, Marketing, Reader's Choice Awards