Social Media Marketing: Social metrics from "likes" to ROI
Despite Super Bowl ads promoting the misconception that social media marketing is full of clueless hipsters, the social media marketing channel provides a wealth of data marketers can use for analytics to optimize and improve campaigns.
Jay Baer, President, Convince & Convert, in his keynote presentation at the recently held MarketingSherpa Email Summit 2013 in Las Vegas, even made the case that email marketing and social media marketing are similar in three main areas:
Operations and measurement
Channel and audience
Message and content
Jay went on to describe social media as email "with a fresh coat of paint."
So, if you accept Jay's analysis – and he makes a very sound point on the topic – email, the elder statesman of digital marketing, and social, the new kid on the block, are more similar than different.
When you take "measurement" from the first bullet point in mind, email metrics are likely fairly ingrained for most marketers – open rates, clickthrough rates, unsubscribe rates, list building, etc.
To take a closer look at social media marketing metrics, I turned to the recently published MarketingSherpa 2013 Marketing Analytics Benchmark Report and found this chart: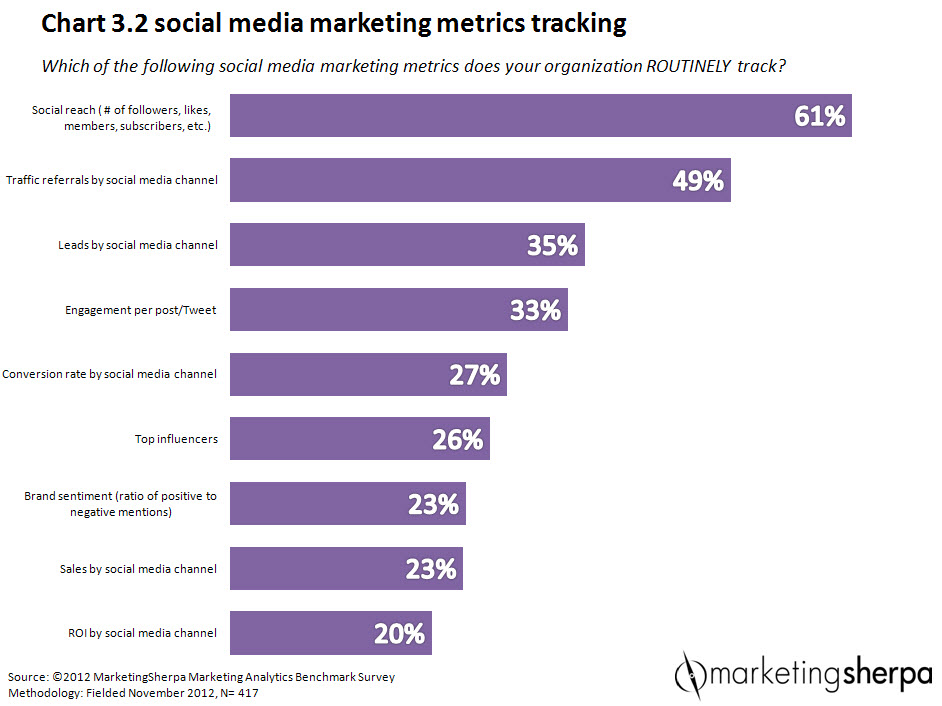 And, here is commentary from Brad Bortone, Senior Research Editor, MECLABS, and editor of the report:
HOW ARE MARKETERS TRACKING SOCIAL MEDIA MARKETING METRICS?

Despite the fact that only 48% of surveyed marketers tracked social media marketing metrics, those who did were tracking a wide breadth of social tactics, with social reach (e.g., total followers, "likes," etc.) being the most reported at 61%. This is likely the highest performer because these metrics are obtainable directly from the social media outlet in question.

This immediacy was beneficial to Mary Morel, Director, The M Factor Pty Ltd, who said social media enabled her the ability to, "concentrate most on regularly providing valuable information to build brand and watch Facebook stats, Twitter followers, Google Analytics, e-newsletter opens, subscribes and unsubscribes, and blog stats."

Likewise, traffic referral data (49%) is information available from the social media outlet, and from link-tracking tools.
One interesting data point from this research is marketers are not really tracking sales and ROI – only 23% and 20% of surveyed marketers respectively cited collecting this data. Those are numbers that need to rise for marketing to be able to prove the worth of social media as a marketing channel.
Tracking campaigns down to return on investment is both the greatest benefit and also the greatest challenge for marketers. Digital marketing channels provide the data, but it's up to the marketer to make full use of that data.
Taking a deeper dive into our research, one reason marketers are not really maximizing social media analytics is the group of social media data analytics tools currently available. More than half (51%) of surveyed marketers reported being "neutral" about the analytics tools available to them, and a mere 4% reported being "very satisfied" with the current lineup of tools.
Survey-takers expressed frustration with a lack of tools that integrate all social platforms, and reported that the complexity of social media analytics tools makes them too time consuming to utilize.
Clearly, social media data is out there, and marketers are taking advantage of that data. However, most marketers are not fully utilizing analytics, particularly on the bottom-line impact metrics of tracking social media campaigns to sales and return on investment.
Based on our research, part of what could be considered an underutilization of social media data might be blamed on a lack of easy-to-use and inclusive social media analytics tools.
With that last point in mind, here are some questions from the Benchmark Report. We'd love to hear your thoughts on these questions, and the overall topic of social media marketing analytics, in the comments section of this blog post.
Points to Consider

Are you satisfied with the social media analytics tools available?
Do you feel your tools provide necessary insights to improve your social media marketing programs?
Are you continuing to rely solely on platform-provided data, such as "likes" and followers?
Have frustrations with your social media marketing tools made you reconsider future efforts with this tactic?
Related Resources:
Social Media Marketing: 8 tactics to measure and improve Facebook results
Social Media Metrics: Three touchy-feely numbers to help you benchmark and improve
Social Media Measurement: Moving forward with the data and tools at hand
Social Media Marketing: Analytics are free and plentiful, so use them
Measuring Social Media's Contribution to the Bottom Line: 5 Tactics
Categories: Marketing Tags: ROI, social media analytics, social media marketing, social media marketing tools