Marketing has a language all its own. This is our latest in a series of posts aimed at helping new marketers learn that language. What term do you find yourself explaining most often to new hires during onboarding? Let us know.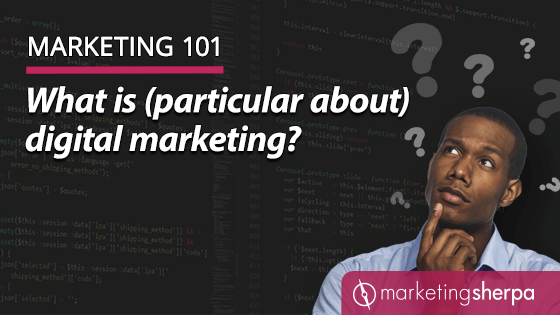 This article was originally published in the MarketingSherpa email newsletter.
Digital marketing is the communication of value to a potential customer through their computer, tablet, smartphone or similar device to help that customer perceive the value of the product or service. The goal of digital marketing is to earn a "yes" (also known as a conversion) to the organization's "ask" (also known as a call-to-action). That ask may be the ultimate conversion an organization seeks to achieve – often a sale – or an intermediate ask like signing up for an email list or joining a webinar. Copywriting and design are critical to this value communication.
Digital marketing, also known as online marketing, is often contrasted against traditional marketing, also known as offline marketing. While offline marketing has occurred since the dawn of humanity, it's rise really occurred during the start of the era of mass production caused by industrialization and mass media. Marketers were needed to generate demand for this new, abundant supply.
Digital marketing's rise has been driven by the mass adoption of the internet and the associated increase in the use of digital devices.
If you are searching for the definition of digital marketing, you likely want to understand this juxtaposition – in other words, what is particular about digital marketing as compared to traditional marketing. We'll provide a few particular aspects, but first, some word usage examples.
Word usage examples
To put the term "digital marketing" in context, here are some examples of how we have used the term in our content:
And our very first mention of "digital marketing" on February 26, 2008 (there were earlier mentions of similar phrases like "internet marketing") came in a job title:
"However, Mikael Blido, head of Digital Marketing, Sony Ericsson, knows that…" from How Sony Ericsson Markets (In)directly to Consumers: Secrets Behind Their Online Strategy
Now let's look at what is particular about digital marketing as compared to traditional marketing.
A/B testing is cheaper, quicker and easier in digital marketing
Before the rise of digital marketing, traditional marketers could split test direct mail and other direct marketing. They would mail one marketing message to a randomly selected group of potential customers, another marketing message to another randomly selected group, and see which performs better.
They would have to print multiple versions, have multiple calls to action (for example, two phone numbers), wait weeks or longer for the results to come in, and manually tabulate the results.
Digital marketing allows inexpensive, quick, and easy testing on a variety of channels – digital advertising networks, social media advertising, email platforms, or on websites with the help of testing software.
Since testing can help marketers improve results by better understanding their customers, digital marketing can allow more marketers to understand more customers quicker.
When Gartner's GetApp brand surveyed 238 leaders at startups and small businesses about marketing technology, respondents cited A/B testing as the most effective software tool in their toolkit – 62% found A/B testing tools very effective.
"A/B testing may take a little getting used to, but once you get the hang of things you can discover business insights that help you increase conversions and—ultimately—your bottom line. Or, it may allow you to fail fast and move on," said Amanda Kennedy, Senior Content Writer, GetApp.
Here are a few free resources you might find helpful if you're looking for best practices for starting and/or measuring A/B tests for marketing experimentation:
A/B Testing in Digital Marketing: Example of four-step hypothesis framework
A Behind-the-Scenes Look at Creating an A/B test
Unlock the Power of Your A/B Testing Program
Email Marketing Optimization: How you can create a testing environment to improve your email results
Get Your Free Test Discovery Tool to Help Log all the Results and Discoveries from Your Company's Marketing Tests
Prioritize your marketing experiments with the Test Planning Scenario Tool
Digital marketing is less expensive in general
Not only is A/B testing less expensive in digital marketing versus offline marketing, pretty much everything digital is less expensive (well, everything except digital marketing salaries).
Email marketing is generally less expensive than direct mail. Video pre-roll ads are generally less expensive than TV commercials. And while rates are increasing as competition increases, online display ads are generally less expensive than print advertisements in newspapers and magazines.
Here are a few free resources if you need help with digital media buying and budgeting:
Reprioritize Your Marketing Spend and Transform Your Results: Learn a radical new framework
Advertising Chart: How digital ad placement strategy affects customer response
Marketing Budget Charts: B2B customer experience investments (plus 4 budgeting tips)
Advice From Three Digital Marketing Experts on Building Your Budget
It is easier to track the ROI of digital marketing
Department store owner John Wanamaker famously said, "Half the money I spend on advertising is wasted; the trouble is, I don't know which half."
It is notoriously difficult to track the ROI (return on investment) of offline marketing. For example, you could put a coupon in a newspaper advertisement with a unique code and count how many times the coupon is redeemed (or even, the exact amount of sales the coupon and ad secured). But what about people who saw the ad and aren't coupon clippers? Or even more complex, what about people who saw the ad, had a positive brand impression, and then your digital ad stuck out to them and they clicked and purchased? How can you know what role the newspaper ad played?
While there is certainly branding in digital marketing, most digital marketing has a clear and direct call-to-action, and marketers can track from a click on that call-to-action and see how customers performed throughout the funnel up to a purchase, helping them measure the ROI of the digital ad.
Still, ROI tracking is far from perfect in digital marketing as well. If your company has a long and complex sales funnel, you have to decide how to measure ROI. Should the ROI be credited to the initial ad they clicked on that got them to download a whitepaper and signup for your email list nine months ago? Or the email they clicked on today that lead them to finally purchase? Or a combination? (This general topic is known as marketing attribution, and first-touch, multi-touch, and last-touch attribution models specifically).
What about if a customer reads a review of a product on your review site, but doesn't click the affiliate link? Perhaps they purchase your product in a physical store or simply go back to your ecommerce store later to purchase. Are you properly attributing revenue to the review site?
If you are interested in tracking the ROI of your digital marketing, here are some free resources that can help:
Marketing Attribution Chart: Data from more than 500,000 customer buying journeys
Marketing 101: What is lead attribution?
Improve Attribution: 8 Steps to Measure the Impact of Your Marketing Efforts
Ecommerce Research Chart: ROI on marketing spend
Social Media: 4 simple steps to calculate social media ROI
It is easier to reach the niche group of people who can be best served by your product
Marketers typically call this targeting. But who wants to be targeted? Targeting implies you are about to be attacked.
So let's call it – reaching the people your brand can best serve. That might be a small niche. A giant group. Or an amalgamation of personas that together comprise a large group of people.
This is possible in offline marketing to some extent. If you only serve a particular city, you can buy an ad in the local newspaper. Or if you are looking for outdoor enthusiasts, you can advertise in Outdoor or Sierra magazine.
But digital marketing allows for a much deeper and more granular focus for your marketing messages. You can build your own email list of people who are interested in your product. You can host a sweepstakes and attract people who are interested in your giveaway prize (for example, a trip to an organic resort could attract people interested in buying organic milk). You can only serve up your advertising to people who take a certain action, such as search for a specific term or put a specific product in a shopping cart.
For example, Bladder Cancer Advocacy Network (BCAN) was able to generate 2,555 leads from a $6,500 ad spend on Facebook by using specific parameters that focused the ads around a lookalike audience (people who had similar characteristics to BCAN's current community) along with specific demographic parameters of people who are considered 'at risk' for bladder cancer diagnosis, such as firefighters and Vietnam veterans (you can read more in Quick Case Study #4 in Anti-Selfish Marketing Case Studies: 4 specific examples of focusing on what the customer gets).
This ability to reach a niche group of people may get harder and more expensive though. As customer privacy concerns increase, governments along with major corporations that make operating systems and devices are putting limits on tracking customer behavior.
If you are interested in reaching a specific group of people with your digital marketing, here are some free resources:
Online Behavioral Advertising: How to benefit from targeted ads in a world concerned with privacy
The Benefits of Combining Content Marketing and Segmentation
Email Segmentation: Finish Line's automation initiative lifts email revenue 50%
How to Tailor Ads to Demographic-based Preferences & 5 Tips for Motivating Mature Consumers
Advertising Research Chart: Customer perception of what makes a travel ad effective, by age group
Email Marketing: Groupon's segmentation strategies across 115 million subscribers
Local SEO: How geotargeting keywords brought 333% more revenue
You have many opportunities to learn about the customer
While it plays a role of some of the other aspects of digital marketing I've already discussed, data deserves its own distinct section as well.
With A/B testing, you are building an experiment to learn how specific changes you make affect customer behavior.
But even if you don't build A/B tests, it's almost impossible not to get some data from your digital marketing. Even better if you proactively set up your campaigns to record the data that will be most insightful about the customer.
With offline marketing, you may be able to collect data if a person responds to the ad. For example, if they send you the postcard you included in a magazine or call the phone number on your newspaper ad.
With digital marketing, the data is far more extensive. You can granularly track many behaviors customers taken, even how they scroll on your website or where they hover their mouse.
While we're on the subject, data is a very buzz-y word that seems big and scary to the non-analytical marketer. It can be complex, for sure. However, data simply gives us an opportunity to better learn about and serve real human beings on the other side of the mouse – the people we call current and potential customers.
If you are interested in digital marketing data, here are some free resources:
The Data Pattern Analysis: 3 ways to turn info into insight
Digital Analytics: How to use data to tell your marketing story
Get Your Free Simplified MECLABS Institute Data Pattern Analysis Tool to Discover Opportunities to Increase Conversion
Digital marketing is less trusted
We're on a roll discussing all of the bonafides of digital marketing, so I hate to be a Debbie Downer. But if we're going to discuss what is particular about digital marketing…let's be honest. At least one thing that is particular is negative.
Digital marketing is generally less trusted than traditional marketing.
We asked 1,200 consumers: "In general which type of advertising channels do you trust more when you want to make a purchase decision?" Prints ads ranked first, with 82% of Americans saying they trusted advertisements in newspapers and magazines when making a purchase decision. But it goes beyond just that one channel. All of the top six most trusted media were traditional, and all of the seven least trusted media were digital.
You can see the data for yourself in Marketing Chart: Which advertising channels consumers trust most and least when making purchases.
If you need help instilling trust in your digital marketing, here are some free resources:
Anxiety: Use privacy as a competitive advantage
The Marketer and Buyer Anxiety: Three ways to counter anxiety in the purchase funnel
The Importance of Building Trust: What 2,400 consumers say about trust in the conversion process
The Trust Trial: Could you sell an iChicken?
Four Quick Case Studies of Anxiety-Reducing Marketing
You can follow Daniel Burstein, Senior Director, Content & Marketing, MarketingSherpa and MECLABS Institute, on Twitter @DanielBurstein.
If you are interested in digital marketing, you might also like…
B2C Marketing: 65% lift in organic traffic from in-house digital marketing transition
A Simple Guide for the Busy Marketer: Using data from online marketing and web analytics tools
Social Media Marketing: Doubleday combines geocaching and Facebook to boost sales 23% for John Grisham book
If you are interested in entry-level marketing content, you might also like…
Marketing 101: What is source/medium?
Marketing 101: What is PPC in marketing?
Marketing 101: What is CRO (Conversion Rate Optimization)?
The Beginner's Guide to Digital Marketing: 53 articles (and 1 video) to help with onboarding