Mobile Marketing: A look ahead to 2012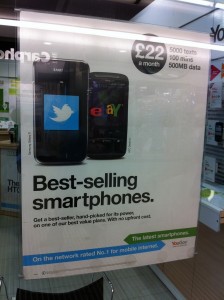 One benefit of being a MarketingSherpa reporter is I get to interview marketers from companies of all sizes and business sectors, and marketing industry experts for the case studies and how-to articles we publish in our newsletters.
This means I get to hear firsthand about what is working, and sometimes not working, from your marketing peers, and gain insight into some of the many topics that surround the marketing world. And I probably don't need to tell you, there's a lot of exciting things to learn about.
These interviews always have a specific purpose based on a story idea, but sometimes, like most interesting conversations, they veer off into areas that can't be used for the story, but are just too interesting or valuable to not share with all of our readers.
A few mobile predictions for the next year
For instance, I recently spoke with Andrew Martin, Vice President, Metia, a digital marketing agency with multiple international offices, for an upcoming consumer marketing article. At one point, we took a little detour into what is going on in the mobile space and what marketers should be thinking about over the next year.
"I think mobile is obviously moving at a critical pace," says Martin. "And it can often be daunting to try and keep up."
He mentions one issue in the simple sheer number of mobile applications out there.
"I think the Apple App Store has over 400,000 applications. That makes it more and more difficult to differentiate yourself," Martin explains.
And it's not just applications.
Martin says, "A number of years ago, Nokia became the biggest camera manufacturer in the world, and that was an indication of where mobile would be going."
He says this spread of cameras on phones served as one indication of how mobile devices are changing how people interact with everyday items, creating new marketing opportunities, and how "that convenience is a huge opportunity for brands and people."
Martin adds that marketers should pay attention to technological changes with mobile, such as HTML5 and the attempt to get more consistency across different browsers and devices. He says many of his clients are interested in how these new mobile technologies can help them and are closely watching how Apple handles this push for more technology standardization.
Sites vs. apps
Going back to the point about just how many apps people now have to sort through and deal with, Martin says he finds mobile websites versus mobile applications interesting right now.
"How do companies think about the Web in a mobile sense?" he asks. "Sometimes consumers or potential customers can begin to feel a bit overloaded by the number of apps that are out there and how many there are to choose from."
With that in mind, marketers are obviously going to be better served by thinking about mobile efforts strategically and not just jumping on the app bandwagon because everyone else is. You should work to provide value to your audience with the mobile experience. That might be best served by a mobile-optimized site, an app or even a combination of both.
Phones vs. tablets
One final point is not all mobile devices are alike. Particularly, there are two form factors – the smartphone with its small screen and the tablet with a larger screen. Your mobile website should be optimized for both devices, and if you have an app, you should also optimize it for each device.
Martin says a good way to maximize each form factor is design your mobile experience to work on the differently-sized devices in parallel.
"How do I use my iPhone as an input device and my iPad as a management device?" he asks.
He says this approach makes sense because you might want to allow mobile customers to enter information on the go when they only have a smartphone on them, but at the same time take advantage of the increased screen real estate of a tablet to make control and management mechanisms easier to handle.
One area Martin says to watch for this type of integration is the release of Windows 8.0 and how that platform communicates with Windows smartphones.
How are you approaching mobile marketing? Do you see any interesting trends coming up over the next twelve months?
Photo credit: ianfogg42
Related Resources:
What have you learned about mobile marketing in 2011? Share your insights for a chance to be published in the 2012 MarketingSherpa Wisdom Report
Get Started in Mobile Marketing: 4 Insights to Guide Your Strategy
Product Launches: How HotelTonight's mobile app became the most downloaded app in its category in just one month
Mobile Marketing: How Redbox drove 1.5 million texts and added 200,000 mobile participants in 10 days
Mobile Marketing 101: Should you make the leap to a custom mobile site?
Mobile Marketing 101, Part 2: Ease of use and quality of content are key
Mobile Website Optimization: The growing impact of mobile search
Categories: Mobile Tags: applications, apps, Mobile, mobile cameras, mobile marketing, tablets