Mobile Social Media Marketing: 3 tips to take advantage of this growing convergence
Fun Fact: the iPhone can make phone calls. I say this because two years ago, when Consumer Reports found that the iPhone 4 was prone to dropping calls, media reports were filled with people who didn't care.
They didn't care … that their phone … couldn't make phone calls.
Because people no longer use phones to make calls—they use them to check Facebook and Twitter— the issue of call quality was simply not of importance.
I'm exaggerating, of course, but not by much. According to Nielsen's State of the Media: Social Media Report 2012, use of the mobile Web has increased 82% from July 2011 to July 2012 and app usage time has more than doubled. Of course, many people connect to social media through an app.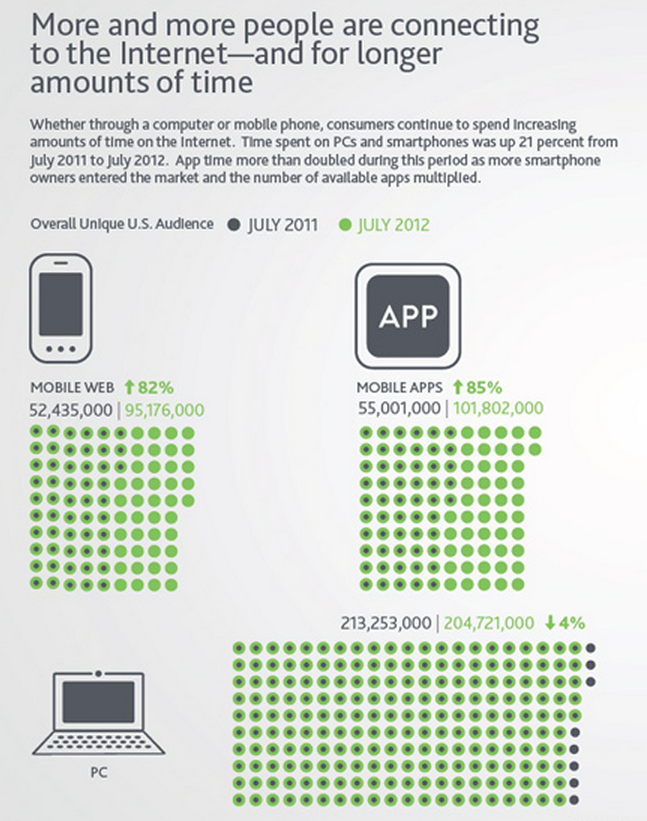 While less people are using the computer to connect to social media, more people are using mobile phones and tablets to receive their daily Timeline fix.
"The Nielsen report has demonstrated significant evidence to support the idea that the growth of social media and mobile technology are mutually supporting," said Jonathan Greene, Business Intelligence Analyst, MECLABS.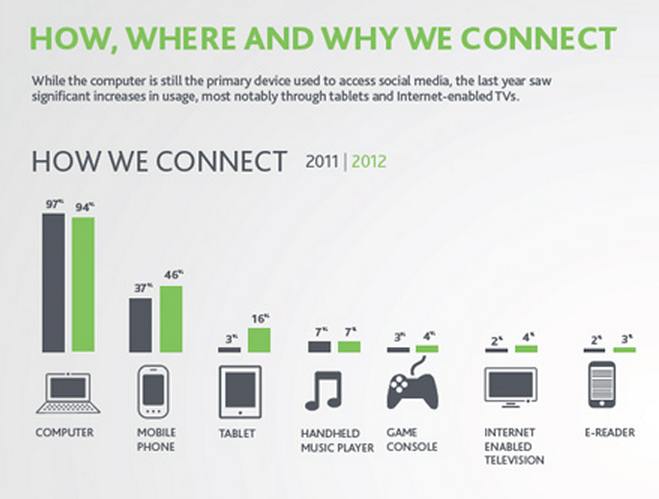 "According to Nielsen, people continue to spend more time on social networks than any other category of sites – 20% of that time spent on PCs and 30% on mobile devices. This leads to a loose hypothesis that the increase in mobile usage and the increase in social media usage are related, with more people being able to access their social platforms with more frequency and increased lengths of time as a result of the proliferation of mobile technology," Jonathan explained.
Here's why this all matters to you, the marketer. We all hear about the meteoric growth of mobile devices. If people are using these mobile devices in large part for social media, that should inform your mobile strategy.
Here are three tips to help you improve the way you communicate with mobile social media users …
Tip #1: Utilize multichannel marketing
Like sands through the hourglass, so are the social media messages of our lives.
Social media, by its very nature, is transient. One of my favorite analogies I've heard about Twitter is it's like a pebble drifting down a slowly moving creek –or, occasionally, raging river. If you don't look at just the right time, you miss the message.
This analogy is even more so true when users on mobile devices are just snacking on bits of information quickly flowing by while distracted by their environment.
That's why while social media can certainly be a way for you to reach prospective customers on mobile devices: it shouldn't be the only way you reach these distracted customers.
"Unfortunately, the vast majority of brand marketers still do not embrace the value of converting consumers who 'Like' them on Facebook to email subscribers," said Joel Book, Principal, Marketing Research & Education, ExactTarget.
"Despite research from MarketingSherpa which confirms that 75% of online consumers prefer email for receiving promotional offers, most online marketers remain satisfied with racking up thousands and thousands of anonymous consumers who 'Like' them on Facebook or 'Follow' them on Twitter. For these brands, social media is merely a tactic in search of a strategy," Joel concluded.
Joel discussed converting prospective customers from social media to another channel, such as email. But don't overlook the reverse as well – using multichannel marketing to push your customers towards your social media.
"All companies – whether a Fortune 500 brand or a mom-and-pop outfit – must always promote their Facebook Apps. Otherwise, fans will never see them. As of this writing, however, Facebook still does not feature apps as tiles on Facebook mobile, so the only way fans will visit apps are as app-generated stories, Facebook ads or links posted by the Facebook Page," said Roger Katz, CEO, Friend2Friend.
"When posting links as a branded Facebook Page, getting the right link is critical. Pages must post links that understand the source of the click, be it mobile or desktop, and divert the user to the right version of the App. Too often, companies just copy and post the Facebook App URL which doesn't redirect fans to the right version because native Facebook App URLs are not mobile-friendly. Fans are then led to an error screen or back to the original Facebook Page. With the right URL, the App can be shared through all mediums — emails, posts, tweets, blog articles, and more," Roger continued.
Tip #2: Create share-worthy content
So, my daughter and I had a deal when she was younger. She could pick a few select toys special to her, and we would hide them when friends came over. The rest she would have to share.
The opposite holds true when it comes to social media. You want to create content like that special stash of toys my daughter put into the closet. Stuff your audience sees as so valuable, they want their social networks to see it, too.
The value must be instantly obvious –after all, sharing your social media content is likely only one of many other objectives your potential customers have when using a mobile device. The value proposition question would be along the lines of, "Why should I share your content instead of talking to my friend, walking into that store or watching the rest of this TV show?"
As with any content, you must provide value to your audience, and not only try to sell, sell, sell. That's the baseline.
However, with mobile social media, engaging content is even more important than on PCs due to an even more distracted user. As bandwidth and device processor speeds increase, video becomes more and more of an option to engage that audience.
"People are basically walking around with little portable TV sets at all times, and by 2011, video had already made up the majority of mobile data traffic," said Brendan Cournoyer, Content Marketing Manager, Brainshark. "Then there's the social factor, with millions of people accessing their social media profiles from mobile devices every day."
"For mobile video content, this 'shareability' is critical, as it's been shown that mobile users are twice as likely to share videos than non-mobile users. So each of these factors together – mobile, social and video – represents a major opportunity that brand marketers are looking to take advantage of," Brendan advised.
Tip #3: Let's get small
Lastly, don't forget while a smartphone might have the computing power of a PC, it doesn't have the same screen size.
"Facebook Apps must be at least viewable on mobile devices. 'Viewable' might mean, at worst, that your fans have to 'pinch and zoom' on a shrunken screen to engage in an app experience. It's frustrating and uncomfortable to have to zoom and scroll around on a mobile screen to see buttons, read text and create content. However, it's better than giving your fans an error screen," Roger said.
"To avoid the frustrations of the 'pinch and zoom' screen, we recommend the next step: optimization. Optimizing a branded app for a mobile experience means adjusting the layout for a smartphone screen, tailoring the App experience to your fans' behavior on mobile, making the written content short and readable, and making the action buttons clear and obvious," Roger advised.
Related Resources:
Social Media Marketing: How New York Public Library increased card sign-ups by 35%
Navigating the Four-Phase Social Media Process
Social Media Marketing: Penguin's Twitter book club nets 14 million impressions for its hashtag
Mobile Marketing: 50% of marketers do not know how many customers interact with their local mobile marketing
Categories: Mobile Tags: Mobile, mobile social media, multichannel marketing, social media