Mobile Marketing: Get your audience's attention – wait till they're bored
As a culture, we are rarely separated from our mobile phones. We take them to work, grocery stores, restaurants, the gym — you name it. Whenever there's a timeout at a kid's soccer game, mom pulls out her phone to decide where to take the kids afterward.
In April 2011, Google found that 89% of smartphone users fiddled with the device throughout the day. Pew Research Center found that 42% of cell-owning adults used their devices to cure boredom, and that figure hit 72% in the 18-to-29 age category.
R.J. Talyor, Senior Director, Mobile Products, ExactTarget, summed up the typical consumer attitude toward mobile phones when he shared the following image last week at MarketingSherpa Email Summit 2012.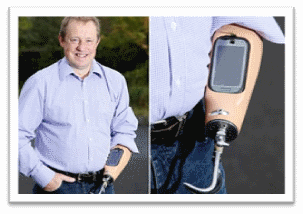 "It's a great metaphor for the consumers we are marketing to these days," Talyor said. "They have the phones almost embedded in their arms, always with them."
Rather than assuming what people will be doing at certain times of day and building a mobile marketing campaign around that assumption, Talyor suggests that marketers try targeting "granular moments," or specific situations the audience encounters.
"How can I take advantage about the location of that individual, and how can I take advantage of what I know about that individual's market?" Talyor said.
He provided these two examples.
Turn waiting customers into email subscribers
To illustrate his point, Talyor pointed to the work of Jason Miller, Digital Content and Community Manager at P.F. Chang's, the parent company of restaurant chain Pei Wei Asian Diner.
Miller noticed people often waited in line before ordering at Pei Wei during busy periods. He wanted to capitalize on that downtime. Since consumers use their mobile devices when bored, a mobile campaign seemed like a perfect fit.
Miller's team posted an offer within view of customers waiting in line. By texting "caramel" and an email addresses to a given SMS short code, customers could instantly receive a buy-one-get-one coupon via email.
"The moment that the individual is in is one of immediate import. They are almost ready to order. Why not give them a 50% off coupon or a buy-one-get-one offer in exchange for their email address?" Taylor said.
"Jason ran this campaign and saw huge, huge results over a holiday weekend. He had about 20,000 email opt-ins over the course of about two weeks … So here's a huge opportunity for email marketers to take advantage of mobile … It's a great way to take advantage of the moment."
Why did this campaign leverage SMS instead of some flashier technology? Because, even though U.S. consumers are shifting from feature phones to smartphones, more than one-third still use a feature phone (this reporter included).
Customers vote via SMS
Miller's team found another moment when customers had downtime: when they're sitting at tables waiting for food, Talyor said.
By including calls-to-action on table-tent placards, Pei Wei encouraged customers to vote for one of three entrées to be featured at a discount in the next "Diner Selects" promotion.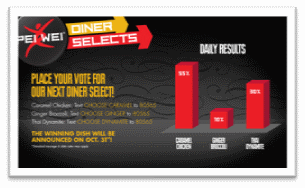 Customers could text their vote to a given SMS short code or vote via Twitter or Facebook. The results were close, and the leading entrée changed every day, Talyor said. By the end of the campaign, Pei Wei had seen:
3,700 votes via SMS text
700 votes via Twitter
2,900 votes via Facebook
The team also noticed different preferences among customers who voted in each channel, and emphasized that difference to the audience to increase competition, Talyor said.
"These are two examples of a single consumer brand using little moments that individuals interact in, and then marketing to that moment. It's something that every email marketer can take advantage of when they think about how they are going to attack mobile," Talyor said.
A key lesson here is that Miller's team identified specific situations that customers experienced (boredom while waiting for meals) and capitalized on those moments with relevant offers and calls-to-action. Targeting the campaigns on the moment instead of the channel gave the offers inherently relevant timing.
When brainstorming on how to apply similar tactics to your marketing, ask yourself: when do customers or prospects experience downtime? Are they waiting in your stores? Or are they waiting before online events? If so, then consider if a good offer and call-to-action could make better use of that moment.
Related Resources:
Email Summit: Mobile marketing panel on the complex sale
Email Summit 2012: Meeting email marketing challenges
Top Takeaways for Small Businesses from Email Summit 2012
Email Summit: Testing timing and format elements in follow-up email
Mobile Drives Email List Growth: How to use SMS and relevant content to add opt-ins
Categories: Mobile Tags: list growth, mobile marketing, SMS, social networks