Marketing 101: What are ad blockers?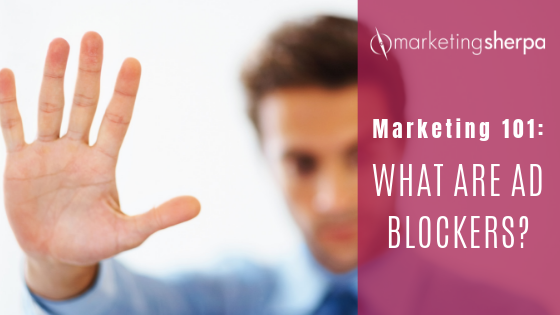 Marketing has a language all its own. This is our latest in a series of posts aimed at helping new marketers learn that language. What term do you find yourself explaining most often to new hires during onboarding? Let us know.
Ad blockers are software that, as the name suggests, allow web users to block the ads on websites. Ad-blocking software (also known as ad filtering) can take different forms — from a web browser extension or plugin like AdBlock Plus to a standalone browser like Brave.
According to MarketingSherpa research, the top reason American consumers block online ads is because "I dislike large ads that pop up over the entire webpage," followed closely by "Ads make the webpages load too slow" and "Rollover ads are intrusive."
While ad blockers have gotten more attention lately, they are not new. For example, MarketingSherpa published a story on them back in 2001 — Should Publishers Worry About Ad Blocking Software? SaveTheFreeWeb.com's Bill Dimm Explains Reality.
Ad blockers have been a difficult phenomenon to deal with for publishers.
For publishers, ad blockers threaten to steal advertising revenue. Some online publishers have adapted by either forcing visitors to allow ads or pay for a subscription to see their content. Here is an example from WIRED magazine.
Impact for marketers
Ad blockers have an obvious consequence — it is harder to get your ads in front of potential customers.
They also have an unintended consequence — ad blockers can block hosted forms on your website, making your landing pages ineffective.
Ad blockers can drive marketers to older means of communication. For example, you might decide to run more print ads to drive traffic to your website since they can't be blocked. Or, you may wish to avoid other issues with digital advertising such as click fraud (also not a new challenge, see Click Fraud: Our research indicates that as much as 30% of paid search traffic may be fraudulent from 2005).
Ironically, ad blockers might drive you to newer means of communication as well. For example, if ad blockers are a concern, you might want to invest more resources to increase mobile conversion rates. Almost two-thirds of people who use ad blockers (64%) do so exclusively on desktops or laptops, according to a new consumer survey by Visual Objects of 500 people who use ad blockers. So marketers have an opportunity to optimize the mobile landing pages they send ad traffic to for increased conversion.
You can follow Daniel Burstein, Senior Director, Content and Marketing, MarketingSherpa and MECLABS Institute, on Twitter @DanielBurstein.
You might also like …
Conversion Optimization: Eight considerations to take into account when A/B testing in mobile
Mobile Ad Campaign Optimization: 6 tactics from a high-performing marketer to increase conversion
New mobile conversion optimization micro course — These five micro classes (each under 12 minutes) apply 25 years of research to help you maximize the impact of your messages in a mobile environment.
Categories: Marketing, Online Advertising Tags: ad blockers, adblock plus, online advertsing, rollover ads, Wired magazine