How to Write a Competitive Analysis (with 3 free templates)
"It's not enough that we win; all others must lose." – Larry Ellison
Personally, I disagree with Larry, and I think that the focus should be on the customer winning. Hopefully that's often through your product or service offering, but sometimes your competitors can serve customers looking for a solution better than you can. In those cases, I think all parties (your company, your competitor and your customer) are better served by acknowledging that.
In fairness, Larry Ellison is the fifth richest man in the world, so if that's how you keep score, he has much more credibility than I. On the other hand, he was paraphrasing Genghis Khan with his quote, so I guess it all depends whom you want to emulate with your marketing.
Learning from the competition
But, whether you agree with Larry or me (or even Genghis), I'm sure that we can all see the value in better understanding what competitors are doing.
So you can conduct a competitive analysis for the obvious reasons — to bludgeon the competition and raze their villages. However, you can also conduct a competitive analysis to help you better communicate with your customers about how you can best serve them (and even tell them what you can't do) while perhaps honing the fine art of "coopetition."
Moreover, a competitive analysis is an especially helpful tool to help you craft your value proposition.
Free competitive analysis templates
To help you conduct a competitive analysis, we've created a few free templates loosely based on the Summary Competitive Analyses we conduct for our own Research Partners here at MECLABS.

Competitive analysis presentation
For a slight deeper dive, you can use this PowerPoint template.
Download the MECLABS Competitive Analysis Presentation Template
Competitive analysis Excel template
For a more in-depth look at your competitive landscape, this competitive analysis Excel template might be helpful to you.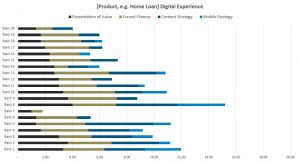 Download the MECLABS Competitive Analysis Template
 Download the MECLABS Competitive Analysis Template (Excel 97-2003 Version)
Very simple competitive analysis
If you're only looking to get a very simple breakdown about your competitive landscape, you can use this simple Word document.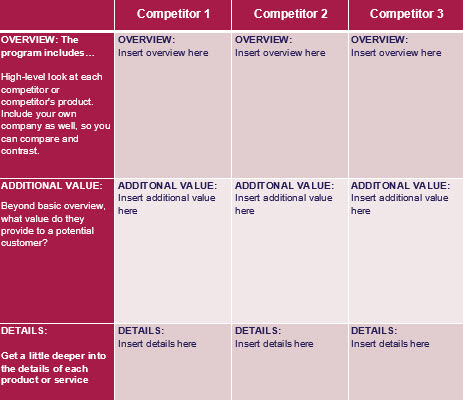 Download the MECLABS Very Simple Competitive Analysis Template
Even better, you can use these documents to communicate at three levels. While the fields aren't the same in all of them, the PowerPoint and Word templates are meant to be a summary of the Excel template. So, you can use the Excel template to guide your own competitive analysis, the PowerPoint template to present this analysis to key marketing leaders, and the Word document as a memo to senior business leaders who would be less interested in all of the details.
Getting started
Digital marketing makes conducting a competitive analysis easier than it has ever been. While in the past, your best opportunity might have been to dive into the SEC filings of a public company, and perhaps sign up for their mailing list and buy some data from a business information vendor, now much of the information you need to know is publicly available … even metrics.
You can use social media and product review sites to see what customers think of your competitors, as well as obtain some real metrics on how many followers they have. You can also use sites like SimilarWeb and Alexa to get a very rough (and let me emphasize, very rough) look at the traffic numbers and patterns for your competitors' sites.
And, don't overlook the power of search …
"Start the competitive analysis as if you were a potential customer and a run couple of searches with your popular keywords or using keywords that search engines recommend," said Ana Gabriela Paez, Associate Director of Research, MECLABS.
"Then analyze companies that appear on paid and natural search results. You may not get all of your possible competitors, but you will get those that are working hard to steal traffic from your site. Sometimes companies will focus too much on reviewing their traditional competitors and forget to frequently monitor search results to see if there are new competitors in the mix or potential new substitutes for your product or service."
That last point Gaby makes is crucial. After all, your competitors aren't who you think they are, your competitors are who your customers think they are. So, if your goal is to make the best horse-drawn carriage and that is your only focus, you'll never see that automobile coming.
And, perhaps most importantly, don't overlook your own efforts. A competitive analysis is of little practical use if you don't look at your own products and marketing materials with the same inquisitive eye, and then place your findings side by side with your competitors, stand shoulder to shoulder and see how you match up.
And, while you're standing next to them, if you follow the teachings of Larry Ellison and Genghis Khan, give them a good, hard kick in the shin.
Related Resources
Gather Competitive Intelligence: 5 Tactics to Research Your Marketplace
Prospect Marketing: Nurturing leads lost to competitors
Competitive Messaging: Tell your customers what you can't do
Online Reviews: How to start discovering your value proposition with Yelp
Categories: Research And Measurement Tags: competitive analysis, competitive messaging, free tools, Value Proposition