Search Marketing: Can your marketing team identify your buyer personas?
Developing a strategy to identify the personas of your customers can be daunting.
How specific do you get?
More importantly, how do you make these personas real to your marketing team?
In a recent webinar, Jacob Baldwin, Search Engine Marketing Manager, and Christina Brownlee, Director of Marketing Communications, both of One Call Now, discussed the important role of customer personas in an overall conversion strategy.
They identified four different personas applicable to a wide variety of verticals within their target audience: spontaneous, competitive, humanistic and methodical.
In order to make these characteristics identifiable for the team, each trait was assigned a "Star Trek" character: Kirk, Spock, McCoy and Scotty, aptly called the "Spock Project." 
The One Call Now team used an outside consultant to brainstorm different buyer personas.
During brainstorming, the team decided to map out all of their markets using these personas, and they discovered some markets shared personas. For example, McCoy, the humanistic customer, was found in both K-12 education and sports management markets.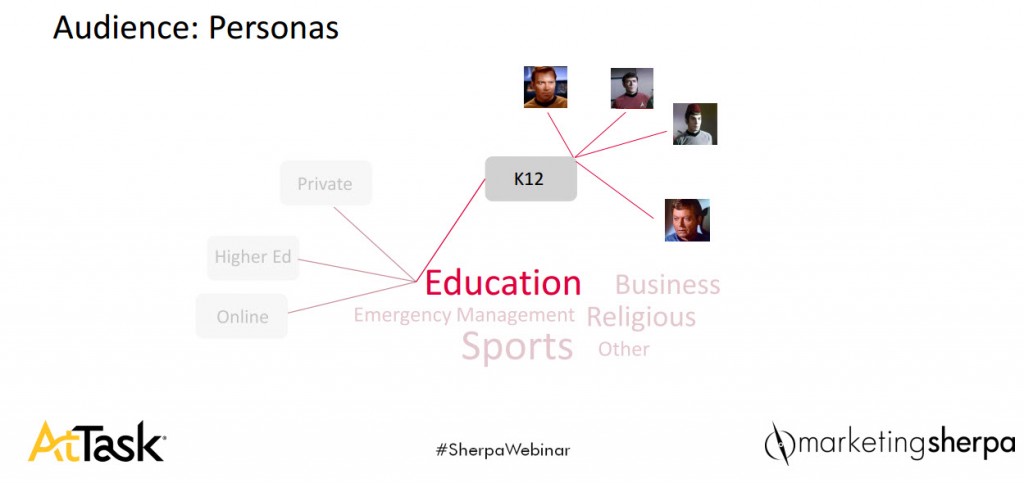 Assigning customer characteristics to familiar television characters helped the marketing team design webpages and content tailored to each persona.
For example, competitive persona customers are likely more interested in information specific to the bottom line and which product or company offers more than the others.
On the other hand, a humanistic persona is more interested in testimonials and case studies – how the product affects a person after adoption. One Call Now packed each landing page with content that appealed to each of the personas.
In order to appeal to each persona, One Call Now created various types of content and calls-to-action. Although customers all come to the site for the same reason – to purchase a messaging system – the way that various customers decide to buy differs. 
For a spontaneous persona, a shiny green "BUY NOW" button beckons. But, for a customer that needs to do more research, testimonials, case studies and requests for a quote are readily available.
Introducing the marketing team to familiar characters helped them think about "How would I sell to Spock, the competitive, as opposed to Kirk, the spontaneous buyer?"
Testimonials and fancy buttons wouldn't cut it for a buyer labeled as a Scotty, the methodical buyer, as effectively as strong content, numbers and being able to compare features build a better case.
Content development rapidly took off within the organization in order to appeal to different characters.
By generalizing four basic characteristics across the sub-vertical customers, One Call Now developed a strategy to appeal to decision makers in the way that they make decisions. The team is able to expand and fine-tune the way they approach customers on the Web, in a way that speaks directly to them and addresses their concerns.
To learn more about how creating customer profiles can aid your marketing efforts, you can watch the free on-demand MarketingSherpa webinar replay of "Search Marketing: Insights on keyword research and customer personas."
Related Resources:
Website Redesign: Message Notification provider combines SEO with LPO, retargeting to drive 81% increase in conversion
Content Marketing: Targeted persona strategy lifts sales leads 124%
Lead Nurturing: 5 tips for creating relevant content
Marketing Research Chart: Top tactics in developing buyer personae
Categories: Search Marketing Tags: buyer personas, content marketing, customer personas, marketing strategy, marketing tactics, Search Marketing, SEO