Marketing has a language all its own. This is our latest in a series of posts aimed at helping new marketers learn that language. What term do you find yourself explaining most often to new hires during onboarding? Let us know.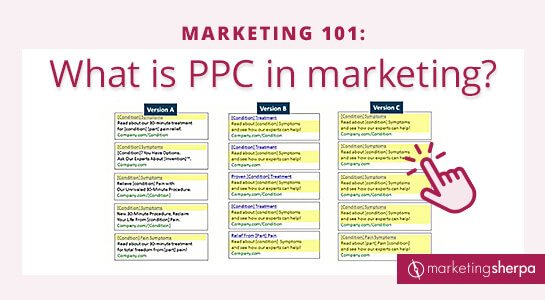 This article was originally published in the MarketingSherpa email newsletter.
PPC stands for pay-per-click. The abbreviation is usually used in front of the words "marketing" or "advertising" to describe digital ads for which the company pays a fee to the website where the ads are displayed (or the advertising network that is running the ads across many websites) every time a potential customer clicks on the ads.
If you're a new marketer, you might have heard the words pay-per-click slurred together pretty quickly by experienced marketers, and not quite understood what they are saying. My favorite anecdote, sometimes I would get a transcript from a recorded interview back, and the transcriptionist (not familiar with the marketing industry) would transcribe "pay-per-click" as "paper click."
Here's an example of the look and feel of some PPC ads:
This example is from PPC Marketing: 3 steps to improve performance.
Words like "condition" and "part" are called out in brackets because those words would change to address different medical conditions faced by the ideal customer using different keywords (more on keywords in the PPC vs. SEO section of this blog post).
The URL is simply listed as "company.com" because we're protecting the identity of the MECLABS Conversion Marketing Services Research Partner that engaged in this PPC experimentation (MECLABS is the parent organization of MarketingSherpa).
Performance advertising versus impressions-based advertising
Traditionally, advertising was sold based on how many people would see the ad — also known as impressions, exposure or reach. The cost is calculated as cost per thousand and abbreviated as CPM ("m" stands for "mille," Latin for "one thousand.")
The rise of advertising on the internet has brought with it a shift to performance-based advertising. While marketers can still buy adds based on their reach, many choose to buy based on an action like a click.
An example in the case study Small Business Social Media Advertising: Local shop conducts value proposition testing with Facebook ads shows a few of the different ways marketers can buy ads online. Consultant Metodi Iliev ran three tests with Facebook ads. For each test, he chose the Facebook ad delivery aimed at a different metric — optimized for post engagement, optimized for impressions, and finally, optimized for link clicks.