SEO Tactics Chart: Creating content is the most-effective tactic — here's how to get started
I've been thumbing through the just-published MarketingSherpa 2012 Search Marketing Benchmark Report – SEO Edition. This thing is so hot-off-the-press that my fingers hurt.
There is a massive amount of analysis in this book, but one theme immediately jumped out at me: SEO thrives on content, and content does not come easily.
Below we have some great advice for jump-starting your content creation, but first let's look at a chart ranking the top SEO tactics used today.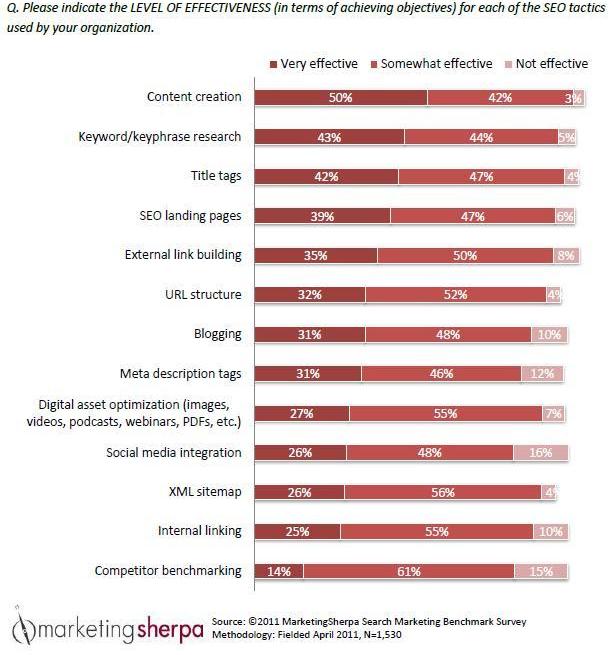 As you can see, content creation sits comfortably on the top with 92% of SEO marketers saying it is at least somewhat effective and 50% saying it is very effective. Keyword research comes in second with 87% saying it's at least somewhat effective.
The other side of the content-coin is that it is also one of the most difficult tactics to execute. Here (pulled from another chart in the report) are the three most-difficult SEO tactics:
1. External link building
2. Content creation
3. Blogging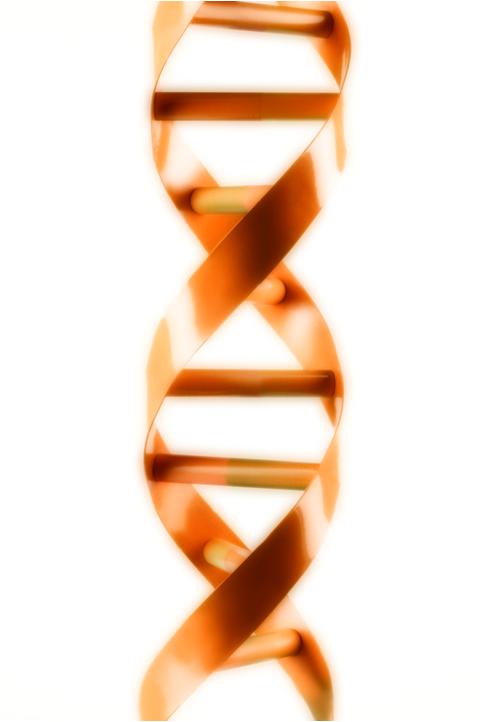 These three tactics are as intertwined as DNA. Nothing I know of will generate more high-quality links on a consistent basis than good content that is published regularly. And more than 50% of SEO marketers use blogs to create content, according to the report.
Blogging results in six months
Even though creating content is the most effective SEO tactic, it comes in sixth in terms of popularity with 60% of marketers using it. This disconnection could be due to the difficulty of creating content, and I recently heard a great example of how to simplify the process and get started.
Marcus Sheridan, Co-Owner at River Pools & Spas, had some great advice at our recent Optimization Summit on how to dive into content creation (Dive! Get it?). Sheridan outlined the simple tactics he used to blog his company's website into the world's most popular swimming pool site in terms of traffic.
Here are tactics he suggested for establishing a traffic-building blog:
Tactic #1. Answer prospects' questions
First, gather everyone in your company and ask them to list the top questions they've received from prospective customers. Write down a list of 50. Those questions are the titles of your first 50 blog posts.
"As a pool guy, as soon as someone calls us on the phone, what do they ask? What do they ask in every industry? — How much does it cost? That's the first question all the time," Sheridan said.
So Sheridan's first blog read: "How Much Does a Fiberglass Pool Cost?".
Tactic #2. No, really answer their questions
Some companies are afraid to answer questions about price or to directly compare their products to alternatives (which is another popular question). Sheridan urged companies to overcome their discomfort. Prospective customers are asking these questions, regardless. Who would you rather have answering them?
"We can't be afraid to talk about anything that the customer wants to talk about; the good, the bad and the ugly," he said.
Tactic #3. Two posts per week for six months
Once you gather questions from your team — keep everyone involved. Get them excited about writing a blog post to answer a question. Divide the work across the company and set a strict schedule.
"If you set 50 titles and you do two per week, then you have 25 weeks' worth of blog content. Within that six months time, everything will start to change for that company and that business and the traffic they're starting to get on their website," Sheridan said.
Related resources
MarketingSherpa 2012 Search Marketing Benchmark Report – SEO Edition
Optimization Summit: Tests with poor results can improve your marketing
Members Library – Optimization Summit 2011 Wrap-up: 6 takeaways to improve your tests and results
Categories: Inbound Marketing, Search Marketing Tags: Blogging, content generation, Inbound Marketing, SEO