Instagram is a great space for marketers. Brands and friends are freely intermixed, and the platform has a light, fun vibe, and there is an emphasis on creativity.
This is a space where, when done correctly, you can be counted among your followers' favorites. They'll look forward to your brand's posts, or click to view your stories, more than any of their real-life friends.
Read these four tips to get a jump on how to take your brand to another level on Instagram and get in with the platform's cool kids — some of whom are actually giving these tips.
Tip #1. Interact with other brand Instagram accounts
After BBC Earth and 500px discovered a natural overlap between their two communities, they decided to shake things up and offer Instagram followers a different perspective.
500px users are a full range of photographers, from those just starting out to professionals. BBC Earth has a photographer following as the natural history brand for the British Broadcasting Corporation.
They created an opportunity to bring each other's content to a wider audience in a week-long "Instagram takeover." The two brands posted content for each other for a week, bringing each other's community and conversations with them.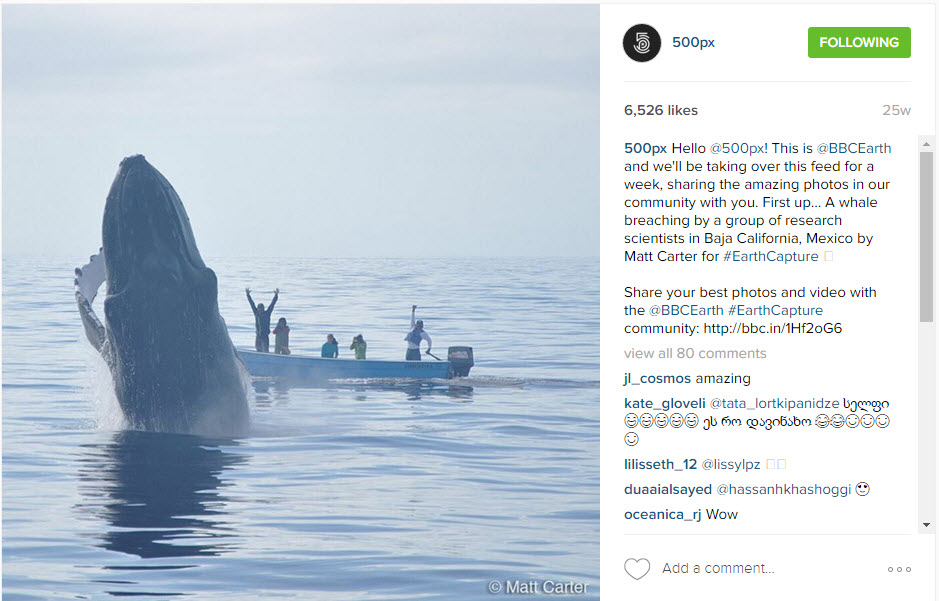 "We saw this Instagram opportunity as a way to show off our community to the world, in particular [to] the 500px community of really highly skilled photographers," said Kara Segedin, Community Executive, BBC Earth.