Insta-famous: 4 quick tips on how to build your brand's Instagram profile
Instagram is a great space for marketers. Brands and friends are freely intermixed, and the platform has a light, fun vibe, and there is an emphasis on creativity.
This is a space where, when done correctly, you can be counted among your followers' favorites. They'll look forward to your brand's posts, or click to view your stories, more than any of their real-life friends.
Read these four tips to get a jump on how to take your brand to another level on Instagram and get in with the platform's cool kids — some of whom are actually giving these tips.
Tip #1. Interact with other brand Instagram accounts
After BBC Earth and 500px discovered a natural overlap between their two communities, they decided to shake things up and offer Instagram followers a different perspective.
500px users are a full range of photographers, from those just starting out to professionals. BBC Earth has a photographer following as the natural history brand for the British Broadcasting Corporation.
They created an opportunity to bring each other's content to a wider audience in a week-long "Instagram takeover." The two brands posted content for each other for a week, bringing each other's community and conversations with them.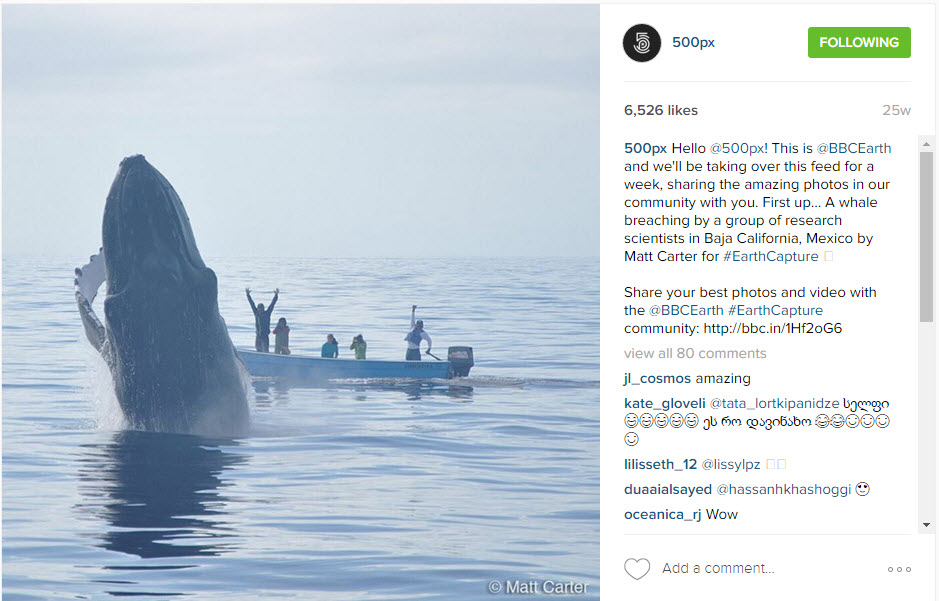 "We saw this Instagram opportunity as a way to show off our community to the world, in particular [to] the 500px community of really highly skilled photographers," said Kara Segedin, Community Executive, BBC Earth.
At the beginning of the campaign, both Instagram communities were relatively the same size, around 100,000 to 120,000 followers. By the conclusion of the week-long swap, both brands would grow their Instagram following by 5%.
Read the specifics on how they integrated and encouraged community discussion in the full case study.
Tip #2. User-generated content over staged photoshoots
As the world's fastest-growing watch brand and a bootstrapped start-up, MVMT had done most of its early growth on social media — and then kept growing … to a whopping 803K Instagram followers.
Email marketing testing helped the team discover what the most effective style of imagery was for the brand.
"User-generated content vastly outperformed expensive model shoots," said Blake Pinsker, Marketing and Brand Director, MVMT.
By giving MVMT content a user-generated feel, or at times using social media to turn customers from around the world into content creators, the team created an endless content arsenal. They also told a story to their customers through aspirational imagery.
By using this user-generated imagery style in their email marketing, the team saw an 88% decrease in cost per order and a 461% relative increase in engagements. Get the details about how they integrated Instagram imagery and email marketing in Blake's presentation at MarketingSherpa Summit 2017.
Tip #3. Work with influencers to grow audience
My Pooch Face is a pet portrait service where artists create the likeness of customer's pets both digitally and in acrylic.
When the brand expanded onto Instagram, the team knew it was a platform where pet-focused accounts have large followings. There was a tremendous opportunity to reach pet lovers and become a part of their social media ecosystem.
"The image that just puts a smile on our face is what impacts [customers] and what gets them to keep coming at their leisure," said David Lefkovits, Founder and CEO, My Pooch Face.
The team went to a conference called BarkWorld, which focuses on influencers in digital marketing in the pet space, he said.
It's "a pretty niche conference, and you have influencers there with Instagram accounts that surpass the three million range of followers. So, we're working now with many of the influencers to bring our message out to the market," he said.
Working with influencers is a growth hacking tactic they pursued in order to grow their network of followers as a new company. David and his team believe that quality trumps quantity in terms of partnering with influencers.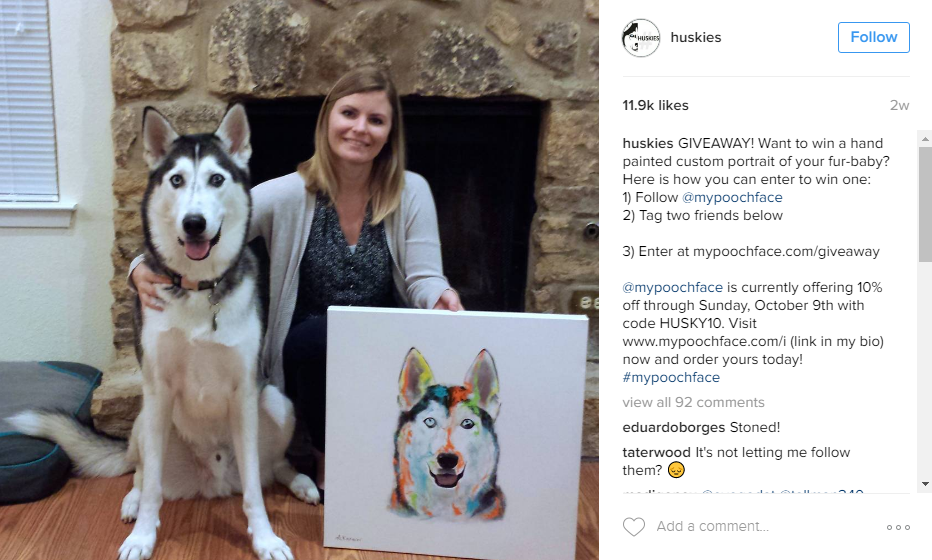 They found influencers who were posting content very similar to what My Pooch Face was posting so that their followers would easily transition into loyal My Pooch Face fans.
For each influencer My Pooch Face partners with, they examine geographic location of followers — for example, the company doesn't serve Asia currently, so a high number of followers in that region wouldn't be useful — as well as "the amount of likes, the amount of comments, the amount of interactions that these folks have," Lefkovits said.
For more details on how My Pooch Face grew their social media and Instagram following read the full case study.
Tip #4. Use content to make your customer more than just a number
TigerFitness.com is an online nutritional retailer that sells workout supplements and shares free workout and fitness content. Since gaining customer trust was an issue for them, the team decided to go for an online tactic of complete transparency.
Marc Lobliner, Chief Executive Officer, MTS Nutrition and Chief Marketing Officer, TigerFitness.com, and his team decided that a focus on personality and impeccable service within their content would help gain trust.
Marc admits it's a hyper-personal approach that isn't right for every company, but that it's what differentiates his company in a competitive landscape.
With that personal approach, video content became the natural fit and a way to make customers feel like they were part of the TigerFitness team. They put together consistent content that is often based on customer feedback or questions.
This establishes the team, and Lobliner in particular, as a thought leader in the fitness sphere, and it builds trust for customers.
Instagram is a particularly natural place for this kind of openness, since it's a platform where brands and friends are intermixed.
It allows for videos, and Snapchat-like short stories to be posted, which Marc and his team have used to their advantage. Letting followers in on their day-to-day life while also showing off their skills in the gym.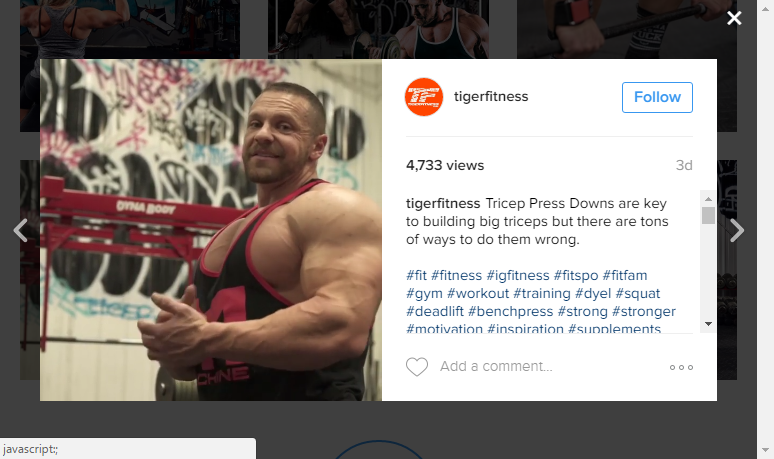 There is a spectrum between your typical brand marketing voice and the hyper-personal approach Mark and the TigerFitness team takes, and it's about understanding where your brand fits on it.
Wherever you are on the spectrum, every piece of content needs to back up and clearly articulate your value proposition. Then build a customer-first content machine that efficiently delivers content of value to your customers.
"Walk the walk — show up and back it up," Marc said, talking about how he and his employees never miss an opportunity to live up to the brand's value proposition. The most important part in this is to "listen, respect and respond."
One of the largest aspects of his social media strategy is to make it feel like a conversation — he and his team personally respond to many messages and comments across platforms.
The result of this hyper-personal approach for TigerFitness has been actual Insta-fame for Marc, who has over 139,000 Instagram followers on his personal Instagram account, alongside the brand's 63K Instagram followers, 300,000 YouTube subscribers, 93,000 Facebook followers and 43,700 Twitter followers.
"Don't be afraid to be YOU," Marc said.
Read more about TigerFitness' Instagram and social media strategy in the full case study.
You might also like…
Subscribe to MarketingSherpa to get the latest case studies and data on inbound marketing
Content Marketing: ZipCar increases contest submissions by 717% by moving off of Facebook
Social Media Marketing: Boston Marathon sponsor John Hancock brings together 30 thousand people with mosaic campaign
Social Media Marketing: Startup achieves 900% Facebook fan growth through sweepstakes
Categories: Social Media Marketing Tags: 101, content, inbound, instagram, social media