You, my friend, are a knowledge worker.
All marketers are.
If you're unfamiliar with the term, it was first coined by management guru Peter Drucker in the 50s.
Of Drucker's six factors for knowledge worker productivity, the one I want to discuss in today's MarketingSherpa blog post is:
"Continuing innovation has to be part of the work, the task and the responsibility of knowledge workers."
This sounds like the perfect description of the challenges facing the modern marketer today.
Come up with out-of-the-box ideas (while sitting in a box)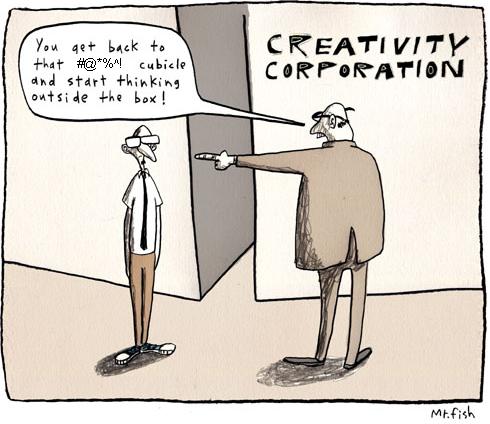 No longer can you rely on reaching potential customers by running a TV ad on the three major networks. Marketers must find innovative ways to use an endless (and growing) array of channels to reach customers.
They must combine smart uses of data and metrics to understand what their customers want and make sure they are delivering that content effectively (while proving the effectiveness to business leaders).
They must also combine this innovative thinking with persistence and process-orientation. After all, marketers must be able to execute these campaigns in complex corporate environments while managing budgets, agency and vendor relationships and corporate policy.
Essentially, marketers need corporate creativity.
Is corporate creativity an oxymoron?
"Creativity" is defined as "the use of the imagination or original ideas, especially in the production of an artistic work."
Also, the connotation of "corporate" is "Oppressively awful in that numbingly 'cubicle in a hermetically-sealed office' kind of way: lacking good quality, morality or ethics, excellence, creativity, spontaneity, kindness, love, integrity, beauty or intrinsic worth and meaning," according to the ever-reliable Urban Dictionary.
In other words, these two aspects of marketing success do not necessarily go hand-in-hand  — innovation and execution.
It is your challenge as a marketing leader to make sure your team (and even your agencies and vendors) never lose that wild spark when working on your brand and campaigns.
Yet, they must be able to execute, manage projects and deliver on time and on budget.
Quite the conundrum. It's a challenge that deeply interests me, so when I recently came across an article by Joe Robinson in Entrepreneur magazine, "The Secret to Increased Productivity: Taking Time Off," I knew I had to talk to Jeff Stibel, CEO, Dun & Bradstreet Credibility Corp. and author of Wired for Thought from Harvard Business Press and Breakpoint from Palgrave Macmillan Trade.