Live blogging from MarketingSherpa Email Summit 2013 in Las Vegas, I had the opportunity to catch Loren McDonald, VP of Industry Relations, Silverpop, speak on using buyer behavior in email campaigns. His presentation was titled, "Let Buyer Behavior Be Your Guide! Delivering Communications that Convert."
Loren opened his talk by explaining three approaches to email marketing: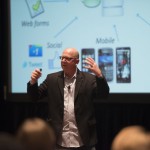 The mass market approach treats all customers as a single audience, what he described as a "hope-based" marketing approach.
The segmented audience approach treats customers as many audiences, a marketer informed and defined approach.
The personal marketing approach that treats customers individually and is a behavior-based marketing approach.
From this framework, he explained customer behavior drives the actions in email campaigns with the personal marketing approach.
To illustrate this approach, Loren offered a number of case study examples, including a look at a wedding invitation email series from Paper Style. In this example, Paper Style changed its approach to email marketing. Previously, it used a "batch and blast" approach with no targeting, which resulted in reduced response rates.
In implementing the behavior-based approach, Paper Style's team analyzed website behavior from visitors, purchase patterns of its customers, mapped the wedding process to understand when typical behaviors happened and finally used this information to create a wedding timeline.
This analysis also uncovered two separate audiences – brides and friends of the bride who are helping with the wedding planning.
To segment those two audiences, Paper Style used website and/or email click behavior to drop prospects into either the "your wedding" or "friend's wedding" email nurturing tracks.
Each track received a separate email series with content specific to each group. Brides' email included information on invitations, bridal party gifts and thank-you notes. The bride's friends' track email included details on planning bachelorette parties as well as gifts for the bride and groom.
The result of analyzing its customers and developing email nurturing tracks based on behavior from its prospects led to impressive results for Paper Style: 244% boost in open rate, 161% increase in clickthrough and most importantly, revenue per mailing increased 330%.
Loren's 10 tips for success
Along with real-world examples of behavior-based email marketing, Loren also gave the audience his 10 tips for personal marketing success: