MarketingSherpa Email Summit 2013: Using buyer behavior in email campaigns
Live blogging from MarketingSherpa Email Summit 2013 in Las Vegas, I had the opportunity to catch Loren McDonald, VP of Industry Relations, Silverpop, speak on using buyer behavior in email campaigns. His presentation was titled, "Let Buyer Behavior Be Your Guide! Delivering Communications that Convert."
Loren opened his talk by explaining three approaches to email marketing: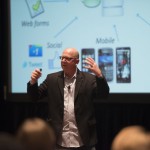 The mass market approach treats all customers as a single audience, what he described as a "hope-based" marketing approach.
The segmented audience approach treats customers as many audiences, a marketer informed and defined approach.
The personal marketing approach that treats customers individually and is a behavior-based marketing approach.
From this framework, he explained customer behavior drives the actions in email campaigns with the personal marketing approach.
To illustrate this approach, Loren offered a number of case study examples, including a look at a wedding invitation email series from Paper Style. In this example, Paper Style changed its approach to email marketing. Previously, it used a "batch and blast" approach with no targeting, which resulted in reduced response rates.
In implementing the behavior-based approach, Paper Style's team analyzed website behavior from visitors, purchase patterns of its customers, mapped the wedding process to understand when typical behaviors happened and finally used this information to create a wedding timeline.
This analysis also uncovered two separate audiences – brides and friends of the bride who are helping with the wedding planning.
To segment those two audiences, Paper Style used website and/or email click behavior to drop prospects into either the "your wedding" or "friend's wedding" email nurturing tracks.
Each track received a separate email series with content specific to each group. Brides' email included information on invitations, bridal party gifts and thank-you notes. The bride's friends' track email included details on planning bachelorette parties as well as gifts for the bride and groom.
The result of analyzing its customers and developing email nurturing tracks based on behavior from its prospects led to impressive results for Paper Style: 244% boost in open rate, 161% increase in clickthrough and most importantly, revenue per mailing increased 330%.
Loren's 10 tips for success
Along with real-world examples of behavior-based email marketing, Loren also gave the audience his 10 tips for personal marketing success:
1. Map lifecycle + behavior + programs
Mapping the lifecycle includes determining marketing programs to grow the list, drive conversion, grow customer value, ensure loyalty and win back lost customer.
2. Don't boil the ocean
This means don't try everything at once – solve your biggest problems first, and start with one or two programs, such as onboarding and cart abandonment.
3. Demonstrate the ROI to management
4. Understand the data flows and integrations
Chart the data created by email campaigns. For example, create a flow chart representing every point where a prospect can abandon a purchase.
5. Leverage multichannel data
Grab data from channels including website visits, email, CRM software, location, offline, mobile, social and Web forms.
6. Incorporate other company technology investments/data
Also grab internal data such as customer recommendations, online reviews and CRM interactions.
7. Use tracks or series, not one-offs
Create email series responsive to customer behaviors.
8. Leverage existing content assets
Loren said most marketers have more content than they realize. He mentioned one baking goods company had an offline catalog, a recipe blog, photographs, activity on Pinterest and Instagram and a video channel.
9. Use/marry the data!
Loren pointed out behaviors taken as individual acts can lead to a misleading picture of the prospect. His formula is "demographics + preferences + behaviors = more accurate picture."
10. Make your automation human
Loren offered an example of an Air New Zealand email confirming an upcoming flight "from" the actual lead flight attendant on the upcoming flight with a picture of the person. This data was grabbed by combining the recipient's flight information with the flight attendant schedule in Air New Zealand's system.
Loren's final takeaway for personal email marketing based on behaviors was "start small and build on success. Perfection is not going to happen on the first day or try [at behavior-based email marketing]."
Related Resources:
Marketing Automaton case study: Paper Style (via Whereoware)
Social Media Marketing: A look at 2012, part 2
In the Year 2013: Email marketing technologies and tactics of the near future
Behavior-based Email Send Times Lift Opens, CTRs and Referrals: Test and results
Categories: Email Marketing Tags: buyer behavior, clickthrough, Email Marketing, email track, marketing automation, personalization