Marketing has a language all its own. This is our latest in a series of posts aimed at helping new marketers learn that language. What term do you find yourself explaining most often to new hires during onboarding? Let us know.
Most purchases are not an instant decision on the part of the customer. There are several mental steps people must take before making the actual purchase decision.
For a more complex purchase, these steps usually involve learning more about the industry, product and company, until they get to the point of making a purchase. For a simpler purchase, the steps may simply be getting through the product's purchase path.
And each step on that journey is a decision.
For example, a complex purchase funnel might include steps like this: searching a pain point in a search engine, getting to a content piece on a website, clicking to a landing page for a white paper download, receiving several pieces of email in a lead nurturing campaign, deciding to speak to a sales rep to learn more about the product, going through several stages of a sales process with a sales rep, and then ultimately making a purchase. This may happen over several months.
A simpler purchase might look like this: clicking on a paid search ad, arriving on a landing page, moving to a product page, going to a shopping cart, entering payment info, confirming a purchase. This might happen in a matter of minutes.
Funneling customers to an ultimate conversion objective
A funnel is so named because marketing literature typically depicts this journey in the shape of a funnel.
This is an example of a kitchen funnel.
And this is an example of a marketing funnel.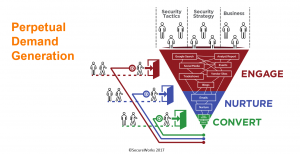 (from the case study B2B Marketing: Demand generation transformation doubles conversion rate for cyber security provider)
The general idea for the funnel shape is that there are more people at the beginning of the funnel then at the end. For example, more people will visit a landing page from an ad than will purchase your product.
The other idea for the funnel shape is that, much like a funnel channels liquid into a small opening, marketers should channel their potential customers from their first touchpoint to an ultimate conversion.
However, with a physical funnel, liquid naturally flows down into the container pulled by gravity. MECLABS Institute (parent research organization of MarketingSherpa) teaches that this is a flaw in the traditional marketing analogy. Customers don't simply fall through your funnel naturally pulled by gravity.