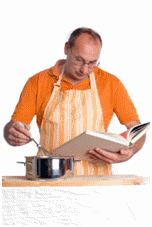 A steady diet of fresh data helps marketing teams invest wisely and reach the right person, with the right offer, at the right time. It's almost like food for your strategy, giving it strength.
But like food, data needs skilled hands to process it. You cannot pull a potato out of the ground and call it dinner, and you cannot track unique visitors and call it marketing.
You need a data chef, better known as an analyst. This person will help you take the unprocessed fields of grain in your database and turn them into Fettuccini Alfredo. Big companies have been doing this for years.