Just the other day, I received an interesting email from a company that shall not be named (we'll call them "the Brain" for the purposes of this post).
This email read, "Thank you for your interest in our 2013 Canadian Bacon Report." I was invited to access my copy of the report, download my free copy of the presentation and attend a related webinar.
The thing is, while I am a subscriber of the Brain's list, I was not at all interested in the report, nor did I ever indicate that I was ever interested (no offense to Canada).
I sat puzzled for a second and then just proceeded to delete and move on with my inbox purging.
Later that night, a little email notification popped up on my phone that stated, "Yeah, We Messed Up. Our Apologies … "  It was from the Brain.
This conversational and customer service email informed me that they had a "technology glitch" and accidentally sent me the report.
"But don't get us wrong," the email stated, "This is a great report, as are all 18 of our global reports on bacon."
Not-so-shameless plug.
They apologized for sending me something that may not have been of my interests.
Post apology, the Brain seized the opportunity to ask me to update my email preferences to make sure they were sending me email communications based on my preferred topics: "It will be less than 30 seconds, we promise."
Genuine mistake or evil genius email tactic?
I wasn't sure until curiosity got the best of me, and I decided to "update" my email preferences.
My conclusion: evil genius.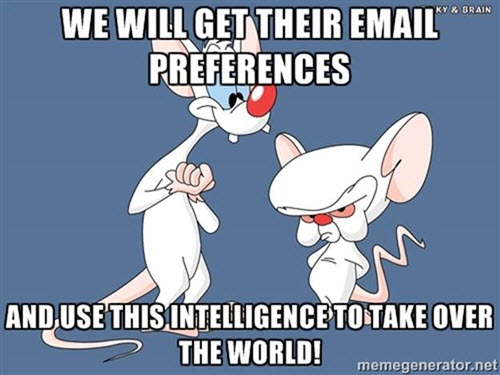 After I "updated my preferences" with information that was never asked of me when I signed up for the Brain's list, I received a third email.
This email stated it all: "Subscription Confirmation: Thank you for joining the Brain's mailing list."
Update, not so much; list subscription ploy was more like it. I wasn't sure whether I should be offended or impressed.
Whether this was truly a mistake or a calculated psychology tactic, it probably worked well for them for a couple of reasons.