"We often feel like we have a sales force of thousands of loyal customers looking out for our best interest."
We'll get to how content marketing enabled the example in that quote in just a minute, but first, let's start with the incredible, edible egg market.
The egg market is a perfect example of how value, and marketing's role in the communication of that value, can be added to what was previously a commodity in order to produce higher margins.
Take a look at the market for eggs. There's white. Brown. Hormone free. Antibiotic fee. Vegetarian fed. Grass fed. USDA organic. Free range. The list goes on.
Of course, there is a range of prices for these different attributes, ranging from $2.78 per dozen to $5.49 per dozen in a recent Consumer Reports article, for example.
This creates a dilemma for the consumer and a challenge (and opportunity) for the marketer.
The Marketer's Challenge and Opportunity: Communicating value when markets are filled with choice
This is, after all, the heart of marketing: enabling choice and communicating the value of those choices.
So let's look back at the egg market. Remember, not too long ago, eggs were just a commodity. Then, all of these product claims came along. One could argue that all of those claims create more value for customers, and thus, justify the higher price. That may in fact be true, but they would miss the point.
The real ability to charge a premium price for having any of those words on an egg carton is the customer's perception of that value. After all, how many customers really understand what goes into raising an organic egg?
It was beauty (the content) that killed the beast (the commodity)
Commodity products are very dangerous for companies. It means their only lever of survival is to focus on operational excellence and cost-cutting to constantly stay one step ahead of expenses and the competition.
This is where content can be so powerful. Companies that really are producing something of greater value (e.g., the organic egg) can use content to show the story of how their products are made so the customer can see for themselves what the value is (e.g., justifying the higher cost for an organic egg).
Effective content marketing isn't only happening online. Let's take a look at an example of how one egg company is using content marketing to show this distinguishing value.
In-package newsletter
If you buy Country Hen eggs off your grocer's shelf, when you open the carton, you will see "The Country Hen Farm News."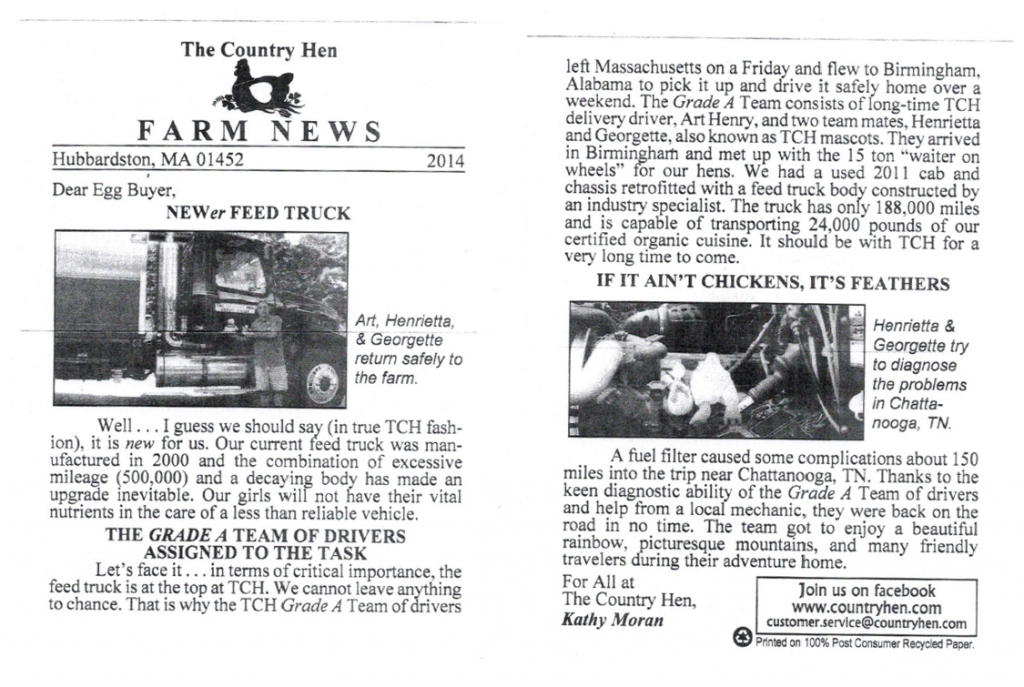 Content marketing = show your work
At first glance, it's easy to miss how profound this in-package newsletter is. After all, the company basically bought a truck. So what?
Surely, customers must assume that their eggs make it from point A to point B to eventually their grocery store shelves in a truck of some sort. How does that add value?
"We like to see people working on our behalf," Michael Norton, Associate Professor, Harvard Business School, explained at Web Optimization Summit 2014. (You can read a 15-second synopsis of his research in Takeaway #2 of Web Optimization Summit 2014 Wrap-up: Top 5 takeaways to improve your testing and optimization).
The difference between showing and telling
It's not simply the fact that The Country Hen bought a truck that adds value, but rather, how it uses the newsletter to show product value. The magic is in the writing. This newsletter shows the value in three subtle, but brilliant, ways:
Shows the work – As mentioned above, it shows how these farmers are working hard to get your eggs to you.
Shows the passion – This isn't some mega-corporation with commodity eggs. These people really care. For example, "Our girls will not have their vital nutrients in the care of a less than reliable vehicle."
Establishes its place in the market – Again, this isn't a mega-corporation. They're the underdog, the little guy. By spending more to buy Country Hen eggs, you are supporting the small farmer. After all, it's quite charming how proud they are of a used truck: "The truck has only 188,000 miles and is capable of transporting 24,000 pounds of our certified organic cuisine."
This company could have ran a TV ad campaign with stock farm footage of dewy mornings and hay bales being loaded into trucks and a ruddy-voiced announcer reading lines like, "We're working a little harder for you."
That would be telling. It would be hype. I would argue, it wouldn't have been as effective because it wouldn't be real. It wouldn't win over today's skeptical customer.
Pamela Jesseau, Senior Director of Marketing, MECLABS, is the person who gave me this newsletter and suggested this blog post. She described it like this: "I spend twice as much money on these eggs because they tell me about their truck. I'm never going to buy another egg ever again as long as The Country Hen is on the shelf. I want to find out what is next. I feel like they are my hens, too."
After reading the newsletter, I wanted to share some insights from The Country Hen with you to help improve your own content marketing. So I reached out to Kathy Moran, the signatory of the newsletter, to get some background and tips for you.
As with any marketing department we write about, they aren't perfect by any means. They still have work to do on their digital side. But I thought it would be helpful to hear how they create content with a small team and limited budget. Her responses were so good and real, I didn't even pick up my editing pen.