The Economist, in association with New York-based marketing research firm Peppercomm, recently conducted a global survey of top business leaders and marketers on the topic of content marketing. 500 global business executives were surveyed to find out what they look for from content providers, and 500 global marketers were asked about how they build their content strategy. Findings were published in a study titled "Missing the Mark: Global Content Survey of Brand Marketers and their B2B Audiences."
Let's take a brief look at four key discoveries from "Missing the Mark":
1. Though marketers are increasing their investment in content, content strategy remains poorly understood organizationally
93% of brand marketers surveyed have plans to either maintain or increase their budget for content marketing. Despite this heavy investment in content creation, less than a third of marketers believe that the purpose of the brand's content is highly understood within their organizations.
2. There is a massive disconnect between the content that business executives seek and the content that marketers provide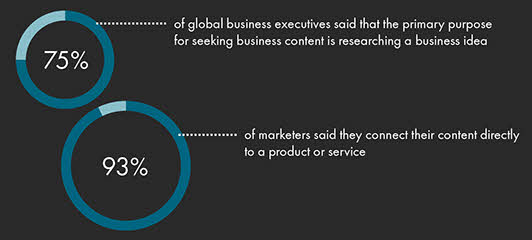 The majority of global business leaders surveyed (75%) report that they turn to content to research complex business ideas within their industries. Specifically, executives find the most value in content that helps them to better understand the general views and practices of their peers. Also, content that presents two sides of complicated industry issues and content that confirms or sheds new light on business strategies are considered to have value.