Ah … the ambience of a blank white computer screen. I am staring at one right now. There are the days when this glow speaks freedom and fresh opportunity and I take it. But then, there are those days, like right now, where the glow feels more like an impenetrable force field.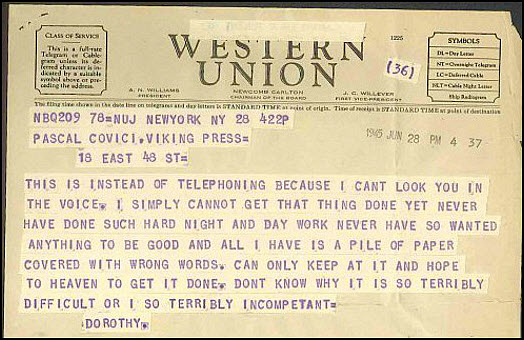 Although I'm not a great author, it's a comfort to know that I am not alone in suffering from terrible writer's block. Dorothy Parker, who wrote hundreds of poems and short stories, sent this note about it to her editor in 1945.
So what do I do when I know I have something to say, but I just can't get it into words? Should I start scouring the Web to find something interesting to comment on? Or should I just rehash something that I have thought about or written about before? Or, the most tempting, do I just give up and hope my muse shows up tomorrow?
I'm not going to lie — all those methods can work, and have worked for me in the past.
However, there is one particularly useful approach that I have learned over the years for dealing with content writer's block, particularly when you are on a deadline. Because — face it — as much as we would like to let creativity gently come to us, sometimes we have to go and take it by force.