Creating Engaging Content: A five-step method for busting writer's block
Ah … the ambience of a blank white computer screen. I am staring at one right now. There are the days when this glow speaks freedom and fresh opportunity and I take it. But then, there are those days, like right now, where the glow feels more like an impenetrable force field.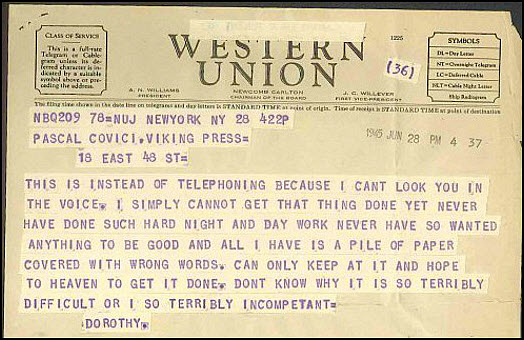 Although I'm not a great author, it's a comfort to know that I am not alone in suffering from terrible writer's block. Dorothy Parker, who wrote hundreds of poems and short stories, sent this note about it to her editor in 1945.
So what do I do when I know I have something to say, but I just can't get it into words? Should I start scouring the Web to find something interesting to comment on? Or should I just rehash something that I have thought about or written about before? Or, the most tempting, do I just give up and hope my muse shows up tomorrow?
I'm not going to lie — all those methods can work, and have worked for me in the past.
However, there is one particularly useful approach that I have learned over the years for dealing with content writer's block, particularly when you are on a deadline. Because — face it — as much as we would like to let creativity gently come to us, sometimes we have to go and take it by force.
Step #1. Stop thinking about the content
The first and most important thing that you can do in creating content is to stop thinking about creating content. I have to remind myself of this often.
Content writer's block has a tendency to create tunnel vision, which makes it virtually impossible to escape.
What we need to remind ourselves of is that the goal of writing content is not to create content, but rather to create an audience. You do not create compelling content by focusing on the words you are writing, but rather through focusing on the people who are reading.
We don't create content for websites; we create content for people.
Part of the challenge too might be that we as marketers are so prone to thinking about secondary KPIs associated with our content like generating leads, converting sales or maximizing SEO. These are not bad things, but if we really want to achieve these objectives in our content, we will do so by focusing on the audience.
So ask yourself: Who is my audience? What are they doing right now? What are they interested in right now? What is happening in their life? What drives them? Why in the world would they ever read a piece of content by me?
Step #2. Feel someone else's pain
As you begin to think about who your audience is, you want to start thinking about what is causing them pain currently.
All good content emerges from a problem, and all good problems have three things: relevance, importance and urgency.
As I sat down to write this post, I began to think about all the other marketers out there who, like me, just sat down to write some piece of content and were stuck. I could relate to my audience; I could feel their pain and thus birthed this post on how to overcome content writer's block.
I know it is a little "meta," but the point is that when you are stuck in the content creation process, the best thing to do is not only remember who you are writing to, but attempt to feel something that pains them right now.
You might have to do a little research. You might have to get on the phone with some of them. No matter how you do it, the best content is produced from feeling someone else's pain.
So ask yourself: What are the primary challenges my audience is facing? What keeps them up at night? What is their biggest concern? What is the most pressing issue before them right now?
Step #3. Swing with what you've got
Hopefully, by this point you are starting to get some wind in your sails. I know that when I can identify with a real audience challenge, a fire starts to be kindled. However, it's also at this point where many content writers slip into a different kind of challenge.
As I work with other writers, I often hear the resounding concern that, "I don't have anything good to say." I've heard this concern from some of the best content writers I've known. I understand the feeling of inadequacy, especially when trying to genuinely help other people, but frankly (and content writers need to hear this) it's just not true.
Even for this article, I feel inadequate. It would be so much more helpful if I was some world-renown writer or expert on writing. But I'm no J.K. Rowling or Voltaire, and that is okay. Let's just agree for a moment that there is a lot that we don't have, but there is also a lot that you do have. So swing! Write with all you've got, even if it feels like it is not much.
So ask yourself: What am I afraid of? What if I don't know everything on the topic? Who cares? Don't I have my own experience? What is stopping me from drawing upon the experience/wisdom of others? Haven't I felt this way before and helped others? How else am I to get better at this anyway?
Step #4. Give it a simple framework
So we know our audience, we have our problem and we have cleared the hurdle of insecurity.
What's next?
The easy part: give your writing a clear framework. As you are thinking through your solution, give it some structure.
For this article, I chose to present my solution in five steps. It could have been four,   it could have been 12. It really doesn't matter how many or how you divide your solution up, but it does matter that you do have a clear structure. Here are some potential options for your framework:
How?  — methods, ways, steps, procedures
What? — reasons, replies, answers, proofs, evidences, clues, advantages
Why? — facts, elements, signs, truths, lessons, points
When? — phases, conditions, times, seasons
Who? — categories, types, persons, classes
Which? — options, alternatives, choices, paths, goals, objectives, solutions
Where? — sources, areas, places, localities
No matter which you choose to use, this simple step actually increases the virility of your content significantly. People need clarity. People need the ability to scan.
So ask yourself: Have I clearly organized my solution to the problem? Could my audience scan the article and get a sense of the framework instantly?
Step #5. Let it go
For many, this is ironically the hardest step. We content writers have a tendency to be perfectionists and we have  to hold on just a little too long to our "babies." We spend time refining the refinements to our refinements. This must stop.
For most of us, with all the things we are juggling, we must take an "in the zone" approach. Meaning that if you are not striving for perfection, you are simply striving to get your work into an acceptable zone of quality and, once it is there, send it out.
Somewhere, someone said that a "good book is never done." That is a ridiculous luxury for content writers. Write, write well and then let it go. Move on. If you need to, let your next work be the improvement on your first, but don't fall into the trap of endless editing cycles. It's not actually perfectionism — it's just paralysis.
So ask yourself: Am I holding out for perfection? Do I have a clear sense of when my content is "in the zone"? In what ways am I making sure I don't get lost in the refinements?
In the end, you don't have to be an amazingly gifted content writer to consistently produce helpful and useful content for your audience. Like I did with this very post, you can use the outlined steps above as a road map to get there.
You might also like
Content Marketing: An 8-point analysis for your blog [More from the MarketingSherpa blog]
13 Famous Writers on Overcoming Writer's Block [From Flavorwire]
Getting Unstuck [From Rookie]
7 Ways to Overcome Writer's Block [From Writer's Digest]
Photo courtesy of I Can't Look You in the Voice
Categories: Copywriting, Marketing Tags: content, content writing, Copywriting, writer's block