Customer-First Marketing: The customer is always right … but not always right for your company
You've heard the saying a million times, I'm sure. "The customer is always right." It is so ingrained in Stew Leonard's that the supermarket chain has engraved it in stone and put it right in front of its stores.
And yet, while customers can offer valuable insights, if you've spent any time at all monitoring customer feedback, you know that customers can have some interesting opinions. Controversial perhaps. Wacky even. Impossible to bring to market in a profitable way. And occasionally downright bizarre.
So how do you square this circle? Customer feedback is extremely valuable, but customers don't always know what they're talking about.
Exhibit A: One Homer J. Simpson. In an episode of "The Simpsons," Homer find his long-lost half brother, who happens to be rich and owns a car company. His brother offers to give him a free car but soon realizes that none of his company's cars are what Homer really wants.
Sensing an opportunity, he sees Homer as the proxy for the "average man" and unleashes him with totally authority to design a car. The result — a monstrosity. ("You know that little ball on the antenna that helps you find your car in the parking lot? That should be on every car!") And a monstrosity that costs $82,000, to boot.
The customer isn't always right, your customer is always right
Here's the problem. Homer is not the ideal customer to purchase a new car. If you've watched the show, you know he drives an old, beat-up, used car. So while he had lots of ideas, he never would have actually been able to buy the car he was designing.
How do you use customer feedback as valuable business intelligence without ending up having to market an $82,000 automobile with three car horns that play "La Cucaracha"? Here are a few tips to help set you down the right path:
Tip #1: Identify your ideal customer(s)
Every product isn't right for every customer. And when you try to serve everyone with your product or service, you serve no customer segment well. Instead, you serve all your customer segments mediocrely or poorly.
If you seek to practice customer-first marketing, first you must identify who your ideal customer is. Here's an example.
I recently interviewed John Jordan, Executive Director of Digital Marketing for The Global Leadership Summit to discover How The Global Leadership Summit created an optimization and testing culture that grew attendance by 16% to 400,000.
Jordan pulled together 30 people from departments all over the organization for value proposition workshops. The goal was to establish a new way of communicating about the event — and the nonprofit that hosted the event — across the organization.
As you can see with the team's value proposition question in the image below, they didn't try to serve every possible customer, they focused on a specific customer segment with their answer.
This can help you create more effective marketing. "The specific offer to the specific person will outperform the general offer to the general person," Flint McGlaughlin, Managing Director and CEO, MECLABS Institute (parent research organization of MarketingSherpa) said in "The Marketer as Philosopher."
But you could say the same with customer feedback as well. Feedback that comes from a specific person who fits into your ideal customer set is more valuable than feedback from a general person who can be served better by another company.
A famous example of not acting on complaints from customers who are not in your ideal customer set is from Herb Kelleher, former CEO of Southwest Airlines.
According to the book "Nuts!: Southwest Airlines' Crazy Recipe for Business and Personal Success," Jim Ruppel, director of customer relations, and Sherry Phelps, director of corporate employment, shared an anecdote of a customer who would write in complaining after every flight: "She didn't like the fact that the company didn't assign seats; she didn't like the absence of a first-class section; she didn't like not having a meal in flight; she didn't like Southwest's boarding procedure; she didn't like the flight attendants' sporty uniforms and the casual atmosphere. And she hated peanuts!"
Customer service was stumped on how to respond to these continual complaints, and finally the letter made it all the way to the CEO. Kelleher understood that Southwest had a unique value proposition. A value proposition that this customer was not the ideal customer for. So he simply responded, "Dear Mrs. Crabapple, We will miss you. Love, Herb."
As Kelleher said, "The customer is sometimes wrong. We don't carry those sorts of customers. We write to them and say, 'Fly somebody else. Don't abuse our people.'"
Tip #2: Create feedback mechanisms for your ideal customer
If, for example, your ideal customer is a senior citizen, and you have a technology-oriented product like an e-book reader, the best way to listen to that customer and serve them might be through an in-person presence in brick-and-mortar locations where representatives can physically show them how to use the product.
However, going to the other extreme, millennials may desire very different interactions, being more open to communicating with technology.
"I think a lot about digital engagement strategies when considering marketing for millennials. They are active on social media and expect a high-level of engagement and response from businesses," said John Forrester, CMO at Inbenta, a natural language processing and artificial intelligence company.
Make sure you're interacting with customers on their terms — through the channels they want to communicate with you, and at the time they want to communicate with you (which could be outside of normal business hours. Forrester recommends using technology to help make that happen.
"Chatbots can be placed on social media messaging platforms and websites to handle customer questions. When I was recently speaking at the Customer Response Summit in Chicago, virtual agents and chatbots were often the topic of conversation by customer service executives. An example of this is the Ticketmaster UK website featuring a chatbot that answers frequently asked questions. And it works all the time, even in the middle of that late night EDM (electronic dance music) concert," Forrester said.
Tip #3: Determine if the feedback is from an outlier
The nice thing about using technology to serve customers is it makes recording feedback easy.
However, even for telephone or in-person human interactions or manual social media listening, make sure you are consistently documenting customer feedback.
You can also add surveys and customer reviews to the mix.
Basically, what you're trying to do is identify common themes from your customers.
You may have received in-depth feedback from a passionate customer. However, even if that individual is in your ideal customer set, they may be an outlier.
When you see similar issues come up repeatedly, you have a better understanding that there is a real problem or idea worth addressing.
Tip #4: Analyze the feedback to see if it's any good
It's easy to be defensive when you get customer feedback. After all, the feedback is often critical.
Once you know the customer fits into your ideal customer set and is not an outlier, you should take a real, honest look at the feedback — even if it calls out something your company did wrong — perhaps something you were personally responsible for.
Or maybe they have a good idea.
Follow Elon Musk's lead. When a Tesla customer called out a feature that could be improved in the already groundbreaking electric cars, the CEO was quick to see the value in the idea and make a change.
No shifting blame. Or making excuses. Just putting the customer first by implementing his idea.
Tip #5: Determine if you can profitably address the issue or idea
Much like Homer's car, not all ideas can be profitably served.
This is why it helps to reach out beyond the marketing team with your customer-first mission. Build a multidisciplinary customer-first team and include folks from manufacturing, product design, service delivery and customer service. Then vet out the most promising ideas and see if they make business sense.
In Demand Chain Management: Enhancing Customer Value Proposition, Pankaj M. Madhani advocates a more customer-focused approach to the entire supply chain.
"Marketing and supply chain management (SCM) often operate as self-optimizing, independent entities. Marketing combined with dynamic SCM provides greater flexibility to satisfy customer demand based on the needs of individual customers and their value to a firm."
By creating a flexible, cross-departmental group, you can help inject customer feedback into value chain decisions and extract new, profitable ideas.
Tip #6: Once you implement it – live it!
With any customer-first implementation, your entire organization must live it! Everyone's actions, every one's words, all your marketing and all your product delivery must exemplify that customer-first commitment.
For example, while The New Yorker intended to roll out a "Canada-Specific Offer" on Instagram, they actually promoted a "Canda-Specific Offer."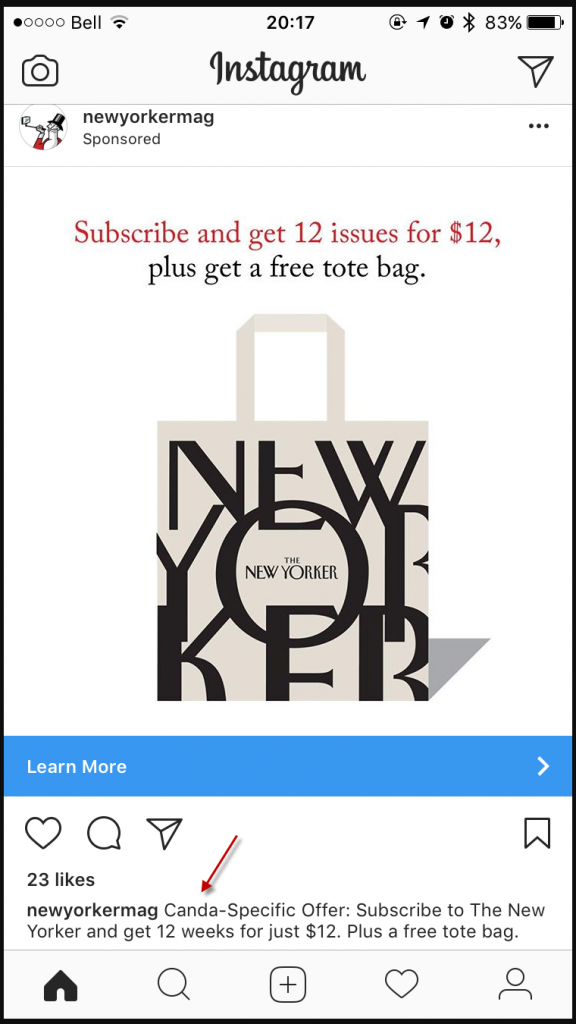 I don't want to pile on The New Yorker for a simple typo. It is a very fine publication. And I've made more than my share of mistakes as well.
However, you can't overlook the fact that if your intent is to tell an entire foreign nation that even though you are named after an American city, you are also focused on their needs — it sure helps to triple-check the spelling of that nation's name.
But let's bring it back full circle, where we started in this MarketingSherpa blog post, and discuss a positive example — Stew Leonard's. It is a supermarket chain, but it's small. Just five grocery stores in upstate New York and Connecticut.
If you've never been to one, this isn't your traditional grocery store. It's what a grocery store might look like if Homer Simpson designed it (with a sensible business plan). That is, it's fun. Less focused on ease of the purchase experience and more focused on creating an enjoyable purchase experience. Bryan Miller of The New York Times described it as a Disneyland dairy store.
Clearly, a lot of thought about the customer experience has gone into the design of this grocery store. But that customer-first esthetic goes beyond the look and feel to the business operations as well.
In the book "Managing Customer Experience and Relationships," business writer and consultant Bruce Kasanoff describes not only the store's approach, but his personal experience as a customer.
He describes the store as "… world-renowned for staying close to its customers and generating immense sales. In a largely nonautomated setting, the store has captured its principles in a set of rules that produce extraordinary service and a highly effective merchandising system."
Kasanoff goes on to say, "One of those rules is that if an item is not properly marked for price, the customer gets it for free. I experienced this firsthand while buying an eight-pound piece of filet mignon for a holiday celebration. When a price didn't come up on the register, the cashier gave it to me for free. I began to protest — the meat was worth at least $50 — but she explained that because the company did so much volume, it was cheaper to give the meat away than hold up the checkout line."
This anecdote is the perfect example of the principles discussed in this blog post. Stew Leonard's identified a customer frustration — having to wait on price checks — either through direct customer feedback or perhaps their employees' own intuition.
It was a frustration that likely impacts Stew Leonard's ideal customer, which (from having gone to the store myself) I'm guessing is more affluent and highly values their time and a seamless customer experience.
And the store implemented it in a way that makes business sense — it has a high volume of sales, and it's cheaper to keep the line moving than gum up the works by wandering through the giant store on a price-check safari. In addition, it makes the customer feel special. Special enough that they share some word-of-mouth marketing about the experience.
This is the ultimate result of listening to your ideal customers. When they see their needs being served, they'll share the experience with their peers — who are also likely your ideal customers.
You can follow Daniel Burstein, Senior Director, Content, MarketingSherpa, on Twitter @DanielBurstein.
You might also like
Customer Value: The 4 Essential Levels Of Value Propositions
Value Prop: How Radio Shack Lost Its Way By Losing Sight Of Its Ideal Customer
University of Florida and MECLABS Institute Communicating Value and Web Conversion graduate certificate program (I came across some of the sources in this article as a student in this program)
Categories: B2C Marketing Tags: business intelligence, customer intelligence, customer service, customer-first marketing, ideal customer, Value Proposition, value proposition workshop