Does Your Marketing Copy Have Earfeel?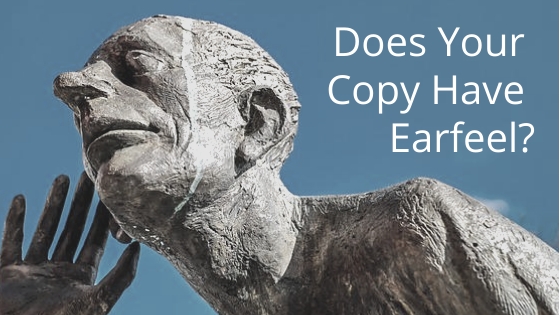 Each line of copy on your websites and in your advertising should have a job. That job may be to help communicate the value proposition. Or it may be to reduce anxiety.
But don't let the necessity of function blind you to the importance of form in the headline.
At the end of the day, it is communication. And so your copy needs a certain earfeel.
After all, great advertising and branding doesn't just get a point across. It gets the earfeel just right. Whether it's a headline ("At 60 miles an hour the loudest noise in the new Rolls-Royce comes from the electric clock"), a tagline (The Ultimate Driving Machine), a credo (Truth Well Told) or an organization name (Wounded Warrior Project).
This article was originally published in the MarketingSherpa email newsletter.
What is earfeel, and why is it important?
If you've never heard the word earfeel before, don't feel bad. Admittedly, I just made it up. But I think it is the perfect way to express the need for marketing copy to not just be words that literally summarize a thought, but also communicate them in a way that customers will comprehend and viscerally feel them.
I got the idea from mouthfeel, which Wikipedia defines as "the physical sensations in the mouth caused by food or drink, as distinct from taste."
As an example, the Wikipedia page has a girl enjoying a peach. Something can look like a peach, taste like a peach, and smell like a peach, but if you don't feel the fuzzy skin when you grab it and the tender flesh when you bite in … well, it's just not a peach.
We know that intuitively.
Yet, we sometimes build headlines by simply checking off a checklist — trying to communicate four elements of our value prop and stuff them together. But if it doesn't have earfeel, even though all the words are there, the message is just not getting through to anyone.
Here are some examples when that happens …
The headline isn't really a headline
Just because there are words at the top of the page doesn't mean you have a headline. A headline with earfeel should be welcoming and begin a conversation.
Take a look at this "headline":  Business Dedicated Services Australia (from Copywriting: 5 proven discoveries that strengthen copy).
That lacks earfeel. You would never say that to another human being in a sentence. It reminds me of the old Coneheads sketch on Saturday Night Live, where a family of aliens could speak and understand English, but while everything they said was technically correct, it lacked earfeel …
Prymaat Conehead: I am engaged in preparing your favorite meal, small starch tubes combined with lactate extract of hooved mammals.
Beldar Conehead: Ah. You mean macaroni and cheese. I'm sure we will enjoy it.
The copy is trying to do too much
Headlines should work. They have a purpose. They stop people, pull them in, tell them where they are and what they can do. However, some companies take this perspective too far.
They want each element of copy to do too much. And as a result, it does nothing. It overwhelms the reader.
Hewlett-Packard's email opt-in page had the headline "Driver, Patch, Security and Support alerts sign-up: create profile."
A headline like that has all the information you need to know in it. But it's trying to say it all at once. Like when you get home from work and your four-year-old tries to tell you every detail of the day in 12 seconds. You don't retain a lot.
OhMyGoshDadYouWouldn'tBelieveItTommyFoundAFrogAndPutItInTheDog'sMouthBut
RoscoeDidn'tLikeItSoHeBarkedWhichScaredWhiskersTheCatWhoJumpedOn …
As part of an effort that increased conversion rate 186% on an email opt-in page, the team at HP simplified the headline to "Get Connected with Updates from HP" and then sequenced the value to explain on top of the form that subscribers get "… updates on the latest technology, new products and solutions, promotions and events, and driver and support alerts …"
While it had impressive results, I wouldn't say this is the perfect execution of an opt-in form. But the key lesson is that the team stopped trying to have the headline do everything, and that allowed them to create a line that had earfeel and start a conversation with the customer.
Copy that is too clever
Part of having good earfeel is that the copy flows effortlessly into the reader aiding comprehension. Sometimes when marketers try to write clever lines, they undercut that mission.
For example, when the team at AWeber tested "clever" email subject lines versus clear subject lines, clarity beat cleverness with an average of 541% more response.
Here is a look at some of the clever lines:
AWeber's AWesome Anthony A.
Getting Earth-Friendly Beyond Email
Threadless' Frequency Alert: Hot or Not?
None of these lines flows naturally into the reader. The first one overuses alliteration so the reader ends up tripping over the words, and the other two aren't clear.
Everyone loves a truly clever line. The literal meaning of clever is "quick to understand, learn, and devise or apply ideas." Quick to understand is what we're going for.
Being clever does help because it can uncover the profound. Take one of the legendary examples I mentioned above, Truth Well Told. That is a clever line. Because in just three words you viscerally feel what the writer is trying to get across.
Ernest Hemingway's famous six-word story is another example, "For sale: baby shoes, never worn." There is an entire saga in those words.
But clever isn't harming earfeel. Too clever is. And that is something else entirely. The definition of "Too clever by half" is "annoyingly proud of one's intelligence of skill and in danger of overreaching oneself." And that kills earfeel.
How does it happen? Sometimes, when marketers are attempting good writing, they try to go all out and force the issue too much. Far from elucidate, it irritates and confuses.
If you're not a skilled copywriter, aim for clarity, not cleverness. The best way to get earfeel is just to have a conversation about your product with a friend and record it. You'll naturally use very unforced language filled with humanity.
You can test your headlines as well. It's easy to fall in love with our own creations, but testing them can tell you how the headline performs with customers.
A pro tip to writers and other creatives: When managing corporate creativity, sometimes it helps to have an outlet where your team can push the limits of clever without harming the brand. It might be on social media. Or an April Fool's Day marketing prank. For my former colleague Pamela Jesseau and I, it was a contest that began with the blog post Millennials Something Snapchat Something Something. It was 80% a relevant marketing promotion, and 20% just a chance to air out our cleverness.
Too dictatorial
No one likes to be pushed around. And bossy language simply lacks earfeel.
Listen to some of the copy in an email opt-in form for Ferguson Enterprises. "Complete Customer Profile." There is an implied "Though shalt …" in front of those words.
The team changed the language to have better earful and be more approachable — Customize My Preference, Sign Me Up — part of an effort that increased form submissions 120%.
Marketers want to garner an action from a customer to reach their business goals. When we're too laser-focused on the goal, the knee jerk reaction can be to simply tell people to do it. But keep in mind it's not just what you say, it's how you say it.
And that's the bigger point I'm trying to get across. You can't just review headlines and other copy in technical terms. Check, check, check, it has all three value points we're trying to communicate. It tells them to do what we want them to do.
You've got to say it out loud. Say it to someone. Swish it around in your mouth some. Let it mellow. Read it out loud and ask your colleagues — does this have earfeel?
You can follow Daniel Burstein, Senior Director, Content & Marketing, MarketingSherpa and MECLABS Institute, on Twitter @DanielBurstein.
You might also like …
The Zen of Headline Writing: Learn the easiest way for any marketer to drive a conversion increase
Blandvertising: How you can overcome writing headlines and copy that don't say anything
Marketing 101: Copywriting vs. Copy Editing vs. Content Writing
Categories: Copywriting Tags: Copywriting, digital marketing, earfeel, headline writing, headlines, Marketing