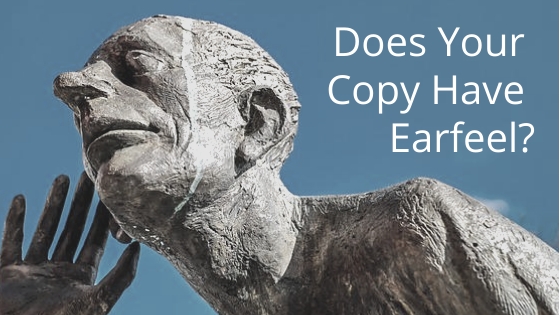 Each line of copy on your websites and in your advertising should have a job. That job may be to help communicate the value proposition. Or it may be to reduce anxiety.
But don't let the necessity of function blind you to the importance of form in the headline.
At the end of the day, it is communication. And so your copy needs a certain earfeel.
After all, great advertising and branding doesn't just get a point across. It gets the earfeel just right. Whether it's a headline ("At 60 miles an hour the loudest noise in the new Rolls-Royce comes from the electric clock"), a tagline (The Ultimate Driving Machine), a credo (Truth Well Told) or an organization name (Wounded Warrior Project).
This article was originally published in the MarketingSherpa email newsletter.
What is earfeel, and why is it important?
If you've never heard the word earfeel before, don't feel bad. Admittedly, I just made it up. But I think it is the perfect way to express the need for marketing copy to not just be words that literally summarize a thought, but also communicate them in a way that customers will comprehend and viscerally feel them.
I got the idea from mouthfeel, which Wikipedia defines as "the physical sensations in the mouth caused by food or drink, as distinct from taste."
As an example, the Wikipedia page has a girl enjoying a peach. Something can look like a peach, taste like a peach, and smell like a peach, but if you don't feel the fuzzy skin when you grab it and the tender flesh when you bite in … well, it's just not a peach.
We know that intuitively.
Yet, we sometimes build headlines by simply checking off a checklist — trying to communicate four elements of our value prop and stuff them together. But if it doesn't have earfeel, even though all the words are there, the message is just not getting through to anyone.
Here are some examples when that happens …
The headline isn't really a headline
Just because there are words at the top of the page doesn't mean you have a headline. A headline with earfeel should be welcoming and begin a conversation.
Take a look at this "headline":  Business Dedicated Services Australia (from Copywriting: 5 proven discoveries that strengthen copy).
That lacks earfeel. You would never say that to another human being in a sentence. It reminds me of the old Coneheads sketch on Saturday Night Live, where a family of aliens could speak and understand English, but while everything they said was technically correct, it lacked earfeel …
Prymaat Conehead: I am engaged in preparing your favorite meal, small starch tubes combined with lactate extract of hooved mammals.
Beldar Conehead: Ah. You mean macaroni and cheese. I'm sure we will enjoy it.