Email Marketing: 3 overlooked aspects of automated messages
In the MarketingSherpa 2013 Email Marketing Benchmark Report, we asked email marketers how they use automation capabilities …
Q: What type of automated, event-triggered, lifecycle email messages does your organization deploy? Please check all that apply.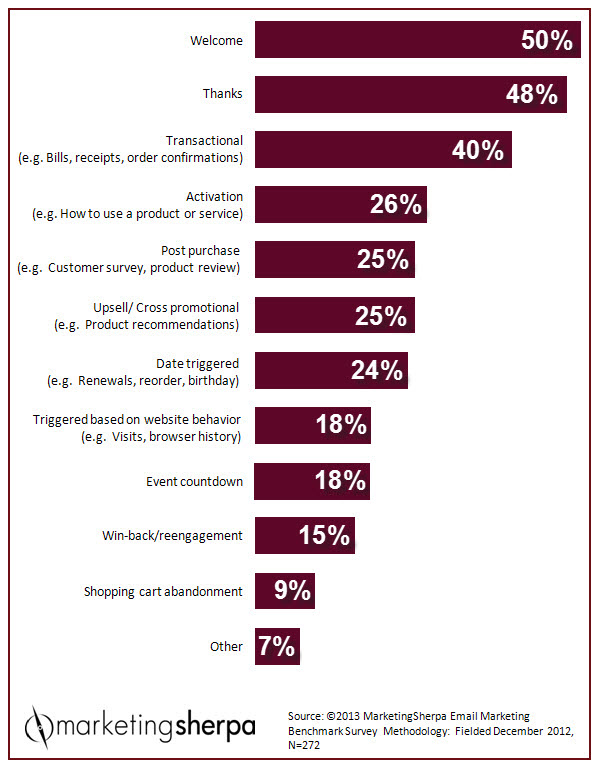 As always, we asked the MarketingSherpa audience for their actionable advice based on this data. We received two interesting tips from Richard Hill and one from Chris Hexton …
Nurture current customers
Most marketers use automated triggered emails to strengthen relationships with early-stage buyers (i.e., for 'lead nurturing').
However, one of the most under appreciated opportunities is to use triggered emails to strengthen relationships with current (and recently lost) customers:
Advocate social referral
Contract renewal reminder
Product education/training
Customer service issue management
Low product usage alert
Upsell/cross sell
Win/loss
Net promoter score segment migration
Win-back campaigns
All of these "customer nurturing" programs represent great ways for modern marketers to re-balance their approach, and use trigger emails (and marketing automation tools) to more consistently support the whole buying journey.
The gap between what marketers should do, and what they actually do
When it comes to triggered emails, there's way too large a gap between what marketers should be doing and what we are doing. Despite a growing awareness that behaviorally triggered emails are more effective – anywhere between 75%-200%, according to sources like Epsilon and Eloqua – only 2.6% of all emails are sent this way. I suspect it's because too many marketers are stuck in an "It won't cost us any more to send this email to everyone, so why wouldn't we?" mentality. That needs to change.
While the hard costs of a mass-blast approach may be negligible, there are other taxes to consider, including less-robust email engagement rates, rising opt-outs and ultimately, the risk of eroding the brand equity you've worked so hard to build because you sent too many irrelevant emails to too many people.
– Richard Hill, Vice President and Practice Lead, Marketing Automation, Quarry Integrated Communications
Focus on customer lifetime value
In my experience, automated / triggered emails need to be thought of in the context of the FULL customer lifecycle with a focus on customer lifetime value.
As the data shows, most companies have nailed up-front automated emails (e.g., Welcome, Thanks, Receipts, etc.) as these are now essentially "must haves." They're not that exciting nor do they offer the best opportunities to get customers buying again.
Just like long-tail keywords can lead to massive gains on the SEO front, thinking long-term when it comes to email re-marketing is important. Targeting previous buyers that haven't returned in a few months, customers that have viewed a specific product category multiple times without a purchase, specifically emailing customers who display interest in a limited time offer, etc., are all great examples of relatively easy wins that online businesses should harness.
– Chris Hexton, Co-Founder, Vero
Related Resources:
Personal vs. Robotic: How to turn automated email into personal experiences that drive new and repeat sales
Marketing Automation: 416% higher customer lifetime value from auto-email strategy
Email Marketing: What are the top three steps for effective email marketing?
Pump up your customer LTV with email remarketing (via Vero)
Categories: Email Marketing Tags: customer value, Email Marketing, lead generation, triggered emails