Mining Gold through Email Integration: 3 lessons from MarketingSherpa Email Awards 2013 winners
On the first day of MarketingSherpa Email Summit 2013 in Las Vegas, I'll be interviewing the Best-in-Show winner of MarketingSherpa's Email
Marketing Awards 2013, sponsored by Responsys. In this session, our winner, The National Football League, will discuss its fantastic NFL.com newsletter campaign.
However, there were several outstanding, winning campaigns from this year's awards deserving of recognition as well.
Note: If you want to see the entire collection of winning entries, download the free Email Awards 2013 Special Report. There's no squeeze page – just download, learn and share.
As the lead editor on this year's Email Awards, I found it interesting that, of the myriad submissions we received, email integration played a part in many, if not all, of our winning campaigns.
In fact, as we'll likely learn from our upcoming Summit sessions, one of the reasons email has been such a venerable channel throughout the years is because of the creative, strategic ways marketers have evolved the tactic to include elements of social media, PPC and website integration.
So, before we head west to the glitter of Las Vegas, let's pull a few nuggets from these campaigns, seeing what you can learn from other Email Awards 2013 winners' use of effective integration to find pure gold.
Lesson #1: Facebook contests don't all have to look alike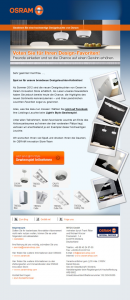 Ritos GmbH, a consumer electronics company, submitted the OSRAM Innovation Store "Light 'n' Style" contest for Email Awards 2013. It was the one entrant in its category that bridged the gap between creativity and results, as it successfully tied together three key factors of an efficient, integrated email campaign:
Personalized emails as a support to the contest
A fan-gating tab on Facebook
A unique contest mechanism that created a viral response
The fan-gating tab on Facebook ensured only persons who were already fans of the OSRAM Innovation Store on Facebook could enter the contest. Contact with all participants was maintained throughout the contest through highly personalized emails.
The emails were personalized through use of the recipient's name, an image of their favorite lighting product and the product's current place in the real-time voting. The unusual contest mechanism also made the campaign go viral.
In the end, this creativity paid off handsomely, with the campaign achieving high rates of customer interaction, significantly increased social sharing and a tremendous boost (39%) in newsletter opt-ins – a "side effect" that wasn't even a focus of the initial campaign.
1,583 people participated in the contest, more than 10% of the existing newsletter mailing list.
1,761,614 people were reached through Facebook ads and made aware of the new products – 119 times more than the size of the newsletter mailing list.
Facebook page increased its fan base by 18%.
Additionally, 582% more people posted on the Facebook page during the campaign run, while email open rates about the contest were between 55% and 70%.
Lesson #2: Integrate with all available relevant media
Blinds.com, an online home décor retailer, ran a $5,000 cash giveaway using a simple email submission form and a double opt-in to increase the mailing list. Concurrently, the team ran a multichannel campaign that demonstrated prowess at campaign execution, and included on-site promotion, email campaigns, social media outreach, re-targeting with PPC ads and even radio publicity.
What made this campaign unique was how it drew on a wide variety of promotional media:
Website
Email subscriber form
Facebook
Blog
Twitter
Bit.ly
Google re-targeting PPC campaigns
Blinds.com's team set up a small campaign to retarget recent visitors to their homepage through optimized text ads featuring a call-to-action, reaching a total of 32,875 impressions.
They also leveraged radio advertising to spread the message of the giveaway to the masses, reaching millions of listeners. Throughout July 2012, nationally aired radio hosts such as Glenn Beck, Dr. Laura, Sean Hannity and more spread word of the $5,000 giveaway.
Initial goal: 7,000 new subscribers; stretch goal of 10,000 new subscribers
Final results: 12,311 active subscribers who completed the double opt-in; 17,617 total users including those who did not complete double opt-in
Of these total subscribers, 13,660 were brand new to the Blinds.com email database
The final "We've selected our winner" email told entrants to see results on the company Facebook page, which grew the fan base by 1,685 in one day, and led to 8,584 views of the Facebook page, overall.
Lesson #3: Leverage social media to keep things (P)interesting
Following the launch of its Pinterest boards, Sony Electronics needed to build awareness and attract followers. The email team was looking for ways to build engagement, and wanted to leverage social content and email to do so. They saw an opportunity with Pinterest.
The team's goals were to:
Drive customer engagement through email, while spreading awareness of products beyond the email channel
Educate subscribers about Pinterest and the Sony Pin boards to encourage use
Build the base of brand advocates
Leverage social content to support email content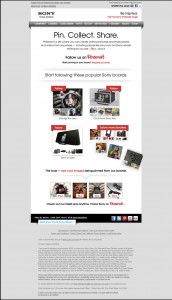 The campaign kicked off with a Pinterest-dedicated email to Sony subscribers promoting the boards, educating customers who may not be familiar with Pinterest, and inviting people to "pin" their favorite products.
The team's twice-monthly emails include visuals on various product lines with "Pin It" buttons next to each image, keeping Pinterest top of mind and making it easy for subscribers to add Sony products to their own Pin boards. The first of these promotional emails was the new VAIO Summer Line-up Product Launch.
Social content was brought back into the emails by including a Pinterest "most-pinned" banner image with the top pinned products every month, encouraging greater interest in those items.
With a subject line calling out the social channel, asking customers to follow and pin ("Let Our Pinterest Page Spark Your Imagination | Follow Us and Start Pinning"), this email campaign drove one of the highest open rates for Sony Electronics at 67% above goal.
Additionally …
The campaign's first email drove a clickthrough rate 16% above goal
The follow-up email accounted for a 15% growth in email subscribers
The product launch email garnered more than 3,000 clickthroughs for the "Pin It" button
The "most-pinned" banner drove more than 2,900 visits to Sony's e-commerce site each month
More than 2% of all clickthroughs were to "pin" products from emails
The campaign produced 172% of revenue-per-email goal
Categories: Email Marketing Tags: email awards, email integration, Email Marketing, email summit 2013, Facebook, Pinterest, ppc, social media, website integration