Email Marketing 101: How to determine the right email content for your subscribers
As a consumer, nothing makes my day like reading or shopping for anything related to arts and crafts (it's my thing). However, one annoyance we all seem to run into is being sent an email to sell you on a product that you would never want nor need.
How can you avoid being that pain in a customer's inbox?
The answer is in targeting your content. It is one of the most important, and sometimes underutilized, elements of email marketing.
At the MarketingSherpa Email Summit 2015 Media Center, Courtney Eckerle, Managing Editor, MarketingSherpa, interviewed Jessica Best, Digital Marketer, emfluence, on ways marketers can focus on their customers in order to build the right content.
From this interview, below are four key takeaways on how marketers can provide customers with the best content for their needs.
Tip #1. Establish your goals
With everything that you do, there should always be a goal in sight. When approaching your content, what should the end goals be?
Remember that your brand's goals are going to be different from any other company's goals. Consider what specific problem you want your content to solve. Will you provide them with a product-driven email or a content-based email?
Set your key performance indicator (KPI) and develop your content plan. Are you looking for a number of clicks or social shares?
" … [do] not just talk about what you need to get out of it, but actually list out what your customer wants to get out of it … " Jessica points out.
Tip #2. Make your content rich
Determine the type of content that you want to provide in your email. Jessica talked about finding the balance of using a customer's demographic-based information and their previous purchase behavior.
Strive to think about what would truly benefit your customer versus what new product you want to push. I personally love reading an email and being excited to know more — or maybe I just have a tendency to be an impulse buyer.
Tip #3. Target your audience (be more specific on the connection between your email and their interests)
"Your relevance is your key to attention," Jessica said.
Everyone is different and we all don't need to receive one standard email from your company. By segmenting your audience, you can make sure they only receive emails that are relevant to their interests.
As a loyal Michaels fan, I receive weekly emails on DIY and craft projects, but it wouldn't be useful for me to get an email on floral decor or knitting. There wouldn't be a valuable action item for me nor would it coincide with anything I've ever purchased in the store.
Tip #4. Use your most valuable asset — data
Jessica stressed "Data in, data out … everything can be informed by data."
Data can be used to research and plan email campaigns as well as track the end results to see how it performed. There is no room for error if you want to survive in the email marketing world. Be sure to discover where gaps may occur and what decisions can be made from the results.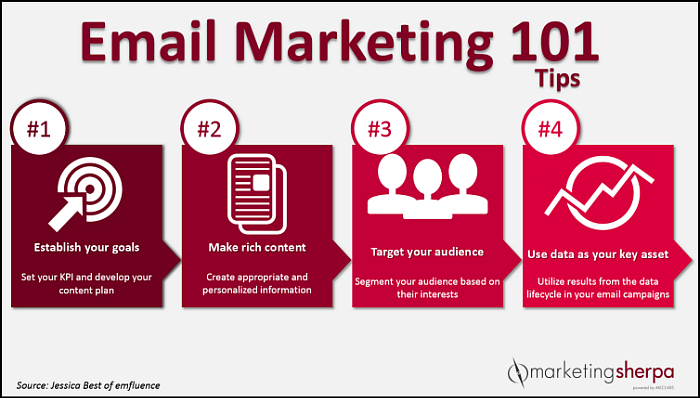 Remember to look at what you and your customer will both gain from the content that you provide. The research that you conduct, like finding demographic to behavioral data, will aid in the targeting potential clients.
Keep gathering data once you start producing email campaigns to better understand what your customers really want but, in the meantime, use what you already have to start being more relevant in your interactions.
What are you waiting for?
You might also like
Watch Full Sessions from Email Summit 2015 — Including Jessica Best's "Quick Tips: Elements of email" session
MarketingSherpa Summit 2016 — At the Bellagio in Las Vegas, February 22-24
Content Marketing: 3 tips for producing engaging email content [From MarketingSherpa]
3 must-have automated emails (via emfluence)
Email Messaging online certification course (from MarketingSherpa's parent research organization, MECLABS Institute)
Categories: Email Marketing Tags: content, content marketing, Email Marketing, email summit