On the first day of MarketingSherpa Email Summit 2013 in Las Vegas, I'll be interviewing the Best-in-Show winner of MarketingSherpa's Email
Marketing Awards 2013, sponsored by Responsys. In this session, our winner, The National Football League, will discuss its fantastic NFL.com newsletter campaign.
However, there were several outstanding, winning campaigns from this year's awards deserving of recognition as well.
Note: If you want to see the entire collection of winning entries, download the free Email Awards 2013 Special Report. There's no squeeze page – just download, learn and share.
As the lead editor on this year's Email Awards, I found it interesting that, of the myriad submissions we received, email integration played a part in many, if not all, of our winning campaigns.
In fact, as we'll likely learn from our upcoming Summit sessions, one of the reasons email has been such a venerable channel throughout the years is because of the creative, strategic ways marketers have evolved the tactic to include elements of social media, PPC and website integration.
So, before we head west to the glitter of Las Vegas, let's pull a few nuggets from these campaigns, seeing what you can learn from other Email Awards 2013 winners' use of effective integration to find pure gold.
Lesson #1: Facebook contests don't all have to look alike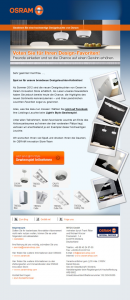 Ritos GmbH, a consumer electronics company, submitted the OSRAM Innovation Store "Light 'n' Style" contest for Email Awards 2013. It was the one entrant in its category that bridged the gap between creativity and results, as it successfully tied together three key factors of an efficient, integrated email campaign:
Personalized emails as a support to the contest
A fan-gating tab on Facebook
A unique contest mechanism that created a viral response
The fan-gating tab on Facebook ensured only persons who were already fans of the OSRAM Innovation Store on Facebook could enter the contest. Contact with all participants was maintained throughout the contest through highly personalized emails.
The emails were personalized through use of the recipient's name, an image of their favorite lighting product and the product's current place in the real-time voting. The unusual contest mechanism also made the campaign go viral.
In the end, this creativity paid off handsomely, with the campaign achieving high rates of customer interaction, significantly increased social sharing and a tremendous boost (39%) in newsletter opt-ins – a "side effect" that wasn't even a focus of the initial campaign.
1,583 people participated in the contest, more than 10% of the existing newsletter mailing list.
1,761,614 people were reached through Facebook ads and made aware of the new products – 119 times more than the size of the newsletter mailing list.
Facebook page increased its fan base by 18%.
Additionally, 582% more people posted on the Facebook page during the campaign run, while email open rates about the contest were between 55% and 70%.