Optimizing Email Capture: 9-point checklist to grow your email marketing list by minimizing the perceived cost of opting in
In the early days of email marketing, many sites used to brag about their FREE email newsletters and try to entice customers to SUBSCRIBE FOR FREE.
Today, many email marketers have simplified the ask to "Subscribe Now" or "Send Me Updates." Email newsletters with no monetary cost have become so commonplace that it is no longer worth mentioning.
Notice how I said "no monetary cost" as opposed to "free." Email newsletters aren't actually free, and they never were. Sure, the vast majority do not require a monetary payment, but they cost the customer's time. And the friction and anxiety involved in signing up is essentially a cost to the customer as well.
So to help you get more opt-ins for your email list, here is a nine-point checklist for minimizing the perceived cost of the email capture. The checklist is from the Email Messaging online certification course taught by MECLABS Institute (MarketingSherpa's parent research organization).
You can click here to click here for a PDF of the Email Capture Cost Force Checklist (no form fill required, instant download), and I will walk through the checklist step-by-step in this blog post.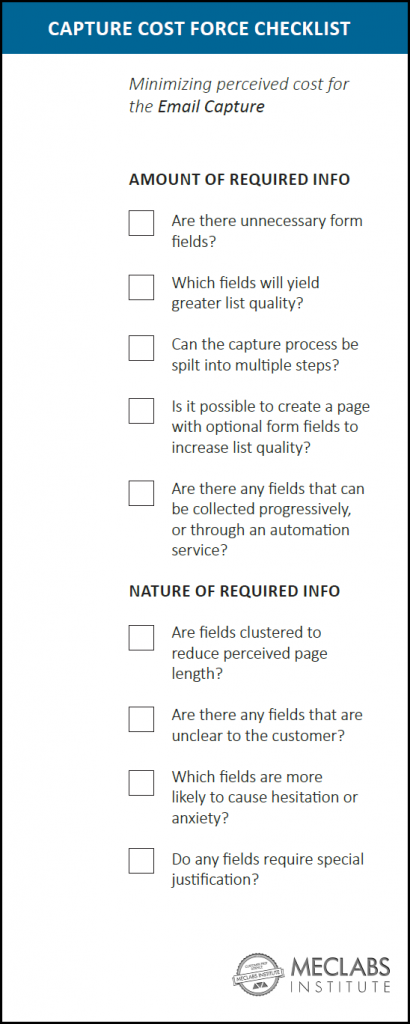 EMAIL CAPTURE COST FORCE
Email capture is the process of getting prospective customers to sign up for, or opt in to, your email list. This is usually through a form, often on a landing page.
Every decision you ask of prospective customers has a perceived valued to the customer as well as a perceived cost. The "force" of value or cost is a term designed to discuss the strength of the effect of those elements on the customers' decision-making process.
Put simply, if the value force is stronger, your customer will take the action you are asking. If the cost force is stronger, your customer will not take the action.
So this checklist will help you reduce the cost force of email capture to help you grow your email list. (We'll share a checklist on increasing the value force in the near future. If you would like to receive it, subscribe to the MarketingSherpa newsletter).
AMOUNT OF REQUIRED INFO
The more information you have about your subscribers in your email database, the more effectively you can segment your emails — and the better you can serve their individual needs.
However, the more information you ask for upfront, the higher the cost force will be and the less prospective customers will subscribe.
Ah, there's the rub.
So here are a few questions to help you overcome that challenge.
Are there unnecessary form fields?
Do you know why each form field is there? Does it have a truly valuable business purpose? Or is it just a legacy field from a prior marketing regime? Or perhaps Sales asked to have it there, but you're not sure the impact it has on the sales process.
Investigate all the form fields to see if they have a true business reason for existing. Kill any that don't, or they will hurt your email capture rate.
Which fields will yield greater list quality?
In addition to any form fields that are crucial to business processes, consider the ones that will help you build a higher-quality list. After all, the highest converting form is one that would just ask for email address and nothing else.
But, what would you have on your list then? Perhaps a bigger list but likely a lower-quality email list, one in which you didn't know anything about your subscribers and how to best serve them.
So even if it lowers email capture rate, decide which form fields are crucial to list quality. For example, if you're a clothing retailer, knowing if someone is a man or a woman might be critical.
Or if you're a car dealership or mechanic, ask what kind of car the subscriber drives, so you can tailor your offers. As the driver of an electric vehicle, anytime a brand offers me an oil change deal on my car, I know they have no clue who I am.
Can the capture process be split into multiple steps?
Another way to get optional information is to take it off the form entirely. At first.
Get the crucial email capture information, and then on a second step, have an additional form with more information. The form should have value statements explaining how and why you will use this information, hopefully, to send the subscriber more relevant and valuable emails.
If subscribers fill out the first form but not the second form, you already have their email address, which is enough information to start serving them with valuable information as well as a chance to follow up and ask for the information in future emails.
However, if you only have one form and it's too long, you have lost your chance with them entirely.
For example, in an experiment with a B2B company that serves industrial businesses, moving to a two-step form generated 0.02% fewer leads than having one form. Essentially, no difference.
However, that is just if you count the number of people who went through both steps. If you look at the number who only filled out the stage-one form and then bounced, there was actually a 47.7% increase in leads. While those stage-one leads don't have as much information known about them as prospects who filled out the entire form, now that the company has their email address they can use lead nurturing to further the conversation, serve these prospects, and ultimately try to get the full amount of information.
Is it possible to create a page with optional form fields to increase list quality?
If a form field or form fields are on the edge, you could always make them optional. For example, the phone number request. Every sales team is going to want a phone number field on every form. And the reasoning is logical — recency. If you call someone soon after they fill it out the form, they are more likely to still be interested and have a positive response. However, a phone number in a form will torpedo your email capture rate.
So make that field optional. The highly motivated prospects who actually want to be called will include a phone number. Everyone else will leave it blank. By making the phone field optional on a form, our analysts increased conversion 275% for a luxury home builder.
Are there any fields that can be collected progressively or through an automation service?
Keep in mind that all information doesn't have to be collected upfront. Just because you want information about your email subscribers, doesn't mean you have to ask for all of it when they subscribe.
After they've subscribed — and received value from your email sends and built an affinity for your brand — then you can launch an automated drip campaign to ask for more info (perhaps incentivized), say, after 30 days on your list. Or ask after they've opened or clicked on a certain number of emails.
Or you can engage in progressive profiling, where, for example, each new form a prospect fills out doesn't ask them for the info you already have (like name and email address), but asks for an additional piece of information you want (like company name or city).
NATURE OF REQUIRED INFO
Are fields clustered to reduce perceived page length?
It's not just what you ask, it's how you ask it. Look at the design of your form and determine if it feels longer than it really is.
Are there any fields that are unclear to the customer?
Be especially wary of industry terminology. For example, if you're a marketing platform and ask what CRM system the subscriber is using, relatively new marketers may not even know what a CRM is.
Also, if they have to enter information in a certain way, make sure this is clear in the form. For example, your form may not allow any symbols like () or – in the phone number form field. Of course, it's even better to have the most flexible entry requirements as possible in your form.
And the absolute worst would be making them create a password when they subscribe to your email and then being unclear about the parameters necessary for password creation. "You must use one upper case letter, one number, one letter from the Greek alphabet, one Super Bowl, one letter from Morse code, a hieroglyphic, and one symbol that has been carved into a cornfield by aliens."
Which fields are more likely to cause hesitation or anxiety?
The phone number field is an obvious one here. Nobody wants a sales call.
But revenue or employee size can also cause hesitation or anxiety. Do your prospects know the correct information? And do they really want to share it? Income and race might also cause anxiety.
The more hesitation or anxiety induced by your form fields, the higher the cost of completing the email subscription form, and the lower your conversion rate.
Do any fields require special justification?
If you absolutely need to have a field that causes hesitation or anxiety, at least provide a justification to help relieve that anxiety. For example, if you ask for company size and you are using that info to segment your list, explain that providing the info will help them get relevant content designed specifically for companies the same size as the subscribers' company.
You might also like …
Email Marketing: Bundle of 6 checklists to optimize your email marketing
Email Messaging Online Certification Course from MECLABS Institute – Learn to test and optimize your email campaigns with real case studies and proven techniques.
Quick Win Clinic: 5 simple ways to improve your lead collection pages right now
Website Optimization: How to reduce friction in purchase and registration processes
Categories: Email Marketing Tags: B2B marketing, Email, Email Marketing, lead generation, marketing insights