Snapchat Do's and Don'ts from HP's session at MarketingSherpa Summit 2017
Throughout my tenure at MECLABS Institute, parent company of MarketingSherpa, I've worn a lot of hats. I have been the managing editor of MECLABS.com, produced web clinics for MarketingSherpa's sister site, MarketingExperiments, and currently serve as a senior manager of digital analytics, where I help our Research Partners make sense of mountains of customer data.
Perhaps my most cherished responsibility, however, has been to act as the resident Snapchat journalist around the MECLABS campus. Whether the office alligator is sunning himself beside the lake, a company-wide ping pong tournament is taking place, or we're surprising Aimee Reynard, Senior Events Manager, on her birthday at Summit, if something interesting is going on, I consider it my duty to spread the word to my coworkers via Snap.
For this reason, I jumped at the opportunity to work with Frank Danna, Content Director, Softway and Stef Brower, Global Social Marketing, HP on their MarketingSherpa 2017 Best Practices session, "Navigating the Complex (and Weird) Landscape of Snapchat: An inside look at HP's Snapchat journey."
Anyone who has used Snapchat knows that it's a deeply personal platform — and a notoriously difficult nut for marketers to crack. Discoverability is difficult, growth is an uphill battle, and the casual and irreverent nature of the platform runs counter to the marketing strategies of many brands.
At MarketingSherpa 2017, Stef and Frank walked us through HP's Snapchat journey, from initial research, to securing buy-in, to testing their way into an authentic brand voice, to efficient content production, up to the recent evolution of HP's Snapchat approach.
If you're looking for the specifics of HP's campaign, check out our case study for the full story. But for now, I'll share Frank's list of Snapchat don'ts and Snapchat do's he walked through with the Summit audience in Las Vegas.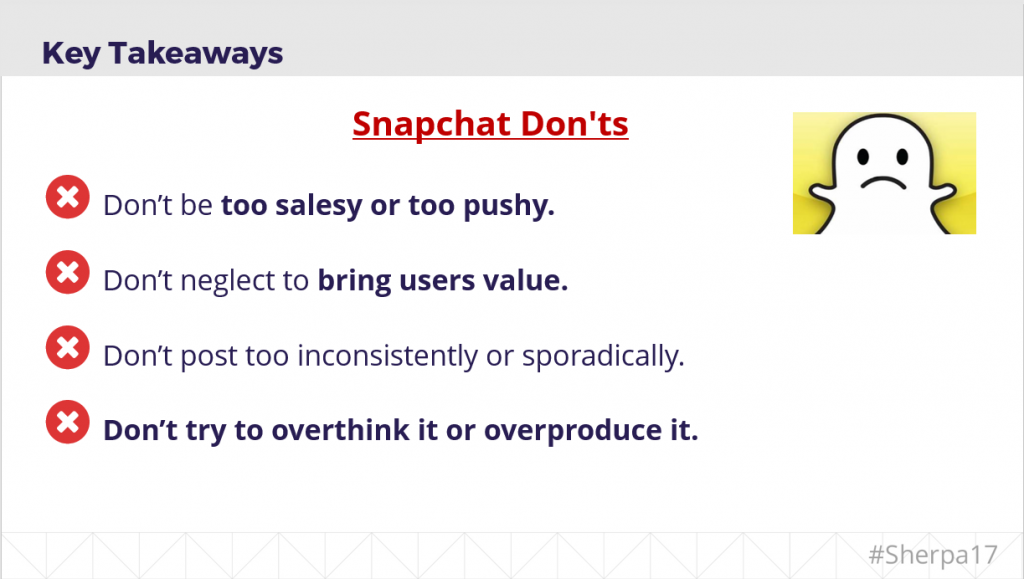 Don't be too salesy or pushy
"On Snapchat, you're engaging with a younger audience," Frank said. "We're talking 13-to-34-year old's here. If you try to be salesy, they'll run into a Jamba Juice and never come back. So, you have to be careful that your content isn't ultra-salesy or pushy. It needs to bring people value. Not just value about your brand or the actual item you're promoting or produce, but wisdom and experience you can apply to what you're creating to actually add value for users."
Don't post too inconsistently or sporadically
"Inconsistent and sporadic posting is an issue. You should post regularly — maybe once a week, once a month, twice a month — and make sure it happens on a consistent basis so people know when to expect it."
Don't try to overthink or overproduce your content
"Now, outside of Snapchat, the content that we showed you earlier looked insane. But inside of Snapchat, it looked like Snapchat. It's exactly what people have come to expect. We tried, as should you, to produce it as best as possible within the limitations of the platform because it felt authentic to the people who were engaging with it inside of Snapchat."
Do be casual — Snapchat is primarily a first-person platform; talk to the audience as much as you can
"To those of us who always have our buttons buttoned all the way up, on Snapchat, we need to unbutton one, maybe two buttons," Frank said. "We need to talk to the audience like a normal person. So, when you've got your phone, and you're in selfie mode, and you're talking and [gesturing], don't be awkward. You might look awkward to other people nearby, but to the people you're speaking to on Snapchat, you feel more authentic."
Do embrace the limitations of the platform without trying to overthink or overproduce your snaps
"Don't be scared of the platform or the limitations of it," Frank told the audience. "I've worked with a couple of different brands who actually produced everything outside of Snapchat and then just took a phone, held it up to a 4K monitor and recorded snaps off the monitor. It didn't work. It looked completely fake, and the audience didn't engage with it. It didn't work like it should have because [the brand] wasn't engaging with its audience in a way that they should have on Snapchat."
Do use Snapchat when you have something amazing to share
"Our recommendation for a lot of brands out there is to use Snapchat when you have something insane to talk about. When Kayne walks into your ice cream shop, it's time to open Snapchat. You're going to get people to look at it. Snapchat is all about exclusivity."
Key Takeaway
And if there's just one piece of advice that Frank has for brands thinking about entering the Snapchat snaps, it's to be authentic. "Ultimately, the goal is to be authentic. Use Snapchat like a real user. And do your best you can to engage with Snapchat users on their level."
And, if you're dying to know the answer to the below question that Frank posed to the audience at MarketingSherpa Summit 2017, tweet at him with your best guess. He'll let you know if you're on the right track.
On a personal note, it was great seeing so many familiar faces at Summit and meeting so many new ones as well (shout out to our 20 new friends from Sweden!) It never fails to amaze me how incredible and positive it is to see so many people gathered together to help answer the question, "How can we treat our customers better?"
If you already feel pre-emptive FOMO kicking in, worry not, we'll be back at the ARIA again next year to share more inspirational stories of customer-first marketing at MarketingSherpa Summit 2018.
You might also like…
Read our full case study on HP's Snapchat journey
Social Media: How to make [the right] friends and influence people [who matter]
The Radical Idea: Why investing in the physical world should be part of your social media marketing budget
Learn how to use social media as a lead gen tool
Download a free 54-page report to learn about our latest discoveries based on research with 2,400 consumers
Categories: Social Media Marketing Tags: content, global social marketing, hp, inbound, marketingsherpa summit 2017, snapchat, social media marketing, stef brower