3 Lessons From Shia LaBeouf on How to Go Viral
Marketers ask all the time, "How can we make our marketing go viral?" It's a little like saying, "Let's plan to be spontaneous" — as pointless as it is ironic.
You can't make anything go viral. It's a mysterious and oftentimes random set of elements that leads to online sharing and discussion, even if "going viral" is just within your own pool of customers.
That isn't to say, though, that there aren't tips and ideas that you can't integrate into your content and marketing practices to increase the odds of intriguing and capturing your customers enough to share your content.
Chances are you're familiar with Shia LaBeouf. The actor notably started on the Disney Channel show Even Stevens and he has been a near-constant figure in Michael Bay's Transformers movies. However, around the Internet, he may be better known for his performance art pieces.
Beginning Tuesday, November 10, at noon, LaBeouf sat in the audience of the Angelika Film Center in New York City to watch all 27 of his movies, beginning with the most recent and ending Thursday at 8 p.m. with his first.
In this latest performance art piece, titled #ALLMYMOVIES, visitors were invited to the theater to sit with Shia as he watches all of his movies consecutively in what various articles are calling "a work of genius," (Rolling Stone) or alternately, "the most narcissistic binge-watch of all time." (LA Times).
Whatever it is — good, bad, ugly — is not the point. The point is, we're talking about it.
For those who aren't lined up outside to get a seat in the theater, Shia's face has been live streamed, silently (for movie copyright purposes), over the Internet for all to see.
Our Marketing and Content departments here at MarketingSherpa have been diligently following this since Tuesday, it was a hotly discussed happy hour topic and a lot of my acquaintances have been posting to various social media accounts about it.
Aside from personal experience, the event has gone viral to the point that people are waiting at least two or three hours to get into the theater. While waiting, they're live tweeting the experience, taking selfies to post to Instagram and Snapchat and being interviewed by news crews who have picked up on the electric vibe surrounding this event. This is all to watch one man watch movies.
Shia LaBeouf is no stranger to creating seemingly random, but actually very calculated, viral statements. His art of oddity used to observe and deconstruct his fame has actually made him more relevant than the acting career that made him famous did.
So what can you learn about going viral from actor and actual cannibal Shia LaBeouf?
Lesson #1. Be an oddity
Since the days of the bearded lady and fire eaters, humans have been obsessed with oddity.
MarketingSherpa's offices aren't very far from Ripley's Believe It or Not Museum, which serves as a monument to our desire to suspend the ordinary in exchange for the extraordinary.
Shia has taken advantage of this in every piece. A good example was when he showed up on the red carpet of the Berlin Film Festival with a bag on his head, on which he had scrawled in Sharpie, "I AM NOT FAMOUS ANYMORE."
What you can learn from this: Give your customers a small shock. Just enough to intrigue and draw them in further. MarketingSherpa Summit Readers' Choice nominee Fuji XEROX, for example, took a new product launch for a printer and turned it into a glamourous fashion show featuring clothes that had been exclusively printed using the product.
It was an idea completely remote from its product and customer sphere, yet it helped the New Zealand brand — which makes up 1% of the region — account for 34% of the Asia-Pacific total sales.
Lesson #2. Authenticity resonates
The first lesson can be taken too far though — don't be odd just for oddity's sake. People (and customers are, after all, just people) instinctually distain inauthenticity.
Shia's performance art, for the most part, have been about inviting people in. He has tried to remove the barrier of the celebrity so people can view him as a person. He's done a careful balancing act of merging odd with authentic.
In a previous project, #IAMSORRY, he had people come into a largely empty gallery to view him with a bag on his head — with holes cut, so he could see — where he sat silent as people observed him, spoke to him and even watched him cry.
Even though these are all staged performance art pieces, the authenticity and the rawness with which Shia approaches them is what resonates with people. He's laying bare real questions and struggles for people to mold and approach however they would like. This way, they can project themselves into the experience and gain genuine emotion.
What you can learn from this: Be upfront with your customers. Trust them, and they will return the favor. Take Patagonia, for example, who took the first lesson and shocked its customers with the headline "Don't buy this jacket," and combined it with true vulnerability in its explanation of why not.
Lesson #3. Create something your customers will identify with
The reason #ALLMYMOVIES has become such a topic of conversation is because it's something people want to say they were a part of.
It's an identifying cultural event and must-see viewing in the world of Netflix and Hulu. This similar cultural clout is what made people feel like they needed to watch Luke and Laura's wedding on ABC soap opera, General Hospital.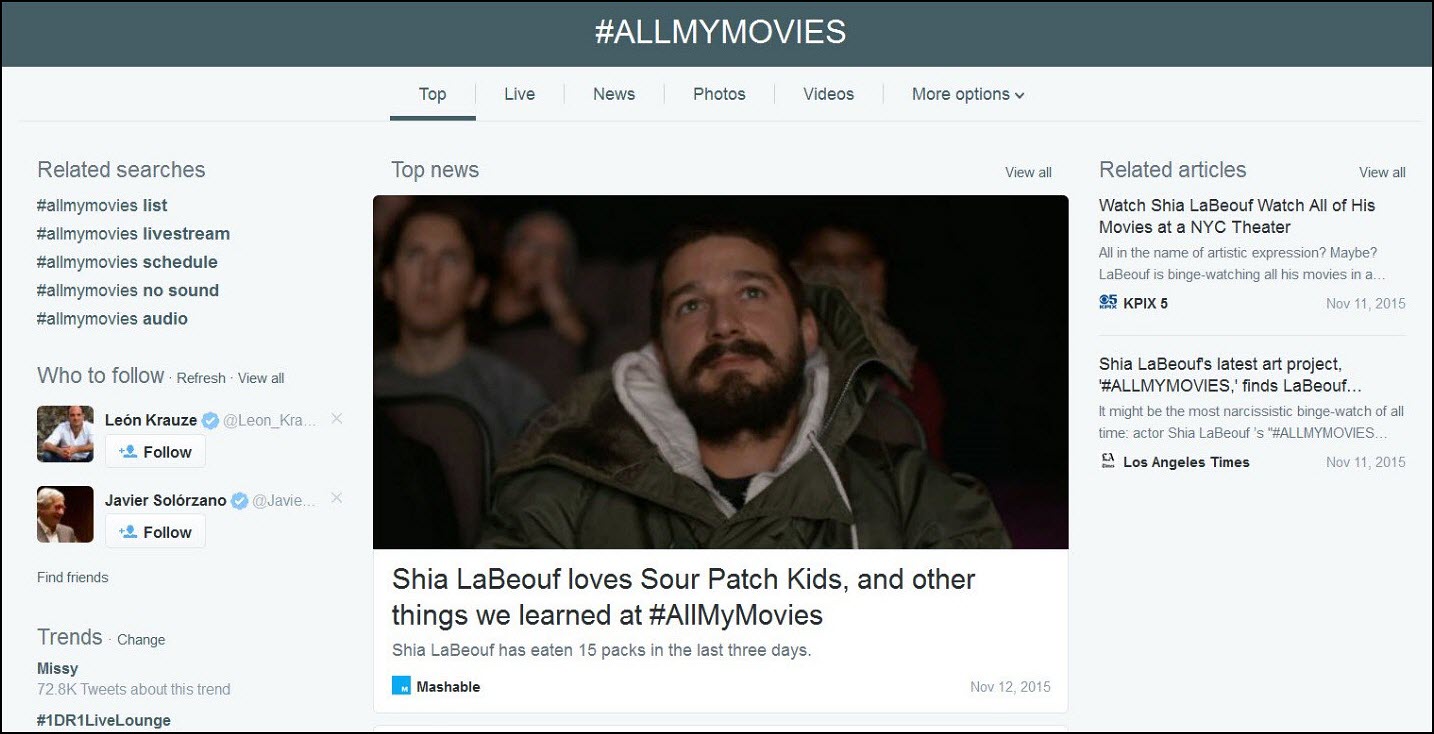 If you don't watch it, you're left out of all of those happy hour and water cooler conversations. Following the constantly unfolding non-story of Shia watching Shia means that you're hip, cool and "with it" — even though typing those words make me feel the exact opposite.
The viral aspect of #ALLMYMOVIES has gone through the full Facebook cycle in only a few days. First, known to only a few exclusive groups and now, at the time of this writing, being explained to confused parents by their children.
This performance piece focuses on a combination of what Millennials love, which accounts for its success — nostalgia and celebrity scrutiny so intertwined that any other generation would label it illegal.
What you can learn from this: Create a conversation that is irresistible to your customers. Capitalize on their interests and desires to the point where they view your content as an extension of themselves.
Take MarketingSherpa Summit Readers' Choice nominee HCSS, for example. The team drove a viral campaign — especially impressive, considering their customers are in construction and typically not social media savvy — by combining three things their customers are passionate about: construction projects, basketball and competition.
You can follow Courtney Eckerle, Managing Editor, MarketingSherpa, on Twitter at @CourtneyEckerle.
You might also like
MarketingSherpa Summit 2016 — At the Bellagio in Las Vegas, February 22-24
Inbound Marketing: How to turn your customers into brand enthusiasts
Marketing Management: 6 lessons from The Walking Dead for your team and marketing efforts
Categories: Inbound Marketing Tags: event marketing, Inbound Marketing, social media marketing, Twitter, viral