2015 Year in Review: The most popular posts in content, mobile and visual marketing
No proper New Year's can be complete without first reflecting on the past year.
Where have we been? What have we accomplished?
By asking these questions, we can move forward with a clearer vision of the year to come, and what we hope to accomplish.
MarketingSherpa is here to help with that reflection with our best content (as determined by you) from this year. As we enter into a new year of marketing efforts, challenges and trends, let's first take a moment to review the most popular posts of 2015.
1. Content Marketing 101: Tips on content strategy
As one of the most valuable marketing channels, content creation is a constant journey for marketers. This post, the most popular of the year, covers the important basics of content marketing for those who are new to the endeavor, and a review for veterans.
This post covers thought leadership and brand awareness in your content, as well as multiple resources at your disposal.
2. Marketing Careers: 5 sites to develop and enhance your skills with free online courses
As Selena Blue, Manager of Editorial Content, MECLABS, points out in her post from March 2015, "Marketing is continually changing and evolving, and nothing has propelled that more than the Internet. This means marketers must grow with the industry."
With the digital age creating a need for new skills, this blog post explores resources marketers can use to learn those skills through books, blog posts, podcasts and websites with minimum cost commitment.
3. 7 Surprisingly Successful Brands on Instagram
Brands were branching out in 2015, and an important part of that growth was defining a social media voice. With most social media trending towards visuals, these seven brands led the pack with creative and engaging posts.
Analyzed by Paul Cheney, Senior Manager of Support Content, MECLABS, for why these accounts were succeeding, this post will provide valuable takeaways for how to engage customers with visual elements in 2016 — even if your brand doesn't obviously lend itself to the platform.
4. Amazon Prime Day: 12 quick takeaways from Amazon's magnificent train wreck 
From a customer perspective, there were a few complaints about Amazon Prime Day, but for marketers it was fascinating to watch.
As Ken Bowen, Senior Manager of Editorial Content, MECLABS, sums up in this post, "Intended as a special shopping day for members of Amazon's $99/year Prime service, Amazon had practically promised ecommerce Armageddon leading up to the 24-hour event, with 'More deals than Black Friday!'"
This post will offer tips and ideas on planning your own promotions or campaign in 12 quick tips extracted from both the failures and successes of the now-infamous Prime Day.
5. Email Marketing: Why you should run a win-back campaign (and how CNET engaged 26% of inactives) 
Every relationship grows distant at some point, even the relationship between your customer and your email marketing.
The importance of reigniting the email subscription flame is discussed in this post, with Daniel Burstein, Director of Editoral Content, MECLABS, while using CNET, the technology news website, and its own win-back campaign as an example.
The post addresses the challenges, potential pitfalls and benefits of list cleansing, while walking you through a real-world case study with a CNET marketer who has successfully weathered the win-back storm.
6. Email Marketing: Creating a customer profile
This blog post covering a MarketingSherpa IRCE Media Center interview with Pete Prestipino, Editor-in-Chief, Website Magazine, dives into how to build a rich customer profile.
With technology and data readily available, marketers can no longer afford to ignore customers demanding a personalized experience with content, offers and headlines specific to their needs and customer journey.
Without addressing this growing need, Pete said, "those that aren't [creating dynamic emails] are being left behind."
7. Email Marketing: List segmentation tips using social media and online behavior 
With customer data being so prolific, the question isn't how to get information anymore — it's how to use it and for what.
Your email strategy probably involves some level of segmenting to get relevant content to the right person at the right time, but are you taking the right approach?
This question is discussed in tips and tactics on list segmentation that use several MarketingSherpa case studies as examples for how you could be better personalizing for your customers.
8. Social Media: Understanding Pinterest consumers 
"The only reason any brand exists in the first place is because it helps people do something in their lives," Kevin Knight, Head of Agency and Brand Strategy, Pinterest, said.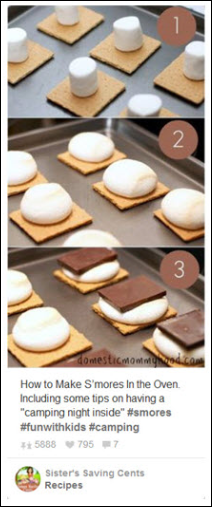 Reporting from Kevin's session at The Digital Marketing Conference – Adobe Summit, I recorded this, and other insights of his on Pinterest and social media marketing in general in this post.
Even if you work outside of the social media sphere, this post will give insight into how customers are looking to interact you and how to cater to that.
9. The Power of Visuals: How four companies effectively used visual content and three tools to get you started 
Again, visual elements emerge as a trend in 2015. To cull ideas going into this year, review this post which discusses the concept of communicating value through images, and uses real-world examples from MarketingSherpa case studies to back it up.
Simple tools and resources available to marketers to create these visuals are also given as examples of how you can engage customers just as well on a small (or even non-existent) budget.
10. How Dunkin' Donuts Increased Mobile Engagement Through Customer Relationships 
"I think that mobile is one of the most profound changes we've seen in marketing in years," John Costello, Global Marketing and Innovation, Dunkin' Brands, said when I sat down with him in the MarketingSherpa Media Center at DMA's event &THEN.
'America Runs on Dunkin' is more than just a slogan, he said. It really infiltrates every aspect of the brand to customer relationship.
This blog post, featuring a video of our interview, covers the importance of mobile and lifestyle branding for customer engagement through John's experience and Dunkin's efforts.
You can follow Courtney Eckerle, Managing Editor, MarketingSherpa, on Twitter at @CourtneyEckerle.
You might also like
MarketingSherpa Summit 2016 — At the Bellagio in Las Vegas, February 22-24
2015 Year in Review: The most popular posts in optimization, list growth, analytics and digital marketing [From the MarketingExperiments blog]
Categories: Marketing Tags: content, Email Marketing, Inbound Marketing, Mobile, omni-channel marketing, warp up