Customers as Value-Creating Partners, Not Just Value-Extraction Targets
What is a customer anyway? According to the definition you get when you type the term into Google, a customer is "a person or organization that buys a good or service from a store or business."
This is a very one-sided view of a customer — let's get the money from customers, as much as we can. Sure, we give them value in return. But mostly, customers are the cow and brands are trying to pump them for as much milk as they can.
However, in the Harvard Business Review article What Most Companies Miss About Customer Lifetime Value (an article I'm reading as part of the Communicating Value and Web Conversion graduate certificate program form the University of Florida and MECLABS Institute), Michael Schrage insinuates a very different definition.
Customers as members of a company's value-delivery ecosystem
In the article, Schrage, a research fellow at MIT Sloan School's Center for Digital Business, explains workshops he runs with companies where he asks them to answer the question "Our customers become much more valuable when …"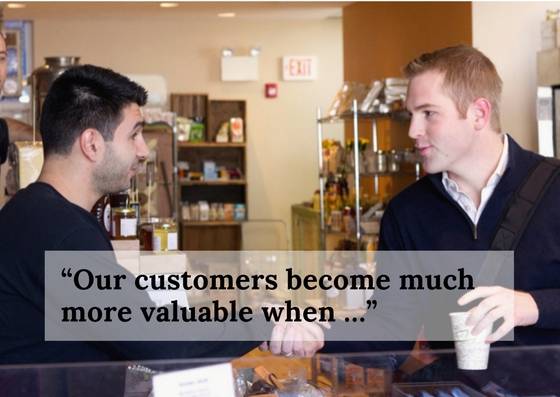 photo courtesy: Didrik, Creative Commons, Flickr
Here's what really stuck with me about the exercise: "It doesn't take long before the answers start to incorporate an investment ethos that sees customers more as value-creating partners than as value-extraction targets," Schrage said.
How do customers add value? Everything from providing feedback, to word-of-mouth marketing, to being early adopters for new products.
However, I would argue that customers must first be satisfied before they are willing to engage in any of these activities.
Customer-first marketing leads to more valuable customers
At MarketingSherpa, we've conducted our own research into customer satisfaction and customer-first marketing — the practice of not only targeting your customers, but rather elevating them. Practicing marketing (and really all business activities) in a way that prioritizes customers' needs over short-term marketing and business objectives.
My hypothesis based on the data is that a subtle shift happens inside customers. They can subconsciously tell that you are putting their needs first, and are less likely to question your company's motivations and thus more likely to be bought into the company.
For example, the biggest differentiation between satisfied and unsatisfied customers was that the company "puts my needs and wants above its own business goals."
Customers are so much more valuable than just the money they spend
An argument for customer-first marketing is that, while you might sacrifice some conversions in the short term, your customers will be much more valuable in the long term — if you put their interests first.
And that's why I like Schrage's article so much. It speaks to the many ways in which these customers are valuable — once you satisfy them and get them to buy into your brand. As I mentioned, the top differentiation between the way satisfied and unsatisfied customers discussed a company's marketing was that it practiced customer-first marketing.
Those satisfied customers were much more valuable because they were 713% more likely to continue purchasing products and services form the company. But also 771% more likely to recommend a company to others, one of those activities that Schrage suggests should be considered part of customer lifetime value. You have an opportunity to tap into this value.
Put customers first, but don't stop there
After reading Schrage, I would say that customer-first marketing shouldn't stop at putting customers first. After satisfying them by meeting their needs, look at them in a more holistic way than companies typically look at customers.
Satisfied customers have an entire relationship with the brand. How can you get them more engaged in your company's entire value chain? Asking for customer referrals is one way. But how about product and marketing feedback, value co-creation, and even help in identifying good business partners and acquisition targets?
The opportunities are endless when you stop looking at customers as merely targets for your revenue-generation goals, but rather fellow travelers on the value creation journey alongside you.
You might also like …
Customer-First Marketing: The argument for sending your customers non-transactional emails in two case studies
Download the free Guide to Optimizing Your Webpages and Better Serving Your Customers
Customer-First Marketing Chart: Customers share how often companies put their needs first
How an Online Organic and Natural Food Retailer Grew Its Social Media Fan Base 600% in 18 Months
Categories: Marketing Tags: Marketing, Online Advertising, Online Marketing, s, social media marketing