What drives a successful lead generation and nurturing strategy for a complex sale?
Is it the nature of the leads themselves? Was its success predetermined at the very birthing of the lead because of the way you generated the lead? For example, a lead filling out a hand-raise form for your service has a far likelier chance of success than a lead clicking on a PPC ad for a free iPad.
Or is it the learned behavior of the lead, the environmental factors you influence them with through your lead nurturing. In other words, no matter how good the lead is, you need to shepherd these people along and help them understand the value of your product or service.
True success requires both quality lead generation and intelligent lead nurturing. Here are tips and examples from some successful business enterprises to help you get better leads and nurture them effectively. (This advice has been edited for clarity and brevity)
This article was originally published in the MarketingSherpa email newsletter.
NURTURE
Answering the unasked questions in the customer journey
Kristian von Rickenbach, co-founder, Helix:
 A Helix (mattress and bedding product manufacturer) lead will convert on average in three months. In that time, they are researching and evaluating dozens of mattress brands and many more mattress types.
We focus heavily on lead nurturing through drip emails for people who come through our mattress customization quiz.
With the personalization quiz, we are able to capture unique attributes about how people sleep. After completing the quiz, users are asked if they want to save their match. With this audience, we know a few things:
1) They took the time to get to the site and complete the quiz
2) Hand raised to save their mattress with the intention to return, and
3) Most importantly, their name
Personalization clearly resonates with this audience and we included the customer's name in email subject lines. After doing that we saw a 54% increase in open rates which resulted in a 69% increase in revenue generated from that campaign.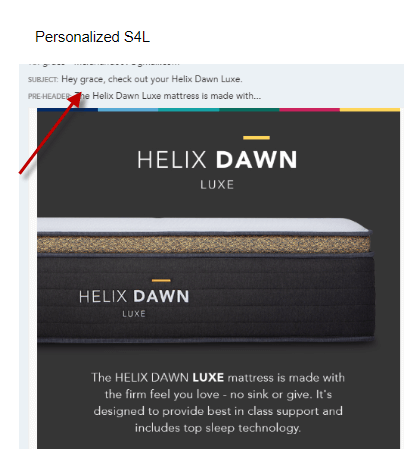 Through various creative tests, we homed in on what specific value propositions over-indexed from an engagement and conversion perspective and use that to inform content for our standard drip and promotion campaigns.
Affordability was one value prop that stood out.
Knowing that we were launching with a new financing partner, we sent an email out that had unprecedented returns for the business. After seeing the performance of a one-off financing options email, it was apparent that this is an important proposition in their purchase decision.
Since that email, we have featured similar content as a standalone email in our welcome series and significantly decreased the five-drip series decay curve. On average, we see a 38% decrease in open rate from welcome series email one to email two and so forth. After adding the financing email to the series at touchpoint three, the trend reversed and increased 15% from email two to email three.