How Public Speaking Can Enhance Your Career and Professional Development
At MarketingSherpa Email Summit 2015, Mary Abrahamson, Email Marketing Specialist, Ferguson Enterprises, not only spoke onstage in front of 1,000 of her peers but she was also awarded the Best B2B Campaign.
The video below was recorded at Email Summit, and I recently had the privilege of talking to Mary about how speaking has impacted her career and what other marketers can do to find success through public speaking.
"When I was doing the [interview at Email Summit], that's exactly how I feel, still exactly how I feel [about speaking at events]," said Mary, describing the importance of public speaking events.
With the Call for Speakers for MarketingSherpa Summit 2016 ending Monday, June 15, I asked Mary what advice she had for marketers selected to speak at industry events.
"You will get out of the experience what you put into it. It will bring you tremendous growth both personally and professionally — don't take a moment of the experience for granted. Also, just like you do in your daily job, think about your 'customer' — the attendee — first. What do they want to hear about?  That is the key," she said.
Since MarketingSherpa Email Summit 2015, Mary has had two other speaking opportunities and continues to find ways to improve the quality of her email program.
Steps other marketers can take to share their successes
 [Speaking has] definitely given me the confidence both within my company and in the industry to put the stamp on myself that I am an email expert, which I am not sure I was quite confident to say before … Not only that, but it's really gotten me to break out of my shell in terms of risk-taking from a marketing standpoint. I want to continue to be able to share my story onstage and it won't be possible without some winning stories to share.
Mary said that it's important to analyze your campaigns for the bigger takeaways that others (and your own team) can learn from. When I asked her about her biggest tips for marketers applying to speak, she thoughtfully laid out a 4-step process:
Step 1: "Make sure that you are getting away from tactics and one-offs and moving your program to a strategy-based one," she explained.
Trying to get one-off lifts rather than strategizing your whole campaign could harm your chances of getting selected for an award or speaking opportunity because it could look like a game of chance rather than a thoughtfully executed experiment.
Step 2:  Mary told marketers to ask themselves, "Would you categorize your program as a whole or the sum of its parts a winning program?"
Mary suggested marketers dig in at their own campaigns and self-analyze their overall strategy. Use other case studies to see how your company compares. Take notes, optimize your vision and continually work to improve your program.
Step 3: "Once you have accomplished steps one and two, be sure to submit to as many awards and speaking opportunities as possible," said Mary.
Take chances and apply to speak at every opportunity, but understand that success isn't simple and organizations prioritize different criteria.
"It definitely can be a losing game," Mary explained.
When I asked about how the Email Summit speaking opportunity has impacted her career, Mary said, "It's really gotten me to break out of my shell in terms of risk-taking from a marketing standpoint at our company and within our program … I want to be able to continue to share our story onstage. That wouldn't be possible without having some winning stories to share."
Step 4: Find ways to continually improve your public speaking skills
"Find out if your company offers any presentation tools or speaking classes," Mary suggested, "If not, look to see if there are any ToastMasters chapters in your area for great speaking practice resources. Another great option would be to routinely do informal (or formal) presentations in front of your department or team about different projects you are working on for practice."
Challenges and opportunities a young professional has as a speaker
Mary has accomplished a lot as a young professional in her career. I asked her what advantages she faced as a young professional when she speaks at events.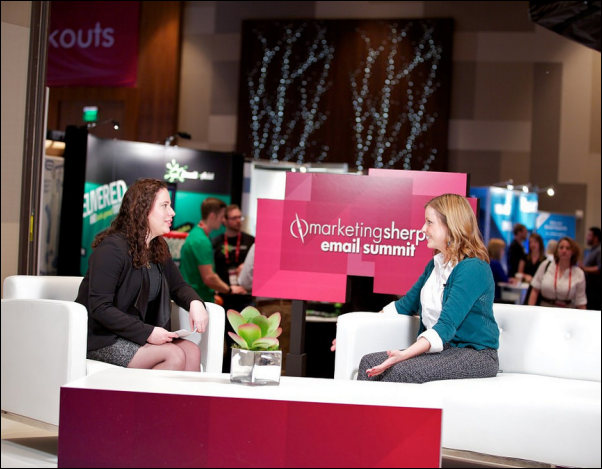 Today, a lot of communication revolves around email, social media, video and our mobile devices — almost as if face-to-face is becoming a thing of the past. With that comes almost an expectation that young professionals have forgotten the importance of public speaking. As a young professional, when you recognize the invaluable assets you gain from speaking — influence, leadership skills, thought leadership — it's effortless to quickly gain the respect of others when you put yourself in those situations.
Having the courage to apply and step out of your comfort zone is an important career decision. It's a mistake to assume that just because you're beginning your career that you don't have a valuable story to share.
"Unfortunately merit can only get you so far with some," said Mary. "Age-related skepticism is certainly a challenge that many face, not only in the speaking arena. It's important to keep a positive attitude in the face of preconceived notions people have about youth and respond with confidence and hard work."
Influencing and inspiring others
In our interview, I asked Mary why it was important for her to share her story with her peers.
"Because of the impact that those stories have on me," Mary said, adding that it "gets you out of your day-to-day cube or office life" and lets you re-evaluate your own program.
"I just think that it's so valuable to have those in-person events … you need someone that's willing to step up and share their story," she said.
Not only do you get the chance to listen to others' stories when you're at the event, but you get to receive feedback on your own program when you're speaking.
"We're hearing that some of the things that we're doing are actually pretty exciting in the email and digital and automation space, so we've been pleased to hear that. And we wouldn't know that except through the speaking and awards channel," Mary said.
If you're interested in sharing your story with your peers, like Mary did at Email Summit 2015, the Call for Speakers and awards for next year's MarketingSherpa Summit 2016 is open now through Monday, June 15.
You can follow Jessica Lorenz, Event Content Manager, MECLABS Institute, on Twitter @JessicaPLorenz.
You might also like
MarketingSherpa Summit – Call for speakers 2016
Event Marketing: 4 questions to ask before submitting a speaking application
B2B Email Marketing: Ferguson Rewards trade show optimization achieves over $10 million
Email Summit 2015: Top Takeaways from this year's best sessions
Categories: Marketing Tags: b2b, Email Marketing, email summit, ferguson, MarketingSherpa Summit