User-Generated Content: How a payday loan company takes advantage of customer reviews
Customer reviews and testimonials can be a powerful source of third-party validation and credibility when added to an overall content marketing strategy.
Today's MarketingSherpa Blog post looks at how one consumer marketer — in a business area that is potentially hostile to positive customer feedback — initiated a campaign to actively add customer reviews to its marketing mix.
Check 'n Go is a payday loan company with a focus on short-term consumer lending with retail outlets going back almost 20 years and, more recently, an online option for loans as well. Farhad Rahbardar, Web Analytics Analyst, Check 'n Go, worked with the company's Analytics and Customer Acquisition Group. Rahbardar said the team wanted to begin using customer reviews in different touchpoints on the website. The team also wanted to aggregate those reviews through an independent third party to help build Check 'n Go's Google Seller ratings.
One initial challenge was internal concern about what sort of feedback customers might provide — or possibly even refuse to provide — given the reputation of the company's business space. In fact, the company had already found that it couldn't really get any sharing via social media platforms because, as Farhad said, "Customers are really not fine with sharing their experience getting a payday loan on any social media, which is understandable."
In terms of asking for customer reviews, he said "We were hesitant about implementing this — the senior management here — just because there's a stigma about short-term lending and we were unsure if we were going to receive anything positive."
Begin collecting customer reviews
The team pressed on, chose a customer review vendor and implemented a process for collecting customer reviews. After someone secures a loan, they receive messaging that simply asks them to come back to Check 'n Go and write about their experience.
"To our surprise, we started receiving really positive reviews," said Farhad. "Nine out of 10 were either four star or five star. We had a lot of people who were really happy with the fact that we were able to help them."
The first place Check 'n Go began using these reviews was on its landing pages, and the team even tested different ways to display the reviews.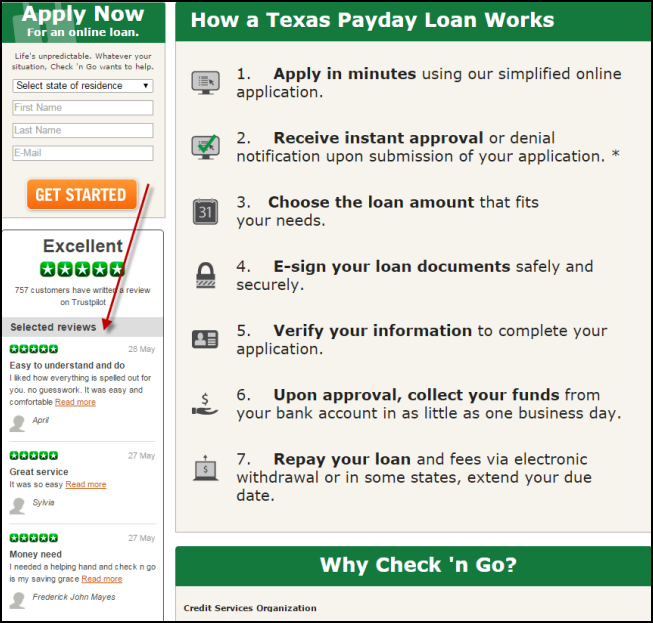 A control landing page featured static, positive reviews directly under the page's call-to-action. The treatment featured dynamic reviews as they were being submitted.
Farhad said, "There was a little bit of uncertainty there because the language the customers use is unpredictable; at the same time my hypothesis was that the recency of these reviews would make them more valuable."
His hypothesis turned out to be correct. The landing page with dynamic, fresh reviews outperformed the control page by 12%.
Farhad added that Check 'n Go doesn't edit its customer reviews and allows negative reviews to remain visible because, as he put it, "we definitely want to have that mix up there" to show that the reviews are credible.
He brought up that another added benefit for the marketing team was that there wasn't really visibility into the negative feedback customers would leave with the call center but, through reviews, the team could track customer pain points and frustrations and share those issues. This allowed the team to approach senior management to ask for specific changes in Check 'n Go's business.
Check 'n Go's next stage was testing customer reviews on the homepage.
The power of user-generated content
Check 'n Go wasn't able to take advantage of user-generated content on social media platforms because its customers weren't willing to share on those forums. But, given the option of providing an anonymous review, or only being identified with a name the reviewer provides, its customers were willing to share their experience with the company.
"I think one of the key takeaways here is that you have to look at [the long-term] benefits of having user-generated content," said Farhad. "Reviews really give you the word-of-mouth marketing that everybody yearns for. You also have control over it. It's something you can use for the benefit of the brand and the benefit of the business. Word-of-mouth is completely out of the business's control but, when you look at reviews, it's something you can actually use to the benefit of the business."
You might also like
User-generated Content: 15% lift in site traffic for Mizzou Alumni Association using image galleries [MarketingSherpa case study]
Content Marketing: User-generated content tips from Jimmy Wales of Wikipedia [More from the blogs]
Inbound Marketing: 5 tips for cultivating user generated content [More from the blogs]
User-Generated Content: Organic search up 10%, conversion up 125% with rich product reviews [MarketingSherpa case study]
Categories: Consumer Marketing, Marketing Tags: content marketing, credibility, customer reviews, customer-centric marketing, third party validation, user generated content