Last Minute Tips to Engage Customers Through the Holidays
Every year, the holidays have a way of sneaking up on us.
Just like there will be a mad rush at the mall on December 24, there are probably some marketers out there who are trying to think of some last minute ways to connect with customers during such a congested season.
Social media and other content is the best way to get some last minute and creative engagement with your customers. In the spirit of giving, here are three tips that could spread some goodwill between customer and brand.
Tip #1. Every interaction is an opportunity …
… even if it's a complaint. At this time of year, people are stressed, busy and more likely to complain about your service than compliment it.
Even if it is something silly, like the complaint Reese's faced at the beginning of December with customers voicing concern that their Reese's peanut butter cups didn't look much like Christmas trees. The backlash was titled "tree shaming" and gained the hashtag #Reesesfail.
Reese's marketing team quickly turned around what could have been a minor controversy by finding humor in the situation. They started #AllTreesareBeautiful, which celebrated the shape of their holiday treats and was a nod to the popular body-positive Dove campaigns.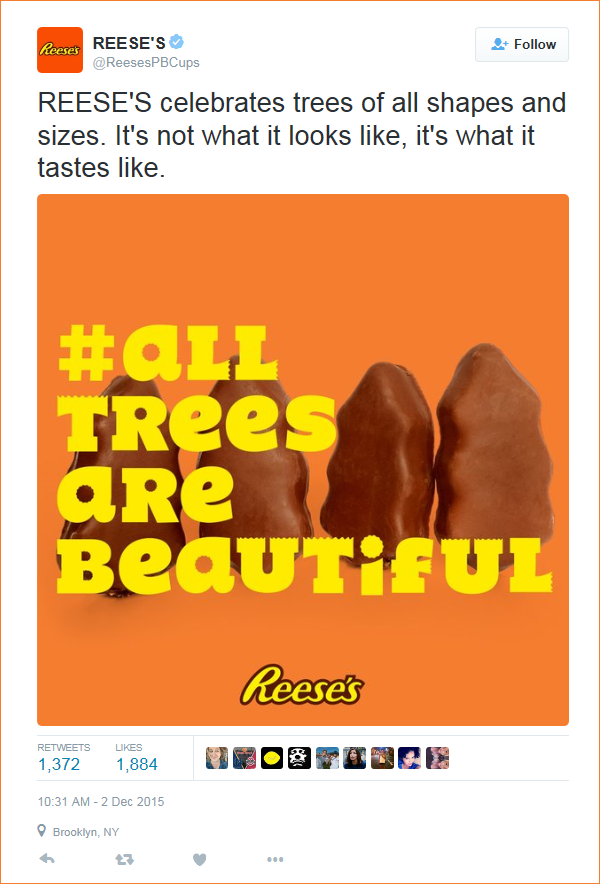 Reese's continued to cleverly latch onto different controversies throughout the year, including Deflategate, to give some perspective and make customers laugh and share.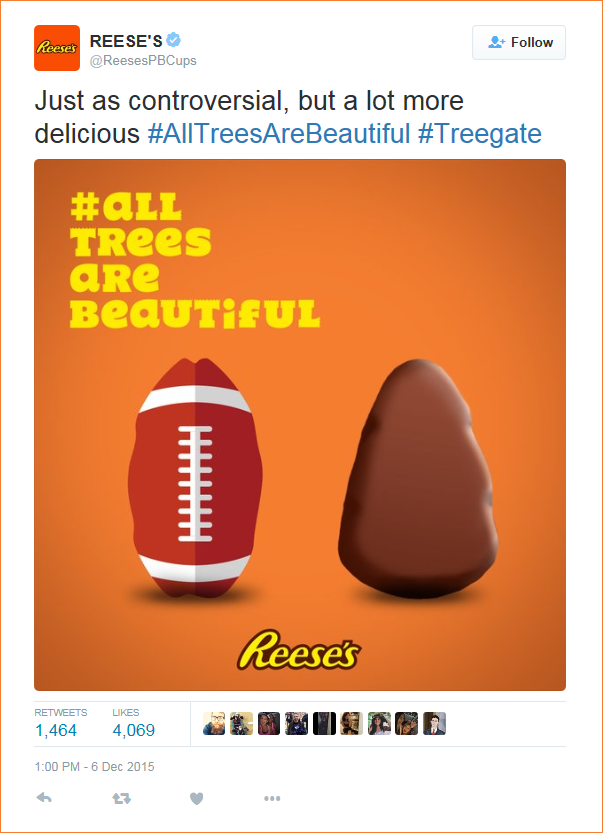 They even created an emotional connection with customers by anthropomorphizing the Reese's trees with a classic holiday family scene:
Keep it light, and look for opportunities to be creative and fun. This will catch your customer's attention much more effectively than the usual "Season's Greetings" posts.
Tip #2. Ask how you can make their holiday better
During the holidays, your customers are stressed and moving quickly. Even a simple festive greeting is an intrusion on their time.
So ask yourself: how can we add to their day instead?
Take this Instagram post by Strand Book Store in New York as an example. It features one of their employees wrapping a present in a short, cute video.
Accompanied by Christmas music, it's festive, fast and solves a problem their customers might have — I need a gift so fast, I don't even have time to wrap it. Even if customers do have the time to wrap the gift themselves, it's certainly a welcome convenience that will keep the store top of mind when they head out to shop.
Tip #3. Have customers share their holiday with you
While the holidays probably should be a time when people put away phones and social media, the reality is that everyone is actively posting and sharing during this season.
If customers share with you how they used or gifted your product this season, share it with the brand audience. If they aren't naturally doing this, find ways to encourage customers to post pictures to social media and tag you in it.
Take this user-generated post from Patagonia, which is credited to a customer: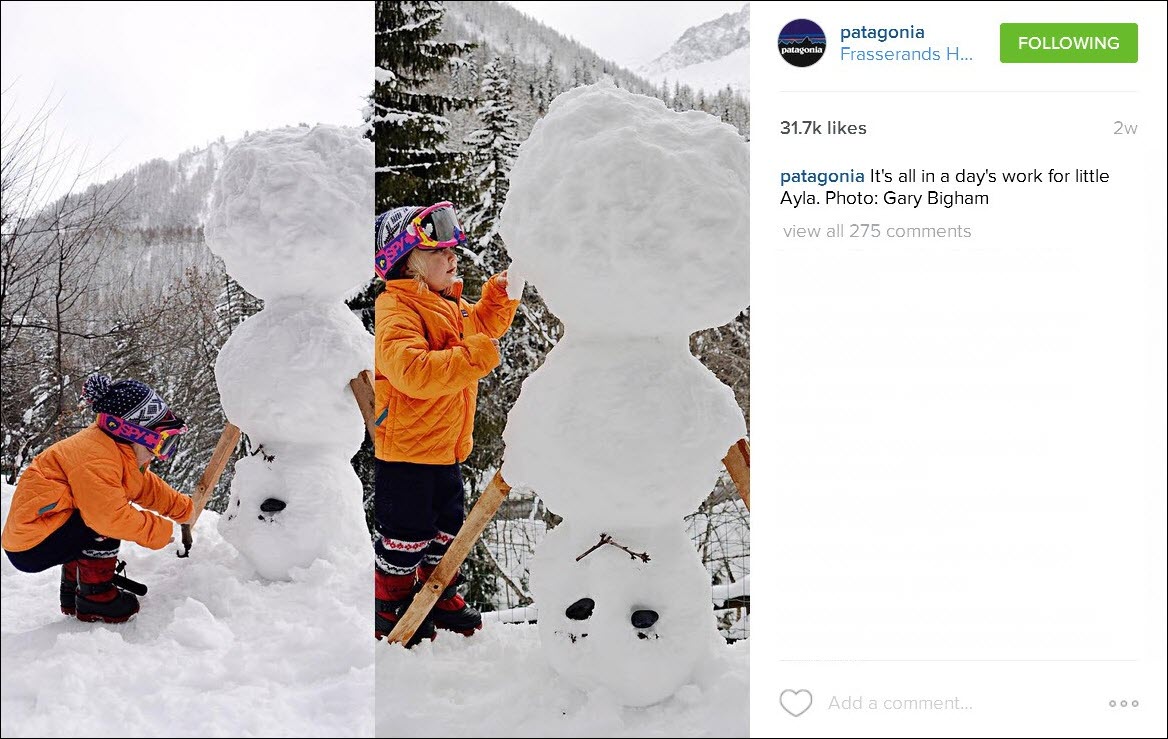 Posted beforehand, it could give last minute shoppers an idea for who to give a product to, or how to use it and, afterwards, customers may decide it's how they want to spend their Christmas cash.
At the very least, like this Patagonia post, content from customers portrays a connection and genuine sense of nostalgia.
You can follow Courtney Eckerle, Managing Editor, MarketingSherpa, on Twitter at @CourtneyEckerle.
You might also like
MarketingSherpa Summit 2016 — At the Bellagio in Las Vegas, February 22-24
Tis the Season for Re-Gifting: Lessons from holiday commercials on the value of repurposing content
Ecommerce: 6 takeaways from a 42-day analysis of major retailers' holiday marketing [From the MarketingExperiments blog]
Categories: Marketing Tags: content, Holiday Marketing, inbound, social media