Why You Should Thank Your Competitors
I was at a conference recently and had a very surprising conversation with the person I was sitting next to at lunch.
His company had no competition – and he said it was a bad thing!
What happens when you have no competition?
Having worked with a competitive sales office (the team responsible for generating a report explaining why every deal was won or lost) at a previous job, I gained a visceral dislike for the competition.
Much like in sports, we always like to root for the home team and against the rivals even when it doesn't necessarily make sense.
As a Florida resident, my tax dollars equally flow to the University of Florida and Florida State University. But as an alumnus of UF, it's hard to cheer for FSU even when the team wins a national championship.
My point is: Competition seems rooted in human nature.
I was surprised when my fellow conference attendee expressed that it was a real challenge not to have competition. Since there was no one else delivering his service, potential customers didn't view it as category they should consider.
Also, potential customers couldn't really get competitive bids or issue proposal requests (RFPs).
(Another) theory of relativity
There may be another factor at play here. Dan Ariely, who spoke at MarketingSherpa Email Summit, said, "We like to make decisions based on comparisons."
In his book, Predictably Irrational, Dan gives an example in which if you were shopping for a house and had three choices:
A contemporary
A colonial
A colonial that needs a new roof, but the owner will knock the cost of the roof of the home's price
According to Dan, people will go with the colonial with the good roof. The contemporary suffers from a lack of competition.
Or, as Dan puts it, "We don't know much about the contemporary – we don't have another house to compare it with – so that house goes on the sidelines. But we do know that one of the colonials is better than the other one."
Decision-making is complex. When we're making decisions, we usually don't understand all of the factors that go into it. Yet, we want to feel that we've made a logical decision, so we look to the information we have at hand to reassure ourselves.
How can we use this information as a marketer?
Some marketers try to avoid the competition and never mention them, especially if they are the market leader. Marketing tradition says that Coke never mentions Pepsi.
However, perhaps you should tell customers more about the competition. You should help them make the best choice between you and the competition and provide them with something to compare your company to.
Help your customers make a choice
For example, KAYAK does this with travel pricing: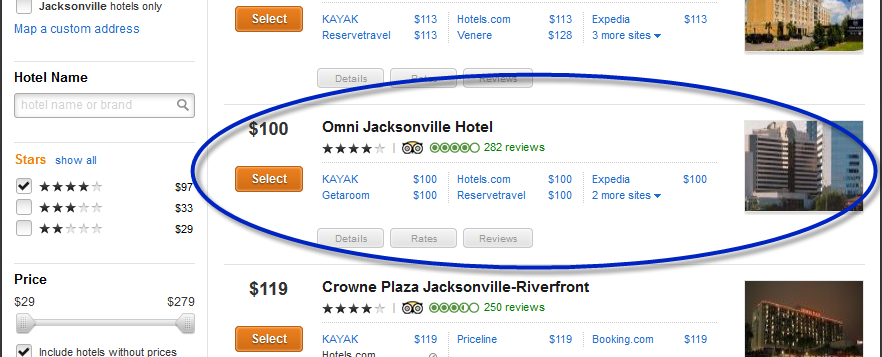 Progressive Insurance very famously does this as well: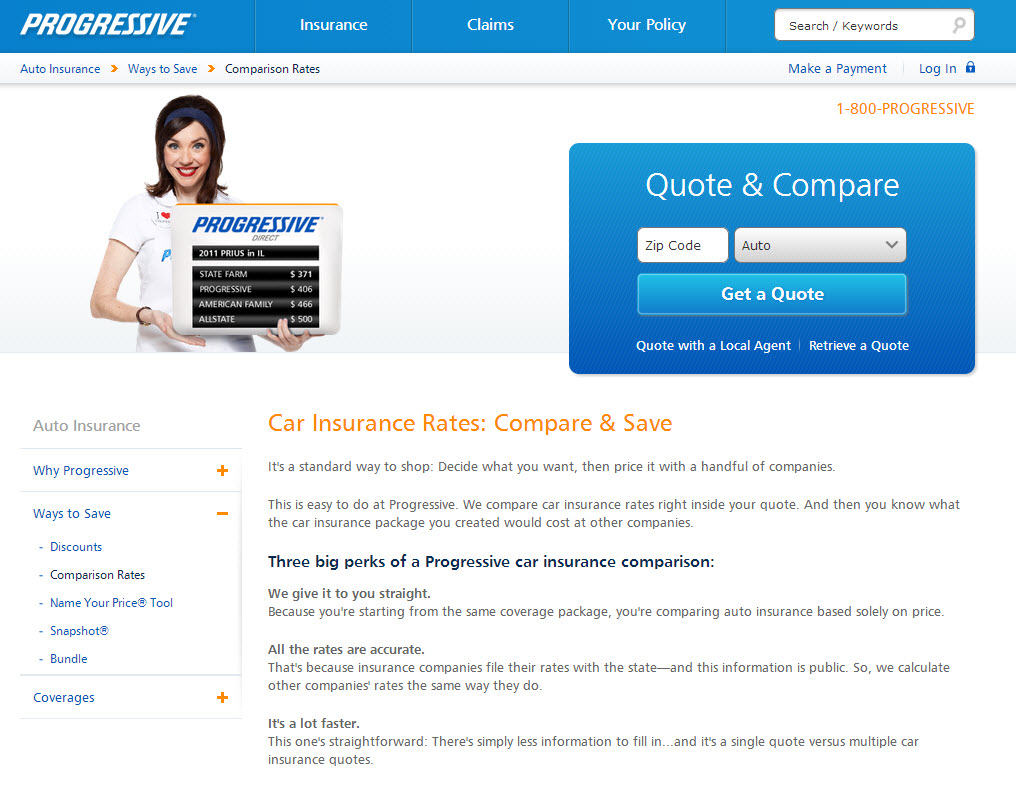 This may seem counterintuitive, so think about the brick-and-mortar world for just a moment. Many businesses tend to flock to the same location as their competitors, such as the famed Diamond District in New York City or even car dealership row in almost every city in the U.S.
Customers want choice. They want to make a logical decision and consider their options, or feel like they did at least. Help by giving them options, even when those options come from your competitors.
Make sure customers experience a proper comparison
Showing competitive trade-offs is easier in some industries than others. After all, sometimes customers don't understand what other choices they should compare you product to.
For example, it was rumored that marketers at Best Buy were sad to see Circuit City go out of business. Sure, they dogged competitors. But without Circuit City, would customers now compare Best Buy directly with Amazon.com? While Amazon's prices are cheaper, is the service the same as a brick-and-mortar store?
The Rodon Group, an American manufacturer of high-volume plastic injection molded parts, faced this challenge. When companies thought of cheap sourcing for small components, they thought of China.
The Rodon Group wanted to change potential customers' frame of reference and show that it was, in fact, also a low-cost supplier even though it was an American company. The company's "Cheaper than China" campaign increased sales 33%.
You don't determine the competition. Your customers do.
But you can help frame customers' decisions by showing why your product should be compared to another offering.
If you have no competition, give customers something to compare your products to
As I said above, having no competition isn't as great as it sounds at first crack. Perhaps this is why Microsoft rescued Apple in 1997 (well, that, and antitrust issues).
But what if you don't have competition in your category?
Force a comparison.
After all, customers are legitimately making a trade-off, even though they don't always confront themselves with it.
For this one, I'm going to use an example from journalism instead of marketing.
In The Wall Street Journal's weekend edition, the newspaper will show the price of a luxury good, say, a $3,000 pair of shoes. Then, it will show all the different things you could buy for the same amount of money.
Be careful not to be like the aggressive marketers who create a totally unrelated straw man – "This online credit monitoring is cheaper than three cups of coffee a day!"
But if you do it right, you can legitimately help potential customers make better decisions.
So what are you waiting for? Act now! You can either spend the next 30 minutes helping your customers make better choices or watching cute kittens on YouTube.
Which choice will be more valuable to you the next time you're reviewing your team's marketing performance?
Have a little fun internally
While we always need the hero, it's fun to have the heel to root against, too. The Iron Sheik. Darryl Strawberry. The Cameron Crazies.
So give extra thanks for your competitors today. Then, have a little fun at their expense to bring the team together.
My favorite example from my career was using the Blue Screen of Death to represent Microsoft for an internal worldwide sales kickoff. It got a better reaction from the sales reps than information about that year's comp plan. Well, almost.
You might also like
Content Marketing: How to serve customers when they shouldn't buy from you [More from the blogs]
E-commerce: 2 benefits of presenting competitor pricing on your website [More from the blogs]
Competitive Messaging: Tell your customers what you can't do [More from the blogs]
Categories: Marketing Tags: competitive messaging, Inbound Marketing, thought leadership, Transparent Marketing