2013 Mobile Marketing Trends: 2 key data points to help you understand this growing behavior
"Mobile is a behavior, not a technology. It's about accessing content wherever you are. It's really the use that is mobile, not the device," Anna Bager, VP and GM, Interactive Advertising Bureau's Mobile Marketing Center of Excellence, said in an interview with ClickZ.
This leads to part of the challenge facing marketers. How do you optimize for this emerging behavior? After all, technology is easier to optimize for than fickle people. If you were just optimizing for technology, you could simply, or not so simply, make sure something reads well on mobile.
So to remix an ancient Greek aphorism …
With all thy knowing, know thy customer
In today's MarketingSherpa blog post, we'll give you an abbreviated look at some data and resources compiled by the MECLABS Business Intelligence team to help you understand this new and still-evolving customer behavior.
"According to a recent Adobe survey, mobile optimization has been identified as the most exciting digital opportunity of this year," said Gaby Paez, Associated Director of Research, MECLABS. "As marketers, we need to learn as much as possible how consumers of all ages are using their smartphones; how and when they are visiting our websites, checking their emails, etc. More and more people are using their phones instead of laptop or PC to buy online."
"We put together this summary to help our team get a quick snapshot of key takeaways they can incorporate now in their optimization projects. We hope this summary helps many of our readers, too," Gaby offered.
Key Data Point #1: Users are spending a growing amount of time with their devices
What struck me about visiting New York City a few months ago is the sea-change in behavior of office workers. You used to walk through Midtown Manhattan and see people on the street in front of office buildings taking a smoking break. Now, everyone is milling around checking their smartphones.
Website traffic coming from mobile devices increased 84% from Q4 2011 to Q4 2012, according to a report from Walker Sands.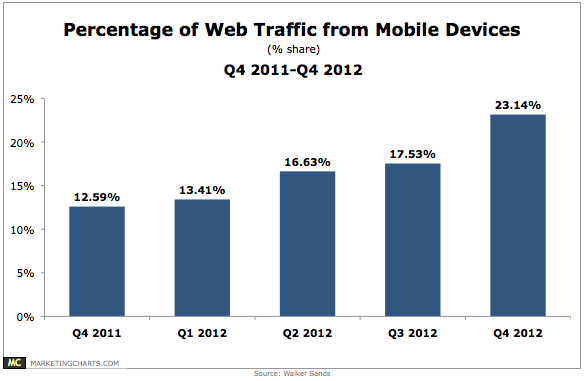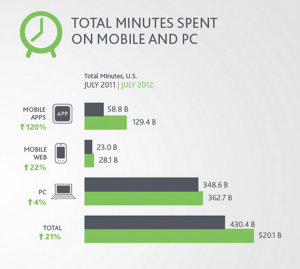 Nielsen also shows mobile growth but breaks it down slightly differently and looks at a slightly different timeframe – July 2011 to July 2012. Its study shows a significant difference in time spent in mobile Web versus apps. Time spent in mobile Web grew 22% while mobile apps grew by 120%.
How you can use this data: First off, this data is a great proof point to secure the budget necessary to reach mobile customers.
Second, you can use these mobile growing habits to help grow other, more traditional channels as well. For one way to do this, read the MarketingSherpa how-to article, "Mobile Drives Email List Growth: How to use SMS and relevant content to add opt-ins."
Of course, that growth isn't occurring in broad brush strokes …
Key Data Point #2: Those users tend to skew younger
According to research from Forrester, 24- to 32-year-olds, known as Millenials, Generation Y or simply Gen Y, are most likely to own smartphones and use apps.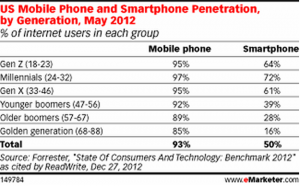 How you can use this data: One of the biggest fallacies is simply everyone uses smartphones. Go to a marketing event and a speaker, usually from a mobile vendor, will ask attendees to raise their hands if they have a smartphone. Usually, more than of 90% raise their hands.
This is used as a proof point of universal smartphone adoption, but really only shows that lots of marketers use smartphones.
As you see in the chart above, while 93% of Americans owned mobile phones, only 50% owned smartphones.
Of course, that's still a significant, and likely affluent, part of the population.
However, it behooves today's marketer to make sure you understand your audience. If your audience skews younger, accounting for a mobile behavior is likely quite important in your marketing plans. If they skew older, it is somewhat less important.
To understand how and why The Ritz-Carlton Destination Club optimized for a specific mobile device, you can read the MarketingSherpa case study, "Mobile Email Marketing: iPhone-targeted landing pages boost conversion rate 40% for Ritz-Carlton Destination Club."
Related Resources:
Free Excerpt from the 2012 Mobile Marketing Benchmark Report
Top Web and Mobile Properties of 2012 (via eMarketer)
Mobile accounted for 18% of US search spend in Q4 2012 (by David Moth)
Mobile accounts for 20% of Facebook ad spend: infographic (by David Moth)
Record Retail Sales on Smartphones, Tablets Take Greater Ecommerce Share (via eMarketer)
How US Smartphone and Tablet Owners Use Their Devices for Shopping (via Nielsenwire)
Smartphone Vs. Tablet Adoption Trends (by Sameer Singh)
Categories: Mobile Tags: apps, digital marketing, Email, Mobile, mobile marketing, smartphones