"Mobile is a behavior, not a technology. It's about accessing content wherever you are. It's really the use that is mobile, not the device," Anna Bager, VP and GM, Interactive Advertising Bureau's Mobile Marketing Center of Excellence, said in an interview with ClickZ.
This leads to part of the challenge facing marketers. How do you optimize for this emerging behavior? After all, technology is easier to optimize for than fickle people. If you were just optimizing for technology, you could simply, or not so simply, make sure something reads well on mobile.
So to remix an ancient Greek aphorism …
With all thy knowing, know thy customer
In today's MarketingSherpa blog post, we'll give you an abbreviated look at some data and resources compiled by the MECLABS Business Intelligence team to help you understand this new and still-evolving customer behavior.
"According to a recent Adobe survey, mobile optimization has been identified as the most exciting digital opportunity of this year," said Gaby Paez, Associated Director of Research, MECLABS. "As marketers, we need to learn as much as possible how consumers of all ages are using their smartphones; how and when they are visiting our websites, checking their emails, etc. More and more people are using their phones instead of laptop or PC to buy online."
"We put together this summary to help our team get a quick snapshot of key takeaways they can incorporate now in their optimization projects. We hope this summary helps many of our readers, too," Gaby offered.
Key Data Point #1: Users are spending a growing amount of time with their devices
What struck me about visiting New York City a few months ago is the sea-change in behavior of office workers. You used to walk through Midtown Manhattan and see people on the street in front of office buildings taking a smoking break. Now, everyone is milling around checking their smartphones.
Website traffic coming from mobile devices increased 84% from Q4 2011 to Q4 2012, according to a report from Walker Sands.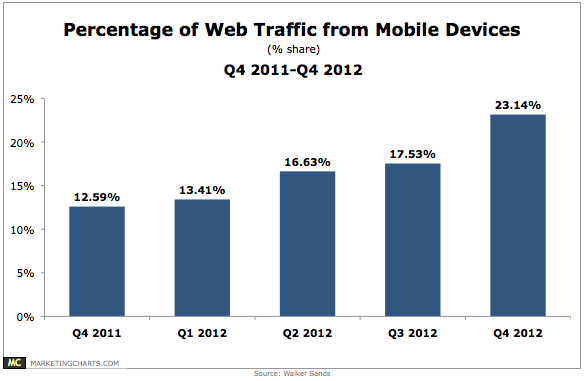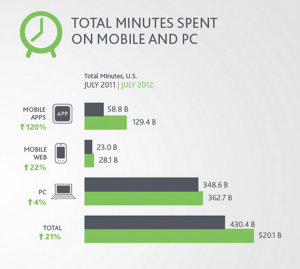 Nielsen also shows mobile growth but breaks it down slightly differently and looks at a slightly different timeframe – July 2011 to July 2012. Its study shows a significant difference in time spent in mobile Web versus apps. Time spent in mobile Web grew 22% while mobile apps grew by 120%.
How you can use this data: First off, this data is a great proof point to secure the budget necessary to reach mobile customers.
Second, you can use these mobile growing habits to help grow other, more traditional channels as well. For one way to do this, read the MarketingSherpa how-to article, "Mobile Drives Email List Growth: How to use SMS and relevant content to add opt-ins."
Of course, that growth isn't occurring in broad brush strokes …