To be honest, I don't even see them most of the time. It is as if the top and sides of the webpage I'm looking at are blurred—I know they're there, but I don't even notice them. For this, I thank "banner blindness."
Banner blindness is the result of templated or "best practice" page layouts that place banner ads in specific places, such as the very top center of the page or on the far right side of the page. See the red boxes below: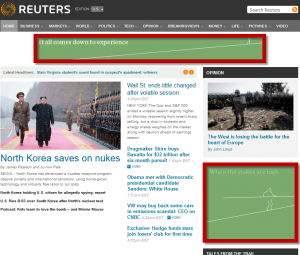 Why is it called "blindness"?
The ad is there, but we ignore it because our minds have "seen that, done that" so many times before. We have established the typical banner areas as distracting from our goal on the page.
As marketers, if we are stuck in these blind areas, what can we do to increase the effectiveness of our banner ads? For questions like this, I always like to refer to the MECLABS Institute's (MarketingSherpa's parent company) Online Ad Sequence  heuristic for guidance: