Marketing has a language all its own. This is our latest in a series of posts aimed at helping new marketers learn that language. What term do you find yourself explaining most often to new hires during onboarding? Let us know.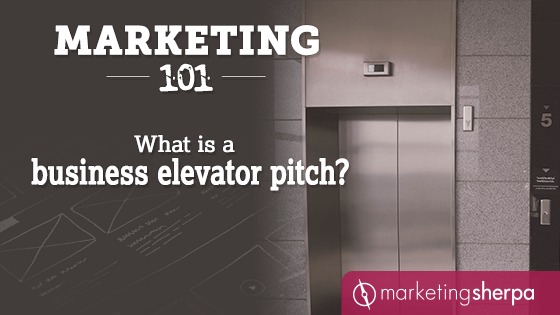 This article was originally published in the MarketingSherpa email newsletter.
An elevator pitch is a quick explanation of a value proposition for something you are trying to influence another person's opinion on.
An elevator pitch (also called an elevator speech) can be for a company (to persuade investors), a product (to influence a purchase), a project (to get budget) or even a person (to get a job).
A key component of an elevator pitch is the quick, succinct summation of much more information – enough to change an opinion or elicit an action but not so much that you lose someone's attention. An elevator pitch can be particularly important when you know you will only have a short amount of time with the person (say, at a networking event or running into the CEO in the hallway or in a literal elevator).
The term likely originates from the idea that one could run into a key decision maker in an elevator. If that happened, you need a prepared statement you can use during the few seconds you have with this decision maker during that elevator ride.
A forceful value proposition is key to an effective elevator pitch. According to MECLABS Institute's methodology, there are four elements to a forceful value proposition – clarity, credibility, exclusivity, and appeal (MECLABS is the parent organization of MarketingSherpa).
"I must understand (clarity) so I can believe (credibility) that only you (exclusivity) have what I want (appeal)," said Flint McGlaughlin, CEO and Managing Director, MECLABS Institute.
Word usage examples
To put the term 'elevator pitch' in context, here are some examples of how we have used the term in our content.
Elevator pitch example
Steve Jobs delivered a famous elevator pitch to John Sculley in 1983 – "Do you want to spend the rest of your life selling sugared water, or do you want a chance to change the world?"
Sculley was the president of Pepsi at the time. Jobs was starting to make something special happen with Apple. However, Jobs needed a CEO to run Apple so that he could focus on developing new products for the growing company. Sculley wasn't convinced by Apple's laid-back culture and politely rejected Jobs' original offer until Jobs presented his famous elevator pitch.
"That abrupt but direct question says everything about how Apple tackles innovation and its products—and it led to Scully joining Apple," said James Edge, Founder, Crush the USMLE.
"The pitch is brilliant because of its simplicity and unorthodox nature. Instead of following the traditional elevator pitch model, this one went straight to Sculley's heart. The question hit him so hard that he eventually changed his mind and joined what would become one of the most impactful and profitable companies in the history of the world," said Marc Lewis, General Manager and Executive Editor, Ecowatch.
You can follow Daniel Burstein, Senior Director, Content & Marketing, MarketingSherpa and MECLABS Institute, on Twitter @DanielBurstein.
If you are interested in elevator pitches, you might also like…
An Effective Value Proposition: What it is, why it is so important to business and marketing success, and how to use it
7 Steps to Discovering Your Essential Value Proposition with Simple A/B Tests
Pivot Your Value Proposition: 6 ways brands, entrepreneurs and marketers are responding to COVID-19's economic fallout
Free Template to Help You Win Approval for Proposed Projects, Campaigns and Ideas
If you are interested in entry-level marketing content, you might also like…
Marketing 101: What is PPC in marketing?
The Beginner's Guide to Digital Marketing: 53 articles (and 1 video) to help with onboarding