Marketing 101: What is PPC in marketing?
Marketing has a language all its own. This is our latest in a series of posts aimed at helping new marketers learn that language. What term do you find yourself explaining most often to new hires during onboarding? Let us know.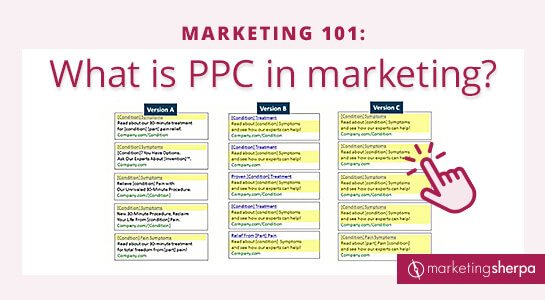 This article was originally published in the MarketingSherpa email newsletter.
PPC stands for pay-per-click. The abbreviation is usually used in front of the words "marketing" or "advertising" to describe digital ads for which the company pays a fee to the website where the ads are displayed (or the advertising network that is running the ads across many websites) every time a potential customer clicks on the ads.
If you're a new marketer, you might have heard the words pay-per-click slurred together pretty quickly by experienced marketers, and not quite understood what they are saying. My favorite anecdote, sometimes I would get a transcript from a recorded interview back, and the transcriptionist (not familiar with the marketing industry) would transcribe "pay-per-click" as "paper click."
Here's an example of the look and feel of some PPC ads:
This example is from PPC Marketing: 3 steps to improve performance.
Words like "condition" and "part" are called out in brackets because those words would change to address different medical conditions faced by the ideal customer using different keywords (more on keywords in the PPC vs. SEO section of this blog post).
The URL is simply listed as "company.com" because we're protecting the identity of the MECLABS Conversion Marketing Services Research Partner that engaged in this PPC experimentation (MECLABS is the parent organization of MarketingSherpa).
Performance advertising versus impressions-based advertising
Traditionally, advertising was sold based on how many people would see the ad — also known as impressions, exposure or reach. The cost is calculated as cost per thousand and abbreviated as CPM ("m" stands for "mille," Latin for "one thousand.")
The rise of advertising on the internet has brought with it a shift to performance-based advertising. While marketers can still buy adds based on their reach, many choose to buy based on an action like a click.
An example in the case study Small Business Social Media Advertising: Local shop conducts value proposition testing with Facebook ads shows a few of the different ways marketers can buy ads online. Consultant Metodi Iliev ran three tests with Facebook ads. For each test, he chose the Facebook ad delivery aimed at a different metric — optimized for post engagement, optimized for impressions, and finally, optimized for link clicks.
How PPC advertising is sold
PPC advertising is sold on a cost-per-click, or CPC, basis. PPC ads are often aimed at specific keywords, and the CPC for the keyword is determined by potential advertisers bidding on those keywords.
Because of this demand-based approach to pricing, the cost of a click can vary greatly based on the keyword and the industry. For example, the article Long-Tail Keywords Dead? We Answer This Question and 14 Others on SEO reports that in May 2008 the average CPC in the insurance industry was $10.63 while the average CPC for retailers was $0.45.
PPC versus SEO
PPC is most frequently associated with search engine marketing because many PPC ads are displayed on a search engine results (SERP) page. For this reason, PPC can also be referred to as paid search or simply SEM (search engine marketing).
Paid search is usually contrasted against organic search, PPC and SEM are contrasted against the abbreviation SEO (search engine optimization).
Organic search/SEO is the practice of creating something of value on a website so that it will place high in the search engine results. By placing high on a search engine results page (SERP), the webpage is likely to get more visits from people who have searched for information on that topic. SEO usually combines the skills of content creation and writing along with the technical skills to make the site attractive to search engines by, for example, making the website easy to read by a search engine or ensuring a fast page load and good rendering on mobile devices.
Marketers do not pay the search engine companies for these results; they must earn high search rankings. However, just because they don't pay money doesn't mean there isn't a cost. In this case, it's the creative and technical costs of having a search-optimized website.
For example, a research chemicals company conducted a website overhaul to improve its SEO. As a result, it was able to increase organic traffic 33% and organic traffic-based revenue 25%.
Optimizing PPC marketing
When trying to improve the performance of their PPC advertising, some marketers make the mistake of optimizing the wrong part of the funnel.
The marketer's goal should not be to get more clicks. For an extreme example, you could probably entice many, many clicks on your PPC ads if you could credibly communicate that you are giving a free Tesla to everyone who clicks on the ad. However, if people who click on the ad then get to a landing page for expensive private jets, and only then learn that they must buy a jet in order to get the free Tesla, you will probably not get an ROI (return on investment) from your campaign. Many will click, few will choose to (or even be able to) buy.
Remember, since you are paying for each click, you are not trying to get just anyone to click, your ad should focus on getting the ideal customer to click. And you want to be clear enough in the ad about what you are offering on the landing page so that people who click are likely to take the desired conversion action.
That doesn't mean your PPC ads should sell the conversion action (like product purchase or lead form fill). That is what the landing page is for. Your PPC ads should have a process-level value proposition so the right people (your ideal customers) see the value in clicking on your ad for the right reasons — to engage in whatever conversion action you have on your landing page.
Sometimes it's not the ad copy or landing page that is necessarily wrong, it is just targeting the wrong keyword or keywords. The keywords might be so expensive that the company can't generate a positive return on investment. Or the keywords may be bringing in the wrong kind of audience. For this reason, it's a good idea to track the ROI of keywords and/or keyword groupings to understand which are profitable for your business and eliminate unprofitable keywords that drain your marketing budget.
Paying for clicks you don't actually get
It's one thing to pay for clicks from the wrong customer because your ads weren't focused on the ideal customer. It's even worse when those clicks you're paying for aren't because of the copy in your ad — they may be from bots or other nefarious means.
This is click fraud, a threat to be aware of if you buy PPC advertising. Click fraud is nothing new; in fact, MarketingSherpa's sister publication wrote about the topic back in 2005 — Click Fraud: Our research indicates that as much as 30% of paid search traffic may be fraudulent.
Testing and optimizing PPC ads
If you want to improve your PPC advertising, you can engage in split testing to see which messages perform the best. Remember, for true success you should often measure beyond which ad gets more clicks to which ad gets more conversions.
One challenge with split testing is getting a sufficient sample size to ensure you are running a valid test that accurately tells you which ad performed better, to ensure the results you see aren't just coming from random chance.
PPC advertising can help you get a big enough sample size because most PPC ad networks can show your ad to a large number of potential customers (assuming you have the budget to afford it).
For this reason, PPC ads can be used to test more than just the ad copy; they can help you get enough traffic to validly test other things as well. For example, you can test your value proposition using PPC ads.
You can follow Daniel Burstein, Senior Director, Content & Marketing, MarketingSherpa and MECLABS Institute, on Twitter @DanielBurstein.
If you are interested in PPC marketing, you might find these articles helpful …
PPC Ads: What is search engine marketing best used for?
How to Improve Conversion of Your Online Ads
Mobile Ad Campaign Optimization: 6 tactics from a high-performing marketer to increase conversion
Paid Search Marketing: 3 optimization ideas to test in your next PPC campaign
PPC Marketing: Testing value proposition messaging increases clickthrough 88%
PPC Marketing: Call tracking increases leads 98%, decreases CPA 43%
Categories: Search Marketing Tags: advertising, CPC, marketing 101, onboarding, paid search, pay-per-click, ppc, Search Marketing, SEO, SERP, split testing