Marketing has a language all its own. This is our latest in a series of posts aimed at helping new marketers learn that language. What term do you find yourself explaining most often to new hires during onboarding? Let us know.
An A/B split test refers to a test situation in which two randomized groups of users are sent different content at the same time to monitor the performance of specific campaign elements.
A/B split testing is a powerful way to improve marketing and messaging performance because it enables you to make decisions about the best headline, ad copy, landing page design, offer, etc., based on actual customer behavior and not merely a marketer's opinion.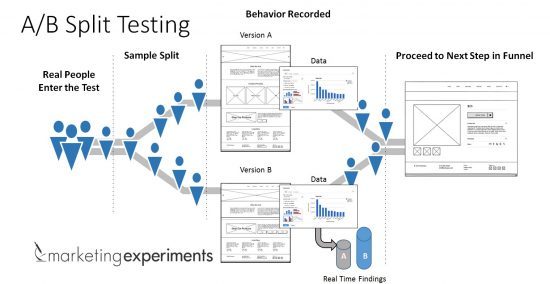 Let's break down the process of A/B split testing.
Real People Enter the Test
This is part of the power of A/B split testing as compared to other forms of marketing research such as focus groups or surveys. A/B split testing is conducted with real people in a real-world purchase situation making real decisions, as opposed to a survey or focus group where you're asking people who (hopefully) represent your customers what they might do in a hypothetical situation, or to remember what they have done in a past situation.
Not only can you inadvertently influence people in ways that change their answer (since the research gathering mechanism does not exactly mimic the real-world situation), but people may simply tell you what they think you want to hear.
Or, many times, customers misjudge how they would act in a situation or misremember how they have acted in the past.
That doesn't mean you shouldn't use surveys, focus groups and the like. Use this new information to create a hypothesis about your customers. And then run an A/B split test to learn from real customers if your hypothesis is correct.