There was a legend called El Dorado. An ancient lost city of gold. The legend drove many an adventurer to risk it all for the possibility of riches beyond their wildest dreams.
I think of El Dorado anytime content syndication comes up. A legend, passed down from content marketer to content marketer. All you need is content syndication to get endless golden traffic flowing to the content on your site, more demand than you can handle.
If only it were that easy.
But, the search for El Dorado led to the discovery of what had been foreign to the European explorers. It was the incentive they needed to map areas that were new to their countries. Without that legend, would they have driven as hard and far? Would they have taken the risk?
Perhaps content syndication is the same way. It's not the easy untapped city of gold. But if it drives you to create content marketing so appealing that you can merchandise it to other websites and publishers and get them to share your content, then while the journey may be arduous, it will have been worth it in the end.
(OK, this copy is overwrought, I agree, but I think it's a much nicer way of saying, C'mon, did you really think content syndication would be that easy!?)
It's not that easy. There is no magic "content syndication" button. But with a smart approach, you can bring more attention to your brand's content and ultimately find the results you seek. Here are insights from four smart marketers to help you do just that …
This article was originally published in the MarketingSherpa email newsletter.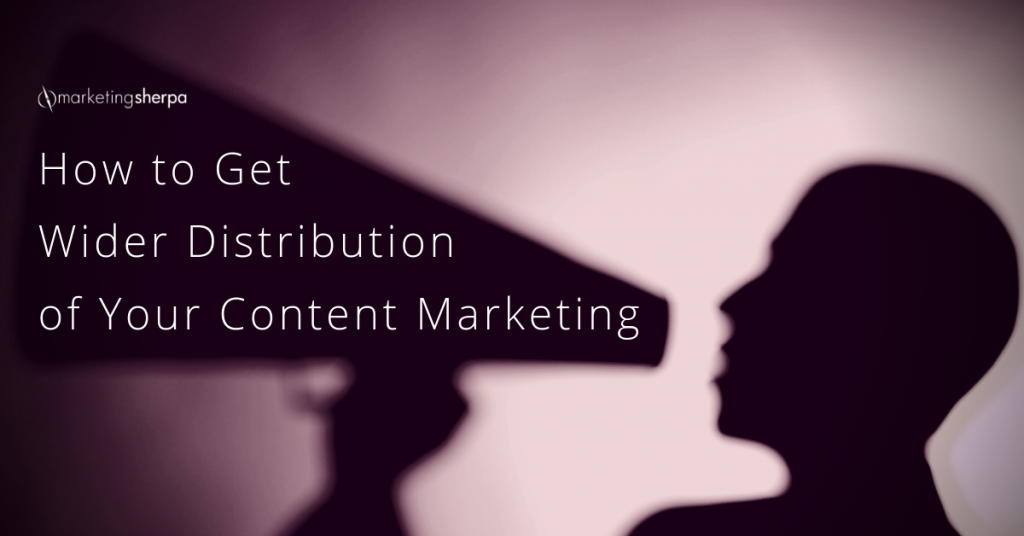 The absolute biggest key to getting content syndicated is to make sure that it's something valuable to your intended audience(s)
Erin Well, Senior Marketing Manager, Shipwell:
As someone who worked in the trenches as a content marketer for at least 30 very unique clients targeting many verticals, there is no silver bullet.
Pushing out a press release through the myriad of distribution platforms will not yield the kind of results a hands-on, intensive content ideation, production and media relations strategy will provide.
Build strong relationships with writers relevant to the content you're creating and offer them sincerely valuable content their readers will enjoy. Use social media to engage with them and be sure to share their pieces (and tag them of course).
As you brainstorm ideas for a content marketing campaign, consider what digital publishers you'll be pitching it to. Build out pitch lists of sites you'll want your content to appear on. Research writers, their beats and what they've been writing about. Ask yourself honestly, can you picture your content featured as an article on their site?
When you have a good idea of what sites you'll be pitching to, you can start to map out where their natural and organic syndication goes.
Using Google News (free), you can plug in a headline of an article to see which sites (like Yahoo, Benzinga, etc.) picked up the story automatically. Or, using a platform like Buzzsumo (paid), you can also plug in the URL to an article and view the specific backlinks to map out their syndication network. Large, well-established sites like the New York Times or Business Insider will be more likely to automatically syndicate across the internet. But, there are some loopholes, such as local news sites, that have potential to syndicate nationally across sister sites.
You'll also want to see how organic syndication plays out for a site or blog's articles.
For example, you might notice a high-performing story on Refinery 29 gets syndicated organically by other writers over at similar women's interest sites. Why? High-performing, interesting, relevant content is so much more likely to get more eyeballs by writers when they know other writers in their vertical are covering it. But to get it there, it all goes back to creating content that has the viability to be picked up initially and subsequently syndicated.