Content Syndication: How to get wider distribution of your content marketing
There was a legend called El Dorado. An ancient lost city of gold. The legend drove many an adventurer to risk it all for the possibility of riches beyond their wildest dreams.
I think of El Dorado anytime content syndication comes up. A legend, passed down from content marketer to content marketer. All you need is content syndication to get endless golden traffic flowing to the content on your site, more demand than you can handle.
If only it were that easy.
But, the search for El Dorado led to the discovery of what had been foreign to the European explorers. It was the incentive they needed to map areas that were new to their countries. Without that legend, would they have driven as hard and far? Would they have taken the risk?
Perhaps content syndication is the same way. It's not the easy untapped city of gold. But if it drives you to create content marketing so appealing that you can merchandise it to other websites and publishers and get them to share your content, then while the journey may be arduous, it will have been worth it in the end.
(OK, this copy is overwrought, I agree, but I think it's a much nicer way of saying, C'mon, did you really think content syndication would be that easy!?)
It's not that easy. There is no magic "content syndication" button. But with a smart approach, you can bring more attention to your brand's content and ultimately find the results you seek. Here are insights from four smart marketers to help you do just that …
This article was originally published in the MarketingSherpa email newsletter.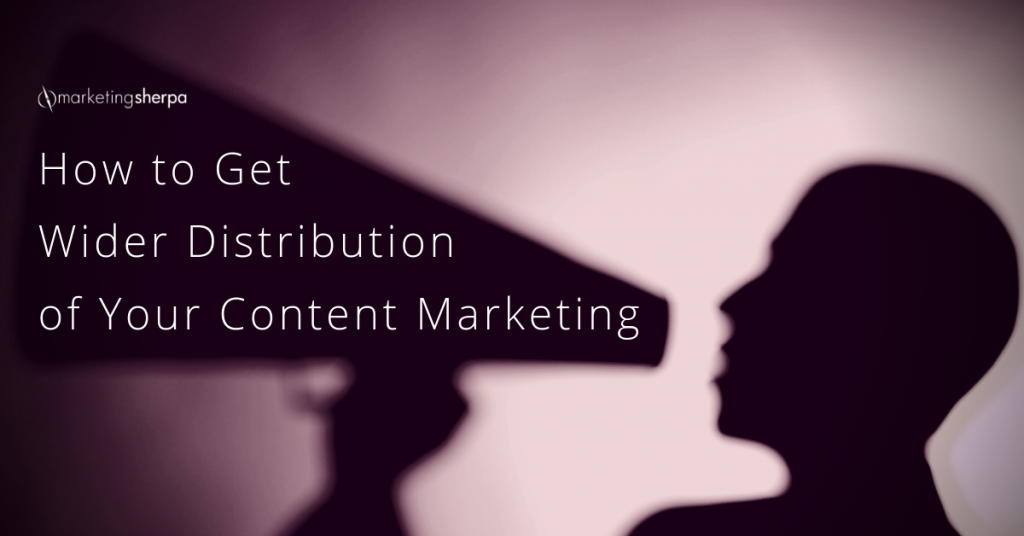 The absolute biggest key to getting content syndicated is to make sure that it's something valuable to your intended audience(s)
Erin Well, Senior Marketing Manager, Shipwell:
As someone who worked in the trenches as a content marketer for at least 30 very unique clients targeting many verticals, there is no silver bullet.
Pushing out a press release through the myriad of distribution platforms will not yield the kind of results a hands-on, intensive content ideation, production and media relations strategy will provide.
Build strong relationships with writers relevant to the content you're creating and offer them sincerely valuable content their readers will enjoy. Use social media to engage with them and be sure to share their pieces (and tag them of course).
As you brainstorm ideas for a content marketing campaign, consider what digital publishers you'll be pitching it to. Build out pitch lists of sites you'll want your content to appear on. Research writers, their beats and what they've been writing about. Ask yourself honestly, can you picture your content featured as an article on their site?
When you have a good idea of what sites you'll be pitching to, you can start to map out where their natural and organic syndication goes.
Using Google News (free), you can plug in a headline of an article to see which sites (like Yahoo, Benzinga, etc.) picked up the story automatically. Or, using a platform like Buzzsumo (paid), you can also plug in the URL to an article and view the specific backlinks to map out their syndication network. Large, well-established sites like the New York Times or Business Insider will be more likely to automatically syndicate across the internet. But, there are some loopholes, such as local news sites, that have potential to syndicate nationally across sister sites.
You'll also want to see how organic syndication plays out for a site or blog's articles.
For example, you might notice a high-performing story on Refinery 29 gets syndicated organically by other writers over at similar women's interest sites. Why? High-performing, interesting, relevant content is so much more likely to get more eyeballs by writers when they know other writers in their vertical are covering it. But to get it there, it all goes back to creating content that has the viability to be picked up initially and subsequently syndicated.
So unique, so targeted and so valuable, it's almost impossible to say "no"
Nichole Kelly, Director of Strategy, WebMechanix:
First, I decide where I want to get the content published, natively. Then I review the type of content that is interesting, relevant and where I can add unique value to the outlet.
Where most write an article and pitch it to a bunch of outlets or pay to drive traffic, I create content specific to the outlet that is so unique, so targeted and so valuable, it's almost impossible to say "no."
I offer them the first right of refusal to publish it natively and then republish on our channels, rather than the reverse. Every publishing platform is looking for incredible content. Few marketers are willing to take the time to cater to an individual outlet's needs. So it creates a win-win-win.
Once I have a topic I've handcrafted, I also have a framework to create supportive content I can choose to offer other outlets, promote with advertising or publish on my own company's channels.
The last step is to see if there is any true value in looking to traditional syndication channels. When you want a high volume of traffic, go for it. When you want high-quality traffic, consider a value-add approach to a more traditional industry outlet.
Targeting content to specific outlets where your target audience is actively seeking your special sauce cuts through the BS and gives you a true measure of whether or not you understand your customers. Yes, it takes more time. Yes, it takes more energy. However, if you can't get your content placed, it's a big signal of your relevance in the industry. This truly is about visitor quality, not quantity. If the outlet accepts every submission, it's unlikely to add true value or credibility.
Anyone can buy pageviews. Few can create and convert them.
Don't Knock the Press Release 
Clark Covington, Public Relations, Jelly Bean Rubber Mulch:
We've had good luck utilizing third-party services, such as Business Wire, to syndicate our press releases. Not only have we had many sites publish the releases verbatim — but we've also netted original stories in industry trade magazines to boot.
While many in the SEO field claim the links gained from press release syndication aren't worth much, we've found the syndicated publication of our content to index nicely in Google, and provide us with nice residual results for some of our target keyword terms.
Finally, the press release syndication tools of today offer the option to include multimedia such as videos, pictures and presentations, providing yet another way to syndicate content beyond the standard written press release.
Republish long-form text articles
Jase Rodley, SEO Consultant & Service Provider:
Anyone reading MarketingSherpa knows the value of long-form articles. A great article is the foundation of your "manual syndication campaign." While it may cover a high-level topic, such as "content syndication," it will also cover many more specific sub-topics, such as:
a list of content syndication platforms
outsourcing to content syndication vendors
developing a content syndication strategy
using content syndication for SEO
content syndication tools sorted by price
If you're going big, you might also include custom charts, an infographic or a video in this piece of content as well.
While automated syndication is looking to republish this entire article across the web, it's not always possible or relevant. Some publications prefer shorter content. Some sites only cover infographics. Most want somewhat unique content.
Using the example above, you may have five sub-topics, all of which are ~500 words of great content. These often make great:
guest posts
answers on Quora
new threads on industry-relevant forums
posts in relevant Facebook and LinkedIn groups
submissions to print publications
Images, charts, infographics and videos can be shared to:
directories
forums
social media
Q&A sites
video and image sites
Of course, in all cases, you can provide the original source to the larger, more authoritative article on the overarching topic of "content syndication." Those only thinking with their SEO hat on will think of this as "building links," but unlike them, we're interested in any references. Dofollow links, nofollow links, brand mentions, anything.
Many will debate that this isn't content syndication, it's republishing, and they are right. If you do this on a large enough scale though, you'll find that plenty of this "second level" content will also be syndicated (especially if you're republishing in larger publications/websites).
Then, the increased exposure from all around the online and offline world will funnel people back to your more authoritative article, making that more likely to be cited or syndicated.
If you repeat this process a few times over, you should have some great names in your industry to list "as seen on" for your brand, where you can then begin to pitch the larger publications that everyone wants to syndicate their content.
You can follow Daniel Burstein, Senior Director, Content & Marketing, MarketingSherpa and MECLABS Institute, on Twitter @DanielBurstein.
You might also like …
Content Marketing: 415% lift in pageviews via inbound strategy
5 Social Media Career Killers panel
Content Marketing: 21 ideas for planning, creating, and leveraging your webinar content
Syndication Tips for Health-Related Publishers (Quick MarketingSherpa article with a list of syndication resources from February 16, 2000, a nice reminder that the search for content syndication gold is nothing new).
Categories: Content Marketing Tags: content distribution, content syndication, syndication